Why Yoga is so Good for You!
Created: 16 June 2014

16 June 2014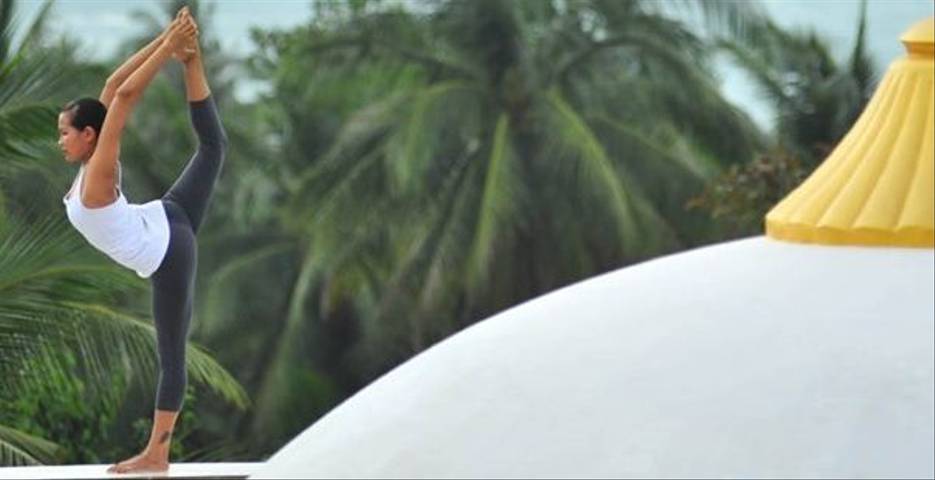 For many Yoga is a way of life, a philosophy based on a culture of both physical health and mental well-being, a lifestyle and culture that surpassed meditation techniques. Today over 15 million people in the world now practise this ancient tradition.
Every yoga asana (pose) has a different name and includes standing postures, seated twists, backbends, arm balances, inversions and core holds. The downward facing dog for example, is in itself said to calm the brain, energise the body, improve digestion, strengthen arms and legs and be therapeutic for high blood pressure. Whilst these benefits come as a given with most postures, the practise of yoga as a whole gives many more benefits than you might think…


8 reasons why yoga is so good for you:
Lowers stress and improves your mood
Some yoga methods use specific meditation techniques to focus the mind on your breathing that quietens the constant 'mind chatter', relieves stress and allows you to feel relaxed. Practising yoga can also boost oxygen levels to the brain, leaving you feeling happier and more content with everyday life.


Boosts confidence

Aside from the uplifting spiritual values, the act of meditation can actually boost your confidence. The process works by releasing tension from your mind so you can feel confident about your physical body. Without any forms of anxiety, you are able to establish an internal connection with yourself. This is consequently reflected in your perception of others and will help to better your relationships by improving compassion and awareness.


Lowers the risk of injury
Exercise, such as running, is usually a series of rapid, forceful movements, which means that effort is at a maximum and there is a higher risk of injury and increased muscle tension. Often, strenuous exercise also engages an imbalance of opposing muscle groups whereas yoga concentrates on balancing this activity. Yoga unites your body and mind and therefore allows you to move in a way that results in an injury free, healthier you.
A personal yoga session on the roof terrace at Aguas de Ibiza


Helps you lose weight
Being overweight is a sign that there are imbalances in your everyday life and one major contributor to weight gain is excess stress. Practising yoga enables you to bring a deep sense of relaxation to your body and your mind, helping you to de-stress and allowing you to lose weight naturally.


Increases flexibility
People often say that they are not flexible enough to do yoga. The truth is it doesn't matter how tight your muscles are as yoga asanas works by safely stretching your muscles and help you to practise it further. Moreover yoga also stretches other soft tissue in the body such as ligaments and tendons, increasing the range of motion in the joints and allowing you to move around more freely.


Improves muscle tone and strength
Many yoga asanas have a profound effect on your upper body strength, such as the downward and upward dog and the plank focuses on your core. Likewise standing poses strengthen your upper leg muscles and lower back. Essentially any pose will strengthen an area of the body if it is practised in the right way, without putting too much stress on specific muscle groups.
Practising yoga at the Como Shambhala Estate in Bali


Benefits breathing and lowers blood pressure
If you are to practise yoga consistently, your lung capacity will increase as a result of the deep breathing process. This will then have a positive effect on more intense sports that you might be a part of, increasing your stamina and endurance. Furthermore, meditation and calming yoga asanas slow down your heart rate which in turn lowers blood pressure and have also been linked with improving the immune system and lowering cholesterol.


Improves your posture

By practising yoga you maintain a healthier weight, become more flexible and improve your muscle tone and strength. You will find that your posture will greatly improve because of this. Your abdominals and back muscles can now fully support your weight and you will be able to sit and stand tall, preventing niggling injuries, aches and pains.


The beauty of yoga is that it can be practiced pretty much anywhere, on your own or with other yoga enthusiasts. If you have been inspired to give yoga a go there is no better place to try it than on an amazing yoga holiday. We give you our top three so you can enjoy a luxurious healthy holiday whilst profiting from the extraordinary health and fitness benefits yoga has to offer.


Our top 3 yoga holidays:
This yoga holiday is an ideal choice for beginners and dedicated yogis alike who are looking for an invigorating healthy holiday. Up to 25 classes take place a week in a charming studio, and feature a variety of styles such as Hot Flow, Ashtanga, Yin, Yin-Yang, Pranayama & Meditation, Hatha, Pilates, Yogalates and a special Introduction to Yoga for beginners. This yoga retreat will help you find your balance mentally, physically and spiritually.


With a mixture of personalised yoga sessions tailored to your every individual need combined with a comprehensive spa holiday program, this retreat in the Himalayan foothills makes an inspiring singles holiday for yogis. Stretch and strengthen your muscles through a series of ancient postures whilst the breathing training helps re-energise your mind and prepares you for an instant inner peace that will be installed in your everyday life.


This Yoga Synergy holiday offers private one-to-one yoga sessions with tailored programmes suitable for both beginners and experienced yogis. Daily sessions are customised to your individual skill level and goals, and include instruction in asana, pranayama (breathing) and meditation. This personal yoga and wellness retreat will allow you to address physical limitations, deepen your existing practise or develop a regular home practise.



Talk to one of our Travel Specialists on 1300 551 353 or contact us here to discuss tailor-making your perfect healthy holiday