Where to Travel for the Best Active Couples Holidays
Created: 29 September 2016

29 September 2016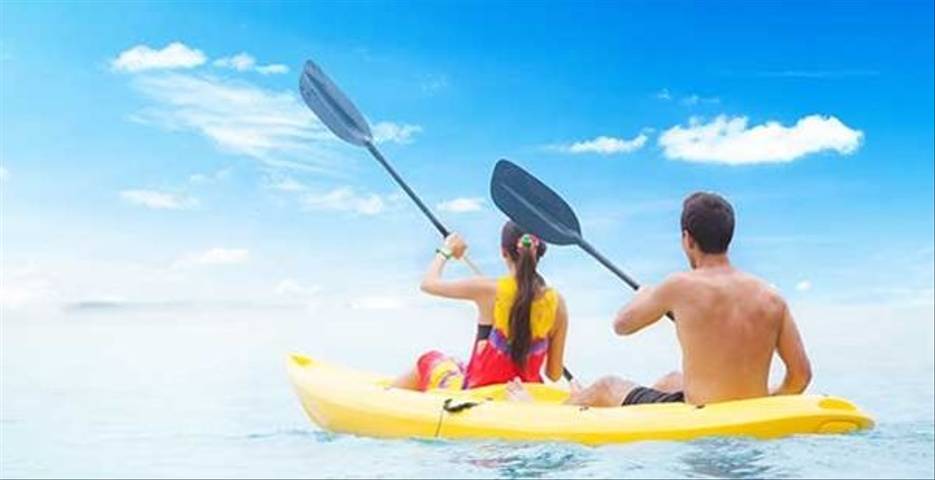 Ditch the lazy fly and flop holidays for an adrenaline-charged escape to one of our fabulous destinations where you can merge an unforgettable romantic holiday experience with a fitness boosting retreat alongside your significant other. A good way to improve and strengthen your relationship, couples healthy holiday do not only boost your wellness but will also release feel-good endorphins which will help you to bond over new and exciting activities. With a wide variety of couples workout retreats, ranging from a running holiday in Ibiza to a yoga and surfing holiday in Maldives, you will soon find the right active holiday for both you and your partner. Fuse your romantic getaway with a variety of exhilarating couples' activities before being pampered with indulgent spa therapies and tucking into a romantic dinner in some of the world's most marvellous settings.


Work your muscles to the max at the Red Mountain Resort

Escape to the beautiful Red Mountains of Utah where you and your partner can work on your fitness goals together on a multi-activity holiday, in a truly magical environment. Kickstart your days with morning walks and hikes followed by a range of fun activities such as rock-climbing, mountain biking, horseback riding, kayaking and canyoning where you can take in and admire the scenic views. After a busy day on your active couples holiday, restore your energy at the Sagestone Spa with their specialist therapies, such as Reiki therapy and Canyon warm stone massages.

More information: View Red Mountain Resort


Boxing & Running in Ibiza: The Body Camp
Surpass your goals at The Body Camp

On the beautiful island of Ibiza, shape up in the great outdoors with an exhilarating fitness holiday where couples can workout together for a rewarding full body transformation. Keep active together with a variety of fitness activities including boxing, running, deep stretching and body sculpt. With specialist cookery workshops and lifestyle coaching sessions, you and your partner can learn how to change your habits on an active couples holiday that will teach you to lead healthier and happier lifestyles. Unwind after an active day with spa treatments and daily yoga classes, before taking a dip in the salt-water pool.

More information: View The Body Camp


fa

On the tropical Thai island of Phuket, jet off on an invigorating yoga and fitness holiday, for couples looking for a total body overhaul. Receive pre-arrival nutritional guidelines to prepare you for your journey and choose between raw vegan cuisine and juice cleansing or a combination of the two. Boost your fitness together on your active couples holiday with a variety of strength, cardio and flexibility workouts, including Muay Thai, kick boxing cardio, and aerial yoga. Learn about nutrition and energy optimization with workshops before exploring the beautiful scenery with a traditional Thai long-tail boat trip.

More information: View Phuket Cleanse Detox & Fitness


Boost your fitness on a group bootcamp at Wildfitness Crete

Nestled in a picturesque mountain village amongst the beautiful rural surroundings of Western Crete, this active couples holiday offers both a romantic peaceful retreat and a scenic environment for revitalizing outdoor fitness activities. After a personalized expert assessment, you and your partner will be ready for a bootcamp holiday challenge to kick-start your fitness journey. With a diverse range of workouts, from hill sprints to open water swimming, Wildfitness also focuses on keeping your wellness in check for the long term with workshops in metabolism, movement, eating and talks promoting a healthy maintainable lifestyle.

More information: View Wildfitness Crete


Tailor-make your couples holiday at  The BodyHoliday

Escape to the beautiful island of St Lucia and choose your favourite activities on one of our Fusion Fitness holidays where you both can design a fitness programme that suits you. Mix and match a combination of different cardio, strength, and mind and body classes to improve your physical and mental health, before unwinding together with soothing renewal spa treatments. Make the most of your time together on your active couples holiday in paradise by kayaking through the turquoise waters before taking a sunset boat cruise for an unforgettable couples holiday.

More information: View The BodyHoliday


Chill out in the beautiful  Maalifushi by COMO

Fly to the beautiful Maldives for an active couples holiday in paradise that will surely be one for the books. Start each day with yoga classes followed by adrenaline boosting surfing lessons with luxury surf pioneers Tropic surf on a yoga and surf holiday that will boost your balance both on and off the water. Take advantage of the complimentary water sports activities and daily classes from Pilates to meditation. Take a seaplane trip to discover other beautiful islands as you take in the extraordinary Maldivian views from above, a dream getaway for active couples looking for a romantic escape.

More information: View Maalifushi by COMO


Explore the idyllic scenery by cycling at  Galo Resort

Improve your overall fitness on the south-eastern coast of Madeira on an active couples holiday where you can tailor-make your own fitness programme with a wide range of fun workouts and wellness activities. Surrounded by scenic landscapes to explore on a cycling holiday ride side by side with your partner through stunning mountain bike trails. Make the most of Galo's coastal location with a visit to the nearby underwater nature reserve of Garajau. End your days unwinding at the luxurious spa offering a large menu of rejuvenating spa treatments that will relieve any tension and stress.

More information: View Galo Resort


Ace your tennis serve at  D Hotel Maris
 
Sheltered in the backdrop of lush pine forests with panoramic views of the Aegean Sea, D-Hotel Maris sets the mood for a memorable active couples holiday. Boasting an array of active facilities for an engaging sports holiday discover different sporting ventures together whether by land or sea. Home to professionally trained tennis coaches, couples can get the proper guidance to ace their game and sustain amazing rallies. Explore further whilst adding a sense of adventure to your stay with water sport activities, such as wake boarding, canoeing and Catamaran sailing. Unwind together at the spa with therapeutic spa treatments and Ayurvedic inspired therapies.

More information: View D-Hotel Maris


Appreciate the beauty of nature at  Ananda

Retreat to a sanctuary of beauty and serenity in the stunning tranquil surroundings of the Himalayas where couples can combine an active holiday with pure relaxation. Ananda offers scenic views and the truly peaceful setting for a hiking holiday which will allow you both to re-connect with nature and each other. Enjoy personalised guided treks through the beautiful Himalayas combined with a variety of workout sessions. The extensive menu of over 80 body and beauty treatments inspired by the traditional Indian systems of Ayurveda, will help you achieve harmony between your mind, body and soul, boosting your overall wellness.

More information: View Ananda Active
Talk to one of our Travel Specialists on 0203 397 8891 or contact us here to discuss tailor-making your perfect couples healthy holiday.