Where to Go in 2015: Your Wellness Holiday Guide
Created: 01 December 2014

01 December 2014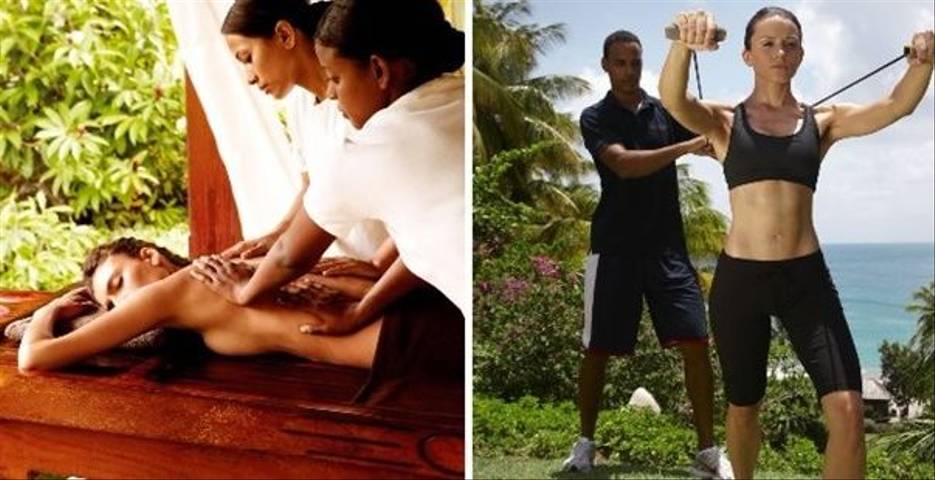 With travellers increasingly seeking health-enhancing wellness experiences around the world, our month-by-month guide of the best wellness holidays for 2015, offers a years' worth of inspiration for the hottest trend in travel. From yoga in Morocco and losing weight in Spain, to scuba diving in the Maldives and Ayurvedic spa breaks in India, discover your dream healthy holiday with destinations and activities suitable for singles, couples, groups and families.

Get inspired with our recommendations of where and when to travel and make it the year to nourish your mind, body and soul with the care and attention it deserves.


January: Detox and Reset
New Zealand: Aro Hā
Restore balance in body and mind with an adventure in wellness at luxury all-inclusive retreat Aro Hā, a breath-taking oasis surrounded by the stunning Southern Alps. Enjoy healthy nutrient-rich vegetarian meal and boost your total wellbeing with daily activities ranging from sunrise yoga overlooking Lake Wakatipu to challenging sub-alpine hikes, functional fitness classes, rejuvenating massages and more. This eco-friendly retreat have proven themselves amongst the best in the world, placing in the Top 10 Condé Nast Readers Travel Awards within their first year of opening and their comprehensive wellness programs provide the perfect kick start to any New Year's resolution.
Average January temperature: 22 °C (71.6 °F)

More information: View Aro Hā


February: Discover with Diving and Surfing
Jet off to paradise at the beautiful Maalifushi by COMO in The Maldives for a luxurious healthy break. Ideal for a wellness and water sports holiday, discover marine turtles and manta rays amongst a diverse family of sea life inhabiting the flourishing coral reefs. Dip into this aquatic wonderland with water sports including diving and surfing on a healthy holiday that will leave you feeling refreshed from head to toe. Enhance your wellness at the luxurious spa with an Indonesian massage or stretch out at the open-air yoga pavilion with complimentary daily classes.
Average February temperature: 28 °C (82 °F)

More information: View Maalifushi by Como


TRX training at Aro Hā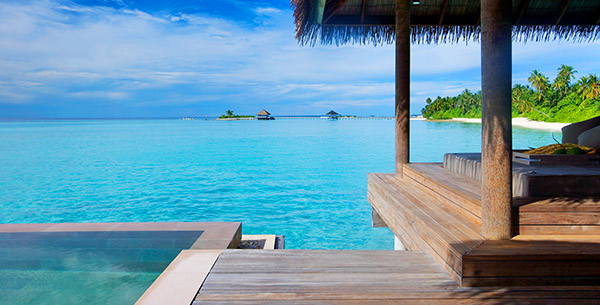 Water Villa at Maalifushi


March: Find Harmony with Spa and Yoga
Travel to exotic Thailand and reconnect with nature as you reach a state of optimum health and relaxation on this healthy escape. A dream destination for a luxury 
spa holiday
, discover well-being bliss with a traditional Thai massage or reviving body scrub and escape the stresses of day-to-day modern life. Improve your wellness both physically and emotionally with rejuvenating yoga and Pilates classes overlooking the tropical seas, enhancing your posture and toning your body. Get active on your healthy holiday with biking, diving or snorkelling and discover Thailand's local culture as you explore the ornate temples and lively markets of Phuket Old Town.
Average March temperature: 29 °C (83 °F)

More information: View Point Yamu


April: Feel Alive with Yoga and Surfing
Enjoy sun, sand and surf at Paradis Plage for the ultimate mix of fitness and relaxation. Whether you're looking to hone your skills or start from scratch, surf lessons provide unbeatable fun and you'll soon feel addicted to the thrill of a surfing holiday. Take a break on dry land and combine surfing with 3 daily yoga classes, from sunrise to sunset, with breath-taking ocean views from the tranquil beach-side yoga studio. Ideal for a luxury yoga holiday, complement your healthy break with muscle relaxation and stress relief at the luxury spa or take five in the traditional Moroccan Hammam.
Average April Temperature: 22 °C (72 °F)

More information: View Paradis Plage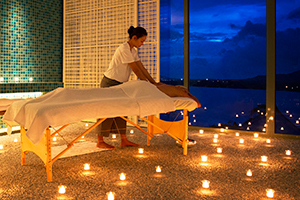 Candlelit Massage at Point Yamu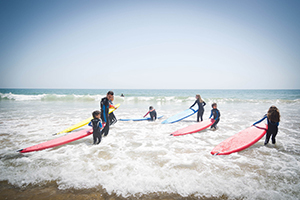 Surfing at Paradis Plage


May: Escape on an Adventure Spa Holiday
Bask in the warming rays of a healthy holiday in the Red Mountains of Utah, for a spa 
adventure holiday
 just a couple of hours from Las Vegas. Discover the great outdoors with hiking, mountain biking, horseback riding and rock climbing before rejuvenating at the luxury spa with reviving massages and facials. Get fit with a wide variety of exercise classes from kickboxing to yoga or head back out to the stunning mountains with daily walks and let the breath-taking views inspire you, making this the perfect destination for an 
activity holiday
. With wellness consultations, personal discovery workshops and cooking demonstrations, you will end your wellness holiday feeling re-energised and equipped with health tips to sustain a healthy lifestyle.
June: Find your Body's Natural Peace
The perfect destination for a wellness and 
weight loss break
, shape up in June at this 300-hectare retreat in the South of France. Terre Blanche offers a range of healthy holidays to suit your individual goals, including specific wellness programs tailored towards fitness, detoxing, and spa slimming. Enhance your well-being with activities ranging from circuit training to yoga and aqua aerobics to total body burner. In-keeping with the resorts core values, the spa delivers a range of truly indulgent treatments, all designed to leave you feeling completely revitalised. Complement your healthy holiday with weight loss enhancing treatments, such as a lymphatic drainage massage or slimming body wrap.
Average June temperature: 21 °C (70 °F)

More information: View Terre Blanche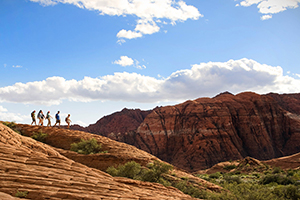 Hiking at Red Mountain Resort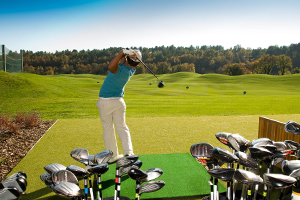 Golf at Terre Blanche


July: Learn a Healthy Lifestyle
If you're serious about your health and well-being, escape on a healthy holiday at the number one destination for a luxury wellness experience like no other. With nutritional consultations, medical check-ups and informal healthy lectures, an abundance of expert advice will ensure you learn a healthier lifestyle on the healthy holidays at SHA Wellness Clinic. SHA offers a multitude of specialised wellness programs dedicated to guiding guests through detox, weight loss, giving up smoking, managing stress, addressing sleep problems and more. With its idyllic destination overlooking the Mediterranean, this fabulous luxury spa retreat is ideal for a relaxing wellness break.
Average July temperature: 28 °C (82 °F)

More information: View SHA Wellness Clinic


August: Up your Fitness in Croatia
Escape the winter blues to Radisson Blu Resort & Spa, Dubrovnik Sun Gardens in Croatia for the perfect fitness holiday and soak in the European sun. Offering a beachfront position this healthy holiday also boasts breath-taking views of the Adriatic coastline. Health and Fitness Travel's exclusive Fusion Fitness holiday is ideal for an active break that you can customise to match your interests with your choice of activities kickboxing, mountain biking and power hiking to Zumba, TRX suspension and kettlebell workouts. Cap off the day with a specialised treatment in the coveted OCCO Spa before tucking into delicious cuisine in any of the 12 restaurants at one of 2015's hottest wellness destinations.
Average August temperature: 25 °C (77 °F)

More information: View Radisson Blu Resort & Spa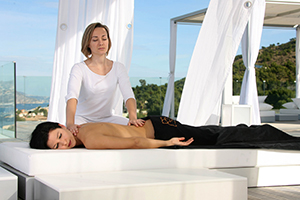 Reiki Treatment at SHA Wellness Clinic
Climbing wall at Radisson Blu Resort & Spa


September: Discover Tuscany's Natural Hot Springs
Make the most of the European summer and treat yourself to a healthy Mediterranean escape in the beautiful Tuscan landscape at Adler Thermae. Situated in the world heritage site, Val d'Orcia, and home to natural healing thermal springs, this wellness destination is perfect for a diverse spa & sport holiday. Immerse yourself in the stunning countryside and get in shape on an invigorating bike ride or soul-soothing hike, followed by a refreshing spa treatment to rejuvenate your well-being. With activities ranging from yoga and meditation to Fit Ball and Aqua Power, a trip to this luxury health retreat is your passport to wellness.
Average September temperature: 21 °C (70 °F)

More information: View Adler Thermae


October: Find Tranquility and Wellness in the Himalayas
Vana Malsi Estate has set itself the ambitious target of becoming the most iconic wellness resort in the world and it doesn't disappoint. Set amidst the Sal forest, the 21-acre site boasts mango and lychee orchards, as well as stunning views of the Himalayan foothills. An alternative destination for a singles holiday, the friendly staff deliver a bespoke wellness experience through expert classes, from yoga to personal training, and their extensive range of holistic spa therapies, making Vana ideal for an Ayurveda spa holiday. With daily guided mediation classes, fitness activities and organic nutrition, Vana Malsi looks to provide the ultimate in a tailored wellness holiday experience.
Average October temperature: 22°C (72 °F)

More information: View Vana Malsi Estate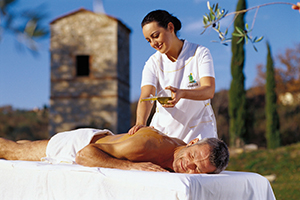 Outdoor Massage at Adler Thermae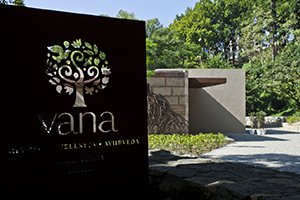 Escape to India's Vana Malsi Estate


November: Discover Holistic Health and Wellness
Set amongst the dazzling tropical jungles of Malaysia, luxury wellness retreat, The Banjaran, offers a variety of wellness programs specially designed to help you lose weight, detox, get fit or feel rejuvenated. Renowned for its luxury spa and nutritious cuisine, the hotel's wellness approach is incorporated into all of the daily activities. With over 100 different holistic therapies available, you are sure to find something to suit your individual needs and help you create your own perfect holistic holiday. Enjoy a therapeutic yoga or meditation class before working up a sweat in the natural steam caves for a healthy break that will revive your well-being.
Average November temperature: 27°C (81 °F)

More information: View The Banjaran


December: Focus Your Wellness Goals in Vietnam
Famed for its sunny climate and refreshing ocean breeze, escape to Fusion Maia for a healthy holiday in the tropical paradise of Vietnam. Enjoy a daily schedule of wellness activities, such as, yoga for metabolism, laughter breathing and sun salutations for a real boost to your mind and body. Activities reflect the given theme each day, such as 'Open Your Mind', 'Feel Free' or 'Enjoy Nature', a wellness concept designed to help guests focus their well-being goals. Perfect for a yoga & culture retreat, discover your surroundings on this healthy holiday with excursions and tours, including a Da Nang Food Tour and Tai Chi excursion to Marble Mountain.
Average December temperature: 28°C (82°F)

More information: View Fusion Maia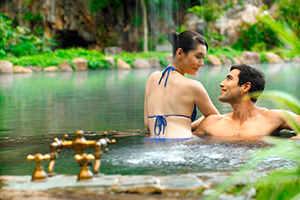 The Tropical Pool at The Banjaran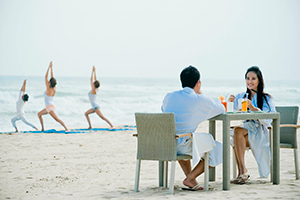 Healthy food on the beach at Fusion Maia
Talk to one of our Travel Specialists at 1300 551 353 or contact us here to discuss tailor-making your perfect healthy holiday for 2015.