Where to Go in 2015: Your Healthy Holiday Guide
Created: 29 December 2014

29 December 2014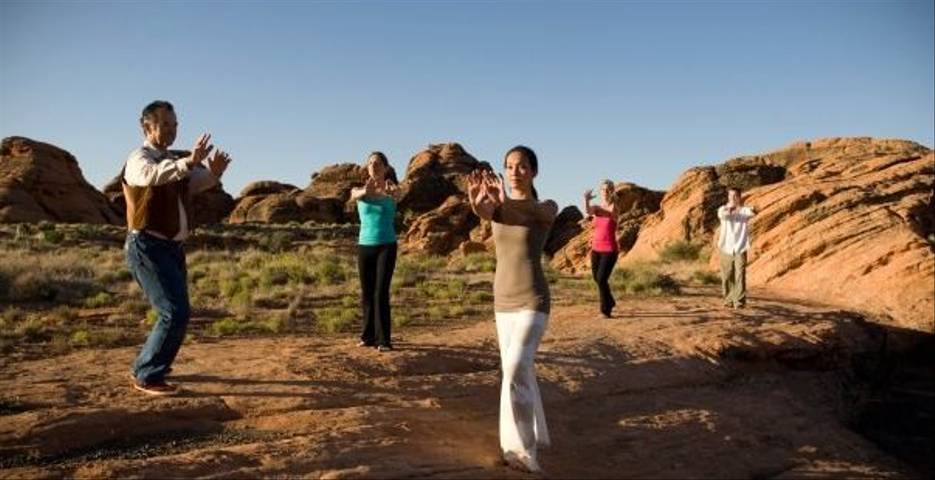 Undecided about where you want to escape to on your next healthy holiday? We present our month by month guide to the best health and fitness holidays in 2015, from luxury spa safaris in South Africa to surf and yoga retreats in Costa Rica. Be inspired by our recommendations of where to go; whether you'd prefer to get an adrenaline burst skiing down the Swiss slopes, indulge yourself with spa treatments in Thailand or get fit in Croatia, discover our recommended healthy holidays for 2015.


January: Detox and Get Fit
The Philippines: The Farm

Allow the New Year to bring in a new you! Stick to your health and fitness resolutions in a warm climate at The Farm in the Philippines, with a range of activities from Volcano tours, aqua aerobics to bootcamp training and yoga, so you can boost your stamina on our exclusive Fusion Fitness holiday. You can also purify your mind and body with our detox cleanse retreat to restore balance in your life. With a range of cleansing treatments alongside fresh, raw vegan cuisine and specialised juice diets you will end your stay radiant inside and out, making it the perfect alternative for a detox holiday.
Average January temperature: 25.5 °C (77.9 °F)

More information: View The Farm


February: Escape on a Winter Alpine Wellness Getaway
Switzerland: The Alpina Gstaad
Escape the post summer blues and jet off to the Swiss Alps for a well-needed adrenaline burst and a complete health overhaul. Have fun swooping down the slopes and get fit at the same time on our Ski winter wellness holiday, then return to your luxury Alpine Wellness Retreat, nestled in stunning surroundings, to unwind with health programs ranging from detox to Ayurveda retreats. You can also enjoy a variety of group classes from Ashtanga yoga to functional circuit training, Pilates and walking meditation, combined with spa treatments and personalised activities like Alpine nature training on our exclusive Fusion Fitness program.
Average February temperature: -2.1 °C (28.2 °F)

More information: View The Alpina Gstaad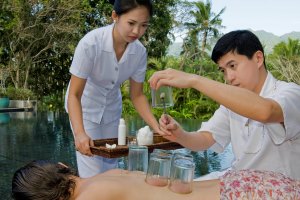 Cupping treatment at The Farm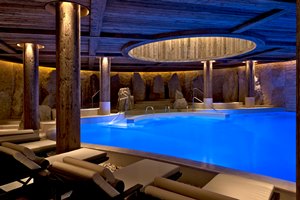 Six Senses Spa at The Alpina Gstaad


March: Play Sports Like a Pro
Thailand: Thanyapura
Jet off to the warmth and idyllic beauty of Thailand, and get the beach body you want on this active sports holiday. Thanyapura offers world-class sports facilities and fitness coaches, so you can up your game at this haven for fitness and sports fanatics. Boasting truly world-class facilities, including an Olympic-size swimming pool, a state of the art fitness centre and full-size football pitches, alongside a variety of fitness classes including everything from Muay Thai boxing to water polo, you're sure to have fun no matter what your sport of choice is. Train alongside international Olympic teams that regularly use the retreat for results like no other!
Average March temperature: 27.5 °C (81.5 °F)

More information: View Thanyapura


April: Get into Shape with Yoga and Surfing
Morocco: Paradis Plage

Take a short flight to Morocco and enjoy sun, sand and surf at Paradis Plage. Whether you're looking to hone your skills or start from scratch, surf lessons provide some fun in the sun. When it's time to take a break on dry land, you can combine your surfing with 3 daily yoga classes from sunrise to sunset yoga to re-centre yourself. Round out your activity holiday with muscle relaxation and stress relief at the spa with a traditional Moroccan Hammam.
Average April Temperature: 22 °C (72 °F)

More information: View Paradis Plage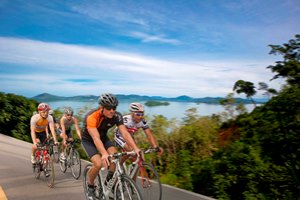 Triathletes competing at Thanyapura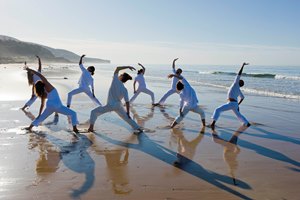 Beach yoga class at Paradis Plage


May: Re-energise in the Mountains
Mexico: Rancho La Puerta
Work on your fitness amid the colourful hills of the Baja California region at Rancho La Puerta. Where better to empower your true self than at a ranch which encourages integrative wellness for women and men of all ages and fitness levels? With exhilarating options from Zumba to mountain hiking, delicious organic cuisine and an amazing spa focused on natural treatments, this mountain paradise has options for anyone looking for a healthy escape and makes the perfect fitness holiday for reaching your health and fitness goals.
Average May temperature: 24.5 °C (76.1 °F)

More information: View Rancho La Puerta


June: Fitness Fun in the Sun
Ibiza: 38 Degrees North
Get in shape and bask in the warmth of Ibiza in June on our Fusion Fitness holiday with 38 Degrees North at Aguas de Ibiza. You can choose your preferred daily activities to enhance your health whether that includes power walking, kickboxing, coastal running and a dance lesson or strength training, yoga and guided meditation and then relax with your choice of spa treatments. After a healthy stay at this beautiful resort, you are sure to return feeling fit and rejuvenated.
Average June temperature: 22 °C (72 °F)

More information: View 38 Degrees North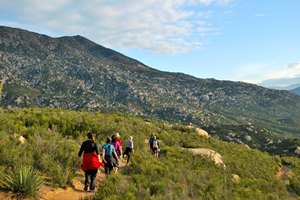 Hiking at Rancho La Puerta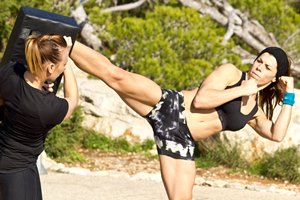 Kickboxing on the beach in Ibiza


July: Rejuvenate on a spa and well-being break
Greece: Porto Elounda
Escape the winter blues and treat yourself to a healthy Mediterranean escape on the island of Crete. Take a well-earned break and relax with a Sense of Spa program at the award-winning Six Senses Spa at Porto Elounda. Enjoy a combination of holistic therapies and vibrant spa treatments to help you re-charge and take in the beautiful view, or train in the sun on our exclusive Fusion Fitness Holiday. There are plenty of wellness activities to enjoy including water aerobics and oriental dancing, as well as a range of fantastic dining options, so you'll be spoilt for choice in many ways.
Average July temperature: 26 °C (79 °F)

More information: View Porto Elounda


August: Find your Body's Natural Harmony
France: La Clairiere
Experience the holistic well-being programs at La Clairiere, located in the beautiful Alsace Mountains. Calm your mind with a variety of holistic classes to include yoga, Pilates, meditation, Qi Gong and Aqua biking. With opportunities to take walks in the surrounding forest; experience effective spa and ayurvedic treatments, enjoy organic cuisine and participate in wellness programs from weight loss to de-stress, this is the perfect high-altitude healthy break. Take advantage of this location's cool climate and natural splendour for a trip you won't forget.
Average August temperature: 18 °C ( 64 °F)

More information: View La Clairiere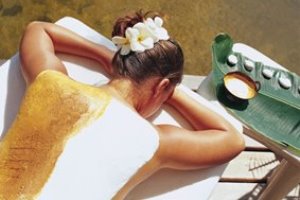 A relaxing treatment at Porto Elounda


September: Refocus on Your Fitness Goals
Croatia: Radisson Blu

If you're struggling with your mundane gym routine, you can renew your fitness motivation on our Fusion Fitness holiday at Radisson Blu. The weather in Croatia is mild at this time of year, so it's perfect for working out. Whether it's kickboxing, aqua jogging, suspension training, yoga or Pilates, you're sure to find an enjoyable exercise that suits your body. At the end of your active day, choose from a brilliant range of spa treatments to help your muscles recover.
Average September temperature: 19 °C (66 °F)

More information: View Radisson Blu


October: Escape on an Adventure Mountain Spa Holiday
US: Red Mountain Resort

Enjoy the cool temperatures of Utah at Red Mountain Resort, an adventure spa holiday just a couple of hours from Las Vegas. In between massages, facials and body care, enjoy the great outdoors with hiking, mountain biking, horseback riding, rock climbing and get fit with a wide variety of exercise classes from kickboxing to yoga. Enjoy the stunning mountains with daily walks and let the breath-taking views inspire you. With wellness consultations, personal discovery workshops and cooking demonstrations, you will end your healthy holiday feeling re-energised.
Average October temperature: 18°C (64 °F)

More information: View Red Mountain Resort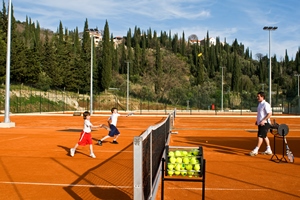 A tennis lesson at Raddisson Blu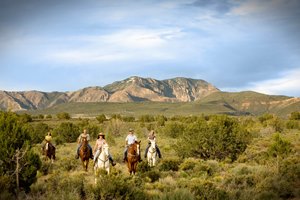 Horseback riding at Red Mountain Resort


November: A Chic Jungle Retreat for Surf, Yoga and Spa
Costa Rica: Florblanca 

Take advantage of the year round hot climate and venture into the tropical jungle for an active surf, yoga or Pilates holiday at Florblanca in Costa Rica. If you're not surfing the waves then balance your mind and body with expert Pilates and yoga sessions before unwinding in the Bambu spa with a relaxing massage. With nature on your doorstep, a world famous surfing experience just moments away, and a variety of adventurous activities to choose from, you're sure to be enchanted by the magic way of Costa Rican life.
Average November temperature: 23°C (74 °F)

More information: View Florblanca


December: Escape the Cold and Recharge
South Africa: Karkloof Safari Spa
Enjoy a sunny safari spa adventure at Karkloof Spa, a luxury eco-lodge in South Africa where you can enjoy unlimited spa treatments during your stay. Set on a 3,500 hectare private game reserve, teeming with wildlife and cinematic scenes, you will have the chance to spot animals from the moment you arrive. With an amazing spa; a number of exotic organic treatments and signature spa journeys; and the chance to explore the surrounding reserve on foot or by bike, this adventurous and luxury spa holiday will ensure you renew in time for the New Year.
Average December temperature: 29°C (17°F)

More information: View Karkloof Safari Spa
Talk to one of our Travel Specialists at 1300 551 353 or contact us here to discuss tailor-making your perfect healthy holiday for 2014.