Where to go in 2015 for a Healthy Honeymoon
Created: 24 November 2014

24 November 2014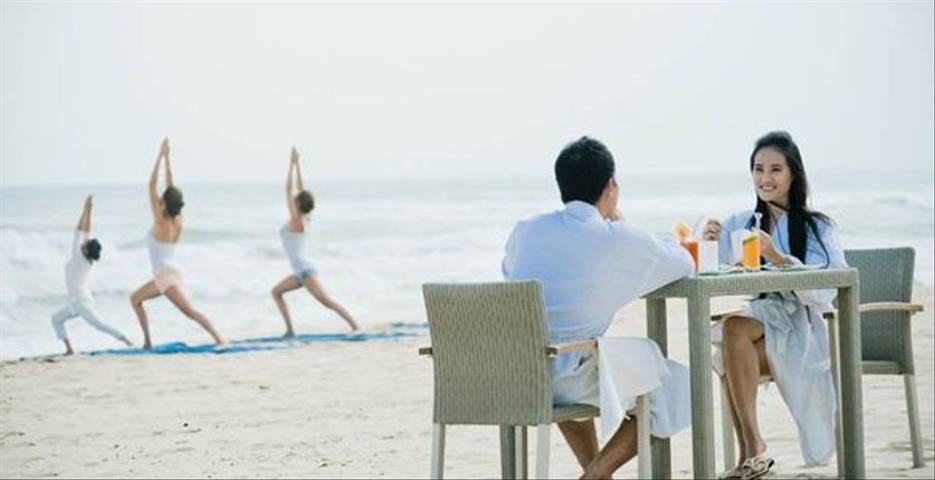 Are you in need of inspiration for where and when to go on your healthy honeymoon in 2015? Start married life the healthy way and get involved in this growing trend; allow us to inspire you with our wide range of luxury honeymoon retreats, destinations and activities for you and your newlywed to enjoy.
From escaping to the Middle East in February for an ultimate luxury honeymoon, to hiking the Red Mountains of Utah in May, or exploring the Swiss Alps in August, to ditching the cold and spending December on a healthy honeymoon in Mexico; our selection of luxury healthy honeymoons will allow you and your newlywed to start married life together in health and happiness. Whether you are looking to shape up, unwind, be adventurous or discover culture, enjoy each other's company in peaceful surroundings, with a honeymoon selection that will certainly not leave you short of choice.
Read on as we highlight our best destinations and luxury retreats for where to go in 2015 for an unforgettable healthy honeymoon.


January – Shape up in Thailand with fitness & sport: Thanyapura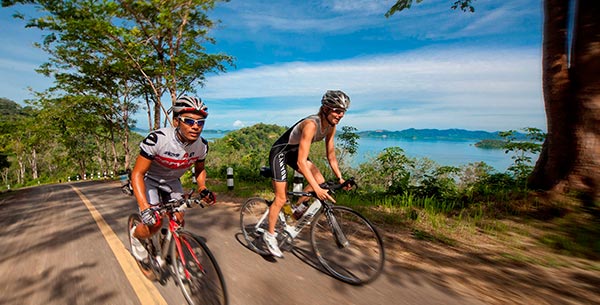 Triathlon Training at Thanyapura

Celebrate your marriage and start the New Year in wellness by escaping January on one of our fitness honeymoons in Phuket. Make the most of the warm weather at this time of year and enjoy a wealth of sporting activities in world-class facilities. Take part in triathlon training on this healthy honeymoon and cycle through the peaceful jungle roads, or work on your swimming technique by taking advantage of the Olympic-sized swimming pools and near-by sea. Have fun with complimentary fitness classes such as Zumba and see notable changes. End your action-packed day with a well-deserved sports massage and unwind side-by-side with your newlywed.
Average January temperature: 27°C

View More:  Healthy Honeymoons for January


February – Unwind in Oman with ultimate luxury & wellness: Zighy Bay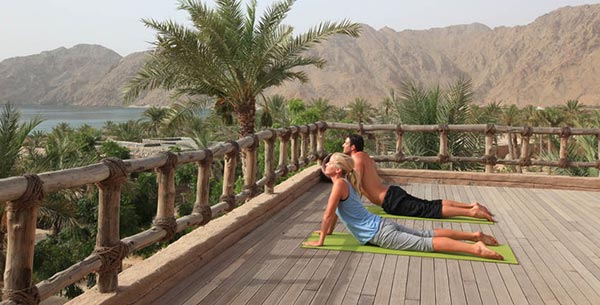 Yoga at Zighy Bay

Spend Valentine's Day in exquisite seclusion as you honeymoon in February on one of our exclusive ultimate luxury wellness honeymoons in Oman. The perfect time of year to go, spend quality time together on your healthy honeymoon pampering yourselves at the award-winning Six Senses Spa with a variety of luxury treatments, including massages, facials and body polishes. Enjoy group classes, such as stretching, tennis and yoga, and improve your overall well-being. For an unforgettable healthy honeymoon, you and your newlywed can paraglide through the skies whilst taking in views of the spectacular mountains and turquoise waters lapping against the beach. Absorb your breath-taking surroundings with a romantic candle-lit supper in the mountains.
Average February temperature: 21°C

View More: Healthy Honeymoons for February


March – Discover India on a cultural wellness honeymoon: India Discover Recover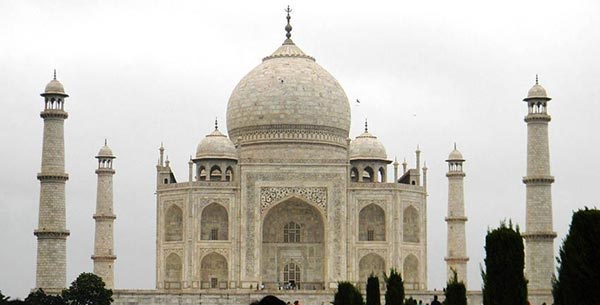 Visit the Taj Mahal in India

Experience a diverse treat for your senses and visit India in March on one of our cultural wellness honeymoons. Immerse yourselves in the vibrant traditions as you discover the country's beauty with guided tours around Old and New Dehli, a visit to the largest mosque in India and a romantic trip to the Taj Mahal. Then, recover at a wellness retreat and indulge in luxury spa treatments and holistic health activities as part of our exclusive Discover Recover holidays. Enjoy fresh and soothing mountain air as you recover in wellness at Ananda in the Himalayas, for a replenishing finish to your healthy honeymoon.
Average March temperature: 28°C

View More: Healthy Honeymoons for March


April – Relax with Ayurveda & spa on the beaches of the Maldives: Zithali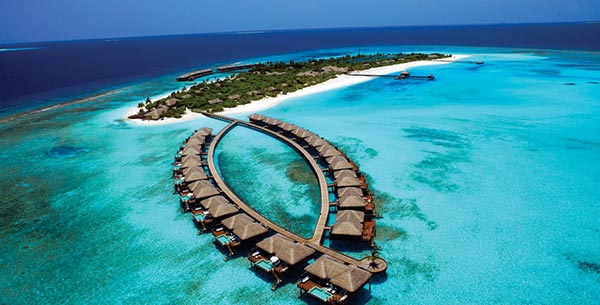 Bird's Eye View of Zithali

Escape to paradise in April and the pristine sands of the idyllic Maldives on one of our beach wellness honeymoons. After days spent exploring the untouched reefs, unwind at the luxury spa with an extensive menu of holistic treatments and traditional Ayurvedic spa therapies, ideal for an Ayurveda spa holiday. Soak up incomparable views of the turquoise ocean from the seclusion of your own private villa; complete with your own plunge pool, relax on your healthy honeymoon a whole world away from home. Embrace the exquisite natural surroundings whilst enjoying a host of water sports with your newlywed, including kayaking, water-skiing and snorkelling.   
Average April temperature: 30°C

View More: Healthy Honeymoons for April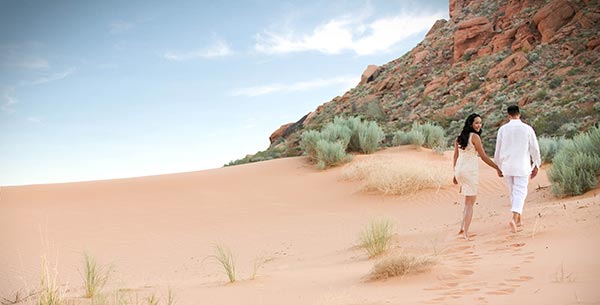 Enjoy a Desert Walk at Red Mountain Resort

Soak up the sun during the month of May on one of our adventure and wellness honeymoons and explore the awe-inspiring Red Mountains of Utah. Set off on daily mountain hikes and enjoy romantic rambles with your newlywed on an unforgettable walking holiday. For an added zest of adventure, get involved with additional activities such as horseback riding, canyoneering and rock climbing. Be sure to soothe those sore muscles on this healthy honeymoon with an indulgent Red Rock hikers massage to restore your well-being. This fitness retreat offers Eat Well, Feel Well cooking demonstrations, lending you and your partner inspirational ideas for heathy recipes during married life.
Average May temperature: 25°C

View More: Healthy Honeymoons for May


June – Get active with hiking & mountain biking in Tuscany: Adler Thermae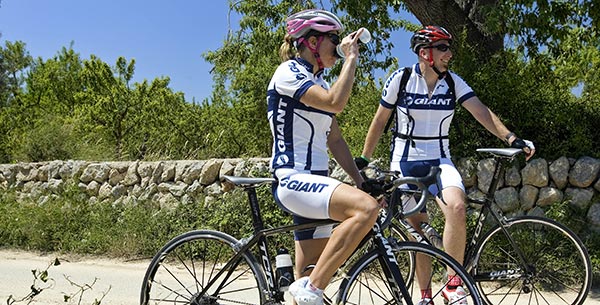 Mountain biking through the Tuscan Countryside

Make the most of Europe with a June healthy honeymoon in Italy and get active outdoors on one of our adventurous honeymoon activity holidays. Embrace the romance of your surroundings as you explore the lush green hills and wine lands of Tuscany with hiking and mountain biking. Visit the nearby town of Bagno Vignoni to soak up local cultural delights and delicious cuisine. After your active day of exploring, relax at the thermal spa and indulge in a range of luxury treatments from vinotherapy to Ayurveda. With complimentary access to group classes such as yoga and Pilates, return home from your healthy honeymoon in a bubble of wellness.
Average June temperature: 25°C

View More: Healthy Honeymoons for June 


July – De-stress and unwind in Crete: Blue Palace
Relax by the pool at Blue Palace

If months of meticulous wedding planning had you in a fluster, de-stress and unwind as you jet off in July to our luxury healthy honeymoon in Crete. An ideal choice from our luxury spa honeymoons, visit the tranquil beachside spa and absorb spectacular views of the azure waters as you and your newlywed unwind with a wealth of holistic spa treatments. De-stress with the powers of thalassotherapy and ocean inspired therapies; using salt water and marine life, such as seaweed, to aid in stress relief and wellness rejuvenation. Enhance your well-being with group fitness classes and tuck into the deliciously healthy cuisine for the complete healthy honeymoon experience.
Average July temperature: 26°C

View More: Healthy Honeymoons for July 


August – Retreat to the Swiss Alps: The Alpina Gstaad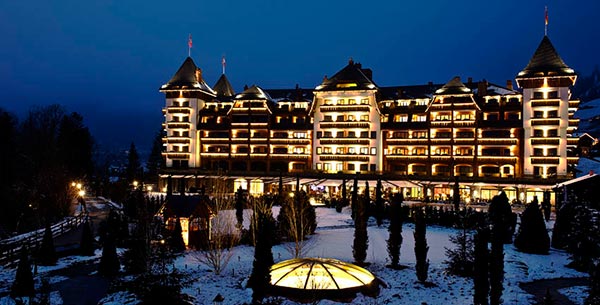 Experience the majestic beauty of the Swiss Alps in August as you retreat to Switzerland on one of our fun-filled activity honeymoons. Get active during the day as you explore the spectacular natural surroundings on an activity holiday whilst hiking, mountain biking and rock climbing with your loved one. Retreat to the outdoor swimming pool on this healthy honeymoon and soak up outstanding views of the surrounding mountain peaks. With complimentary access to a vast selection of fitness classes, enhance your well-being with yoga or Pilates and end your day in wellness by retreating to the Six Senses Spa. Relax in this intimate and romantic luxury spa where you and your newlywed can rejuvenate with a wide menu of holistic treatments.
Average August temperature: 16°C

View More: Healthy Honeymoons for August


September - Escape on a luxury spa safari in South Africa: Karkloof Safari Spa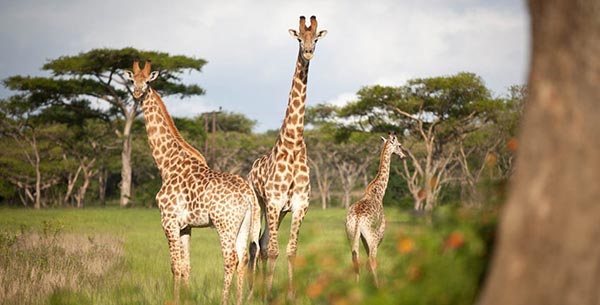 See Africa's Wildlife at Karkloof Safari

Experience an unforgettable healthy honeymoon and escape to South Africa on a luxury spa safari in September. For an all-inclusive healthy honeymoon that doesn't compromise on luxury, newlyweds can indulge in unlimited spa treatments, including massages, wraps and scrubs, as well as taking advantage of hydrotherapy facilities. Embrace tranquillity and wellness like never before and spot the big 5 in the peaceful surroundings of the African bush. Work up a sweat and enhance your health in these stunning surroundings with guided hikes, mountain biking trips and group yoga classes. The nutritious organic cuisine will leave you feeling like a brand new couple ready for married life.
Average September temperature: 20°C

View More: Healthy Honeymoons for September 


October – Discover health & wellness in the Philippines: The Farm
Yoga at The Farm

Discover the beauty and romance of the Philippines in health and wellness for a rejuvenating healthy honeymoon in October. With a back-to-nature approach to emotional and physical health, newlyweds can learn a healthier lifestyle as they detox and rebalance with holistically healthy treatments, activities and delicious raw cuisine. Be transported a whole world away from home and revive your senses with luxury spa treatments, including a peppermint foot scrub and Tibetan steam therapy. Feel at one with nature on this healthy honeymoon in a secluded tropical paradise with wellness activities, like outdoor yoga, surrounded by the soothing sounds of gentle waterfalls.
Average October temperature: 28.5°C

View More:  Healthy Honeymoons for October


November – Unwind with scuba diving & yoga in Bali: Zen Resort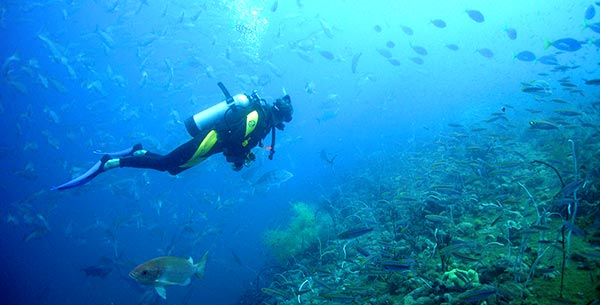 Scuba Diving at Zen Resort

For a November wellness getaway, discover the benefits of practicing scuba diving alongside yoga on this healthy honeymoon in Bali, ideal for a yoga honeymoon. Begin your exciting day with sunrise yoga to improve your flexibility and control your breathing, and see these results transgress directly to your diving experience. Get up close and personal to a wealth of colourful marine life in the turquoise waters, and start married life by creating wonderful wellness memories. Unwind at the end of the day with sunset meditation overlooking the secluded beach, before retreating to the Ayurvedic spa for facials and Abhyanga oil massages. For added romance, spot dolphins together on a sunrise sail.
Average November temperature: 27.5°C

View More:  Healthy Honeymoons for November


December – Explore with mountain hiking & fitness in Mexico: Rancho La Puerta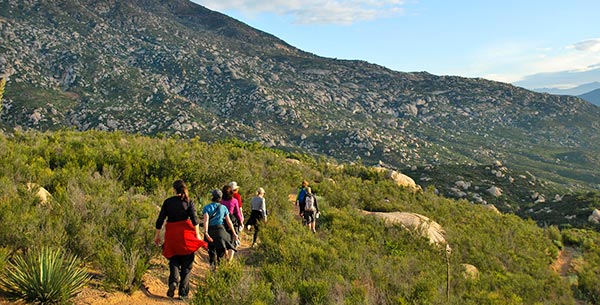 Go hiking in the mountains at Rancho La Puerta

For a truly unique healthy honeymoon, escape to Mexico and embrace the beauty of nature. With December being the perfect climate for being active outdoors in the Baja California region, lace up your walking boots and get adventurous as you explore with daily guided hikes on an unforgettable healthy honeymoon. Improve your well-being with a choice of over 50 fitness classes, including circuit training, yoga, tennis and beach volleyball. After you've worked up an appetite, take part in healthy cooking classes to learn about the benefits of a healthy vegetarian diet. Soak up the tranquillity by unwinding on the porch of your own private casita.
Average December temperature: 18°C

View More:  Healthy Honeymoons for December
Talk to one of our Travel Specialists on 1300 551 353 or contact us here to discuss tailor-making your perfect Healthy Honeymoon