Top Tips for Your First Cycling Holiday
Created: 11 June 2015

11 June 2015

With an array of possibilities, from triathlon training in Thailand, to aqua spinning in the Caribbean, the range of cycling holidays available is enough to set both our wheels and your head spinning. From recommending what to take, to discovering the best destinations, we share our top tips for booking your first cycling holiday.


What type of cycling holidays are there?
| | |
| --- | --- |
| ► | Road cycling is the most widespread form of cycling and can be enjoyed in a variety of ways, whether recreational, touring or racing. |
| ► | For those who are keen runners and swimmers, as well as cycling enthusiasts, a triathlon training holiday is a dream come true. |
| ► | If you've got the stamina, opt for a cross country or mountain biking holiday and feel the rush of exhilaration as you free-wheel down mountain-sides! |
| ► | For a totally different but still challenging style of cycling, complement a healthy holiday with a spinning class - cycling on a stationary bike, set to music and led by a certified instructor. Take it to the next level with aqua-spinning where stationary bikes are placed in water, to add extra resistance. |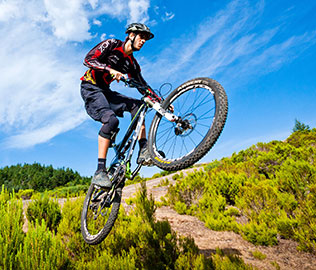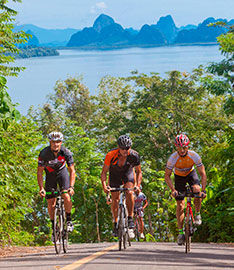 Cross country cycling (left) and Triathlon (right)


Who can go on a cycling holiday?
| | |
| --- | --- |
| ► | If travelling solo, a cycling holiday is a great way to enjoying some precious 'me time' away from the distractions of daily life, or meet like-minded singles who share your love for cycling. |
| ► | Suitable for all ages and abilities, the intensity and distance of a cycling holiday can be easily adapted by varying the routes, making cycling breaks a great healthy holiday option for families |
| ► | Hop on and discover new destinations as you make memories with your other half on a couples getaway, or turn your cycling adventure into a healthy honeymoon. |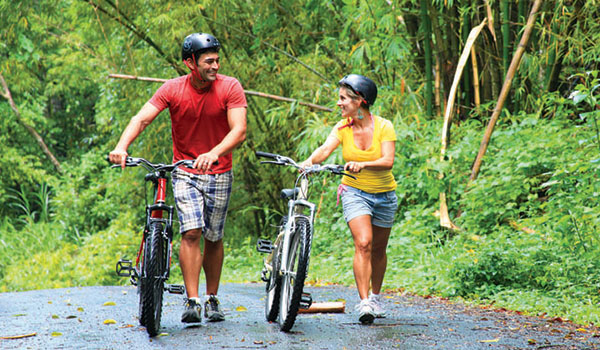 Go as a couple on a cycling holiday


Where are the best destinations?
| | |
| --- | --- |
| ► | Majorca's magnificent scenery makes it an island mecca for cyclists and Reads Hotel is at the heart of the experience, with accessible rides to the mountains, beaches and cultural highlights on scenic roads as well as challenging mountain biking routes. |
| ► | If you're looking for a cross country cycling break in a beautiful rural location, explore the stunning Estoril coastline of Portugal with The Oitavos Biking Break. Led by a professional guide, cycle through a countryside backdrop dotted with historic castles and palaces. |
| ► | For an all-over workout Thanyapura's Triathlon holiday in Thailand offers coaching for athletes of all abilities; just make sure to avoid the monsoon season (July-September). |
| ► | If indoor cycling is your thing, head to The BodyHoliday in St Lucia where classes are held in a jungle rooftop studio overlooking the sea, and you can mix it up with group outdoor mountain bike rides too. |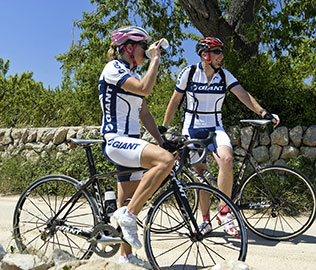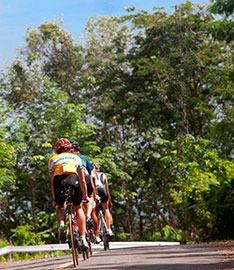 Cycling break at Reads hotel (left) and Triathlon at Thanyapura (right)


What activities will complement my cycling holiday?
| | |
| --- | --- |
| ► | Combine your cycling holiday with a luxury spa holiday and re-energise after an active day with a healing sports massage, for irresistible post-cycling muscle relaxation and recovery. |
| ► | Aqua-spinning classes are a fantastic way to build your strength whilst simultaneously relieving any strain on your joints. |
| ► | Heightening your strength, balance and mental clarity, yoga is a fantastic complement on a cycling holiday. Practice Pranayama for advanced breathing control and feel the benefits when cycling. |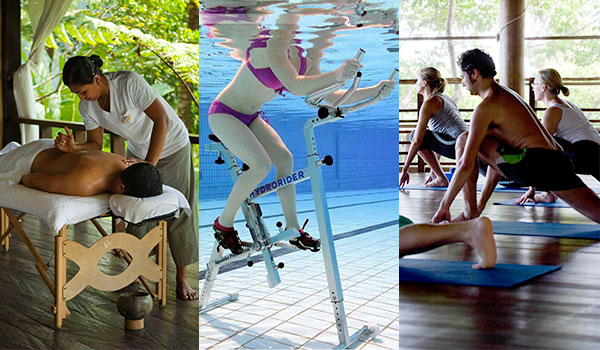 Activities to do to complement your cycling holiday


What to do before you go?
| | |
| --- | --- |
| ► | A month before you embark on your cycling holiday, start to exercise more regularly - just three 30-minute cardio workouts a week will give you the extra bit of strength needed to keep going when training on your trip. |
| ► | Making healthy food choices will also help you to feel energised, so eat balanced and nutritious meals, avoiding processed and refined-sugary foods, and you'll soon notice an increase in your energy levels. |
| ► | Finally, ensure you have got all of your kit prepared so your healthy holiday is stress free. Read on for advice on what to pack! |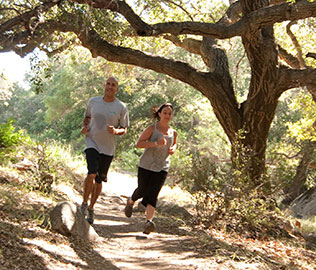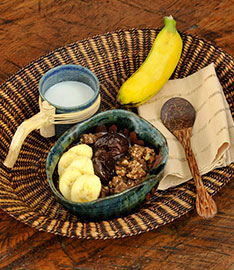 Outdoor cardio training (left) and healthy snacks (right)


What to take?
The all-important essentials of bike and helmet will be provided by your cycling holiday, so no need to worry on that front. However, there are a few more items which you'll appreciate whilst on your cycling holiday. Use this handy checklist to make sure you've got everything you need.
| | |
| --- | --- |
| ► | Cycling shorts (consider padded) |
| ► | Padded seat cover |
| ► | Tops (avoid cotton and choose something breathable to move moisture away from your body) |
| ► | More layers (easy to adapt according to weather conditions) |
| ► | Gloves (provide better grip when sweating) |
| ► | Worn-in trainers (don't risk blisters and discomfort from brand-new shoes!) |
| ► | Small backpack |
| ► | Good drinking bottle |
| ► | Lightweight rain jacket |
| ► | Sunglasses and sun cream |
| ► | A camera to capture the memories! |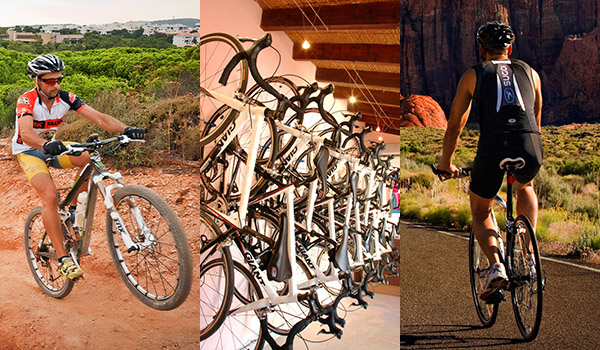 Gear up for your cycling adventure

Remember, you don't need expensive equipment in order to be successful; you just need to give it all you've got and have fun.
Talk to one of our Travel Specialists on 1300 551 353 or contact us here to discuss tailor-making your perfect cycling holiday.