Top 5 Girls' Wellness Getaways
Created: 12 September 2019

12 September 2019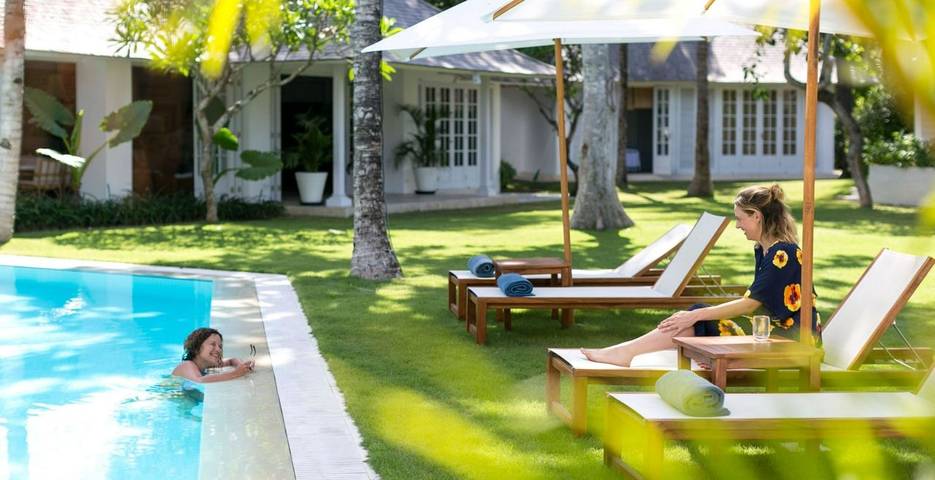 As featured in Women's Health and Fitness Magazine

Ladies, it's official—study says that travelling with your girlfriends is good for your health. Sure, you could convince the squad to go on a girls' getaway with cocktails, shopping and plenty of deep-fried food. OR you could get all the same laughs and enjoyment—minus the health concerns, with our host of group-friendly wellness retreats.
$$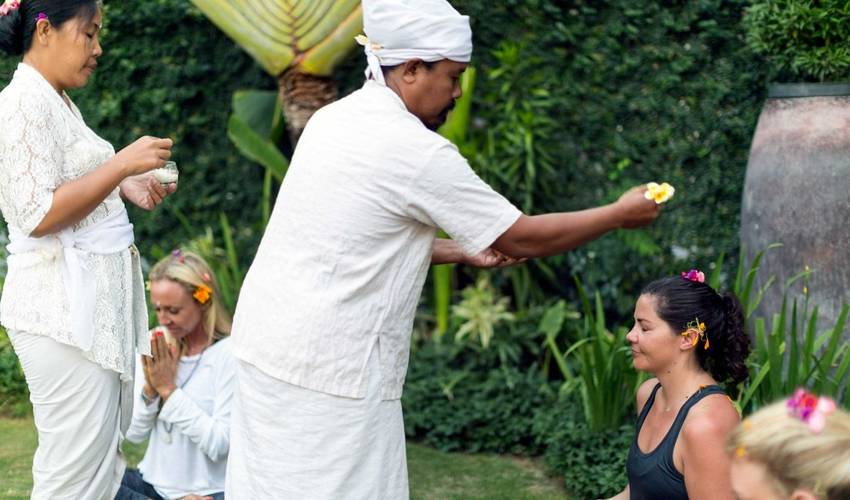 Balinese Blessing at Ocean Soul Retreat
Bali is always a good idea, especially for a warm holiday break with the besties! Surrounded by vibrant tropical gardens, this women's only retreat provides you with the idyllic atmosphere to connect and find your inner Zen. Ocean Soul will take you and your friends on a wellness journey to lead a stress-free and balanced life with a range of activities and treatments including yoga, surfing and holistic healing sessions. With surreal tropical surrounds and an extensive class timetable, all with the objective to have you return feeling rejuvenated and energised, your Bali getaway will be a trip to remember.

What's included: Six nights accommodation, full board, return transfers, a wellness lecture, five days of surf lessons, quality surf equipment, daily yoga and guided meditation sessions, massages, access to pool and an Ocean Soul Retreat gift pack.

We love: It's a place for empowerment, with like-minded ladies joining you in activities that you enjoy and love.
$$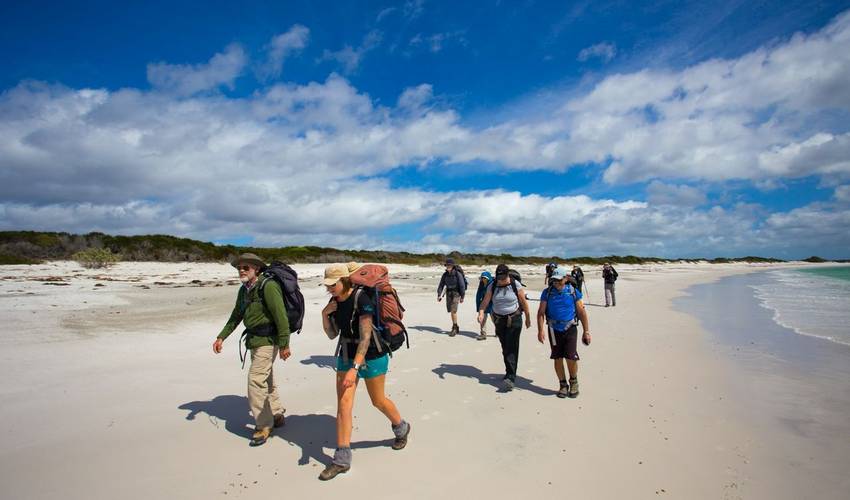 Bay of Fires Lodge Walk by Great Walks of Australia

Take the squad out for a long weekend of fitness, adventure and discovery. Together with a small group of no more than ten hikers, this retreat invites you to a four-day journey through the most dramatic landscapes along the coast of Mt. William National Park in north-eastern Tasmania. On the first night, wind down along white sandy beaches at the Forester Beach Camp. By the second and third, recover in pure remoteness at the Bay of Fires Lodge, set 40 meters above the beach. Look out to the most stunning surroundings from glass pavilions or an open living area complete with a fireplace and nooks for complete relaxation.

What's included: Four-day coastal hike, three nights accommodation, leisurely strolls, friendly professional and experienced support staff, hearty full-board meals, use of daypacks and waterproof jackets, national parks entry fees

We love: Lodging is of five-star luxury, so after a day's worth of leisurely walks and activities, you get to relax in pure indulgence. Afternoon tea will be waiting, along with spa treatments for those who want to pamper.
*Departs Daily from 1 October to 1 May
Before we reveal the rest, let's pause for a brief moment. If you love reading about our healthy holidays, join the Health and Fitness Travel community through our free monthly newsletter.
Be the first to hear about our latest updates and exclusive wellness travel offers.
Don't see a sign-up form? Send us a message This email address is being protected from spambots. You need JavaScript enabled to view it. and we'll add you right away.
 
Aro Hā, New Zealand
$$$$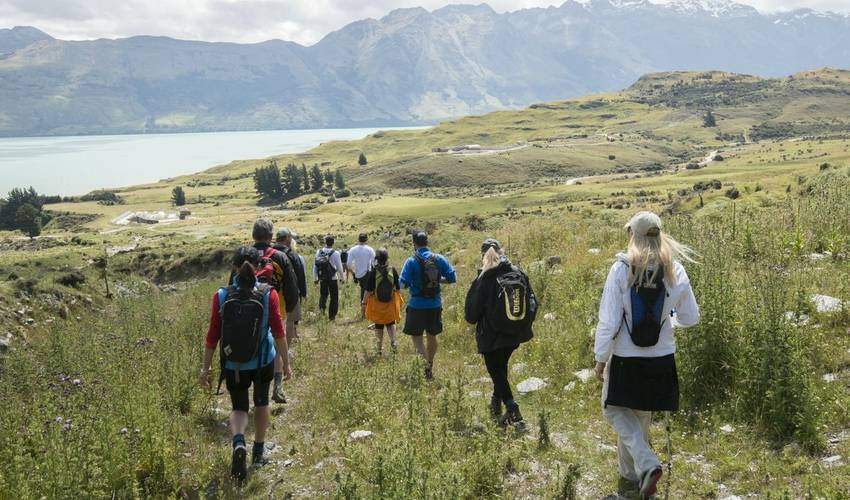 Sub-alpine hiking at Aro Ha

Surrounded by New Zealand's majestic Southern Alps, luxury wellness retreat Aro Ha fuses stunning sceneries, eco accommodation and the best vegetarian cuisine, using locally produced organic ingredients. It's a surreal place for fellowship as you enhance your connection with others, yourself and nature during sub-alpine hikes and kayaking trips across the lake to the natural bird sanctuary of Pigeon Island. Together with yoga, meditation and spa sessions, achieve optimal wellness at this otherworldly wellness escape as you unwind with friends, old and new.

What's included: Accommodation in an eco-suite, a five-day all-inclusive wellness program, sub-alpine hikes (or kayaking if weather permits), strength training, contrast spa therapy sessions, daily yoga and meditation sessions and unlimited use of water therapy suites.

We love: The all-inclusive offering at Aro Hā means that you simply arrive, unplug and allow the team guide you on your wellness journey.
$$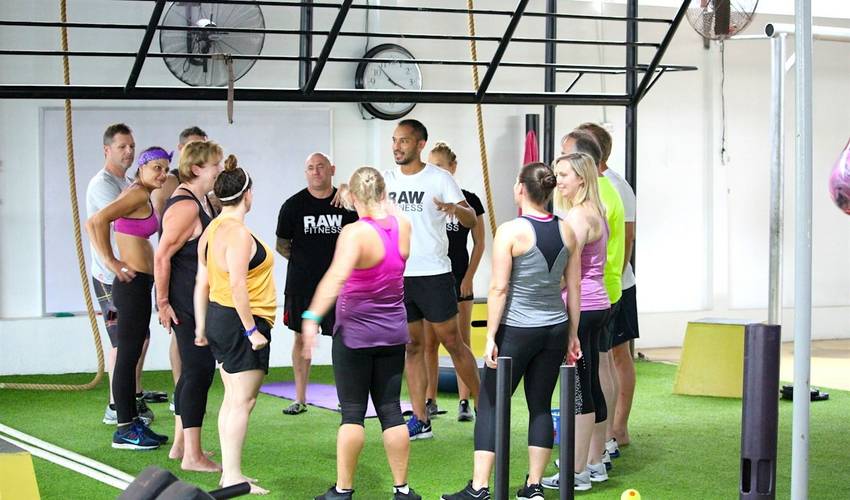 Group fitness training at the Raw Fitness Gym by Phuket Cleanse

Going to Phuket Cleanse is like coming home to family. Whether traveling with a group or by yourself, you'll find a friend in each staff and guest you meet. There's a sense of tribe that shines through the most during group fitness activities, with a fun and supportive environment, and when it's time for recovery on the ice bath and sauna, you'll find yourself sharing stories and laughs with seemingly long-lost pals. With a shared dining hall for a place of community and a vibrant tasty feast, the saying 'good food is all the better when shared with good friends' couldn't be more fitting. Enjoy a beach chill out as the sun sets, and at night, gather round for meditation sessions to nurture the body, mind and soul.

What's included: Seven nights accommodation, an eight-day all-inclusive program, shared transfers, daily ice bath, herbal steam sauna, unlimited vegan protein drinks and juices, local excursions, VIP (1-on1) Muay Thai or yoga session, complimentary green laundry service, and four full body evening massages.

We love: The contagious positive energy at the retreat – you're bound to return home feeling happier, content and more energised than ever.
$$$$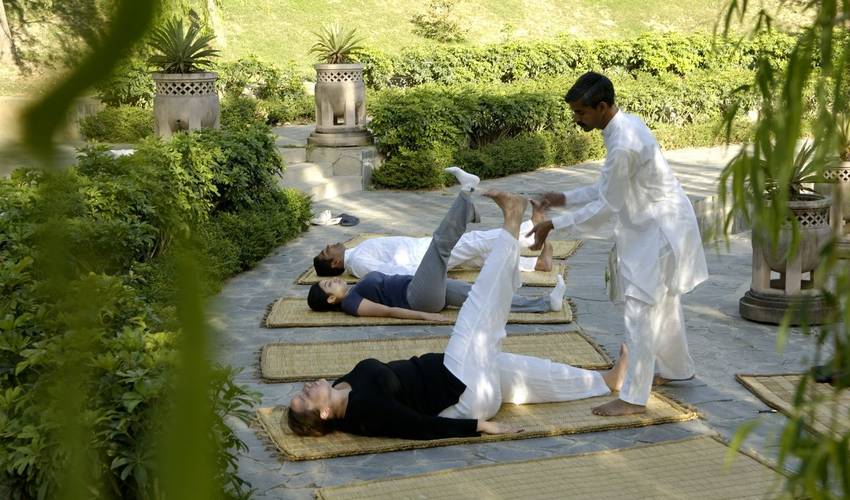 Yoga amphitheater at Ananda

For any yogi cliques wanting to embark on a quest to dive deeper into the practice, Ananda in the Himalayas is the perfect location. Surrounded by the vista of the Himalayas, and just outside the wellness haven of Rishikesh, this luxury wellness resort provides the best in authentic yogic experiences. Although many group sessions are available, tailoring the art of yoga to your body is also of exceptional importance here. Ayurveda plays an important role within the retreat and guests can indulge in an extensive range of specialised treatments within its sphere to rebalance mind, body and soul.

What's included: Five nights accommodation, a wellness program, full board, return private transfers, wellness consultation, fitness evaluation, daily use of hydrotherapy facilities, attendance to group classes like yoga, pranayama, cooking demonstrations and wellness workshops and lectures.

We love: Outdoor yoga classes at sunrise with birds singing is an experience out of the ordinary that just cannot be matched.


Can't find what you're looking for? Talk to one of our Travel Specialists on 1300 551 353 or contact us here or schedule a call back to discuss tailor-making your perfect group retreat.