The Best Yoga Retreats in Asia
Created: 12 January 2017

12 January 2017

Whether you're a yogi pro or a complete beginner, the ancient art of yoga is for absolutely everyone, so get yourself on one of our yoga retreats in Asia for a range of mental and physical benefits. Learn from the pros on how to master yoga poses as you focus on your posture, breathing and mindfulness and let the power of yoga take over. From India to Thailand, absorb the tranquillity and soak up the cultural atmospheres of a Yoga Synergy at Kamalaya as you reconnect with your inner-zen in an exotic destination.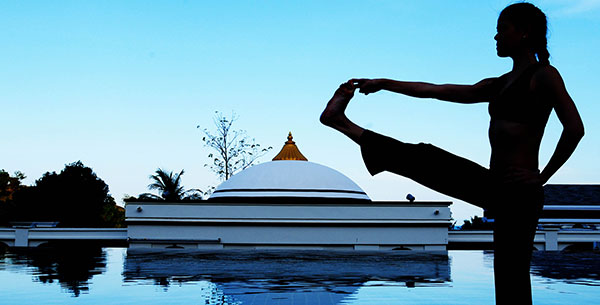 Discover the power of yoga at Absolute Sanctuary

Embark on a holistic wellness journey on the beautiful island of Koh Samui with a yoga retreat at Absolute Sanctuary. World class facilities and leading in-house yoga teachers makes this a welcoming retreat for beginners looking to learn yoga on holiday and uncover the power of yoga. With unlimited yoga classes you can really get to grips with the basic techniques and feel your flexibility improving day by day. For those more experienced yogis, different styles of yoga allow you to choose between Hot Flow, Hatha or Yin-Yang, to name a few, before unwinding further in the luxury spa to obtain total tranquillity.

Information and Booking: Absolute Sanctuary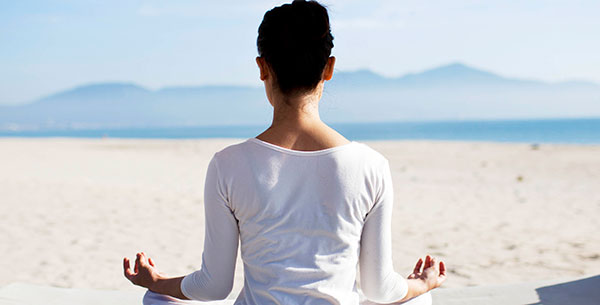 Practice yoga on white sandy beaches at Fusion Maia

Shine your spotlight on yoga on a yoga retreat in Asia and enjoy the combination of private and group yoga classes to significantly improve your technique with Fusion Maia's own signature style of practice. Nestled on Vietnam's east coast, enjoy the sea breeze on a beach yoga holiday as you perfect your downward dog before venturing out on a cycle ride to appreciate the natural beauty surrounding this yoga retreat in Vietnam. Complement the rejuvenating effects of yoga in the Maia Spa with an aromatherapy facial, before making the most of a range of water sports or additional group classes, from Tai Chi to meditation.
Information and Booking: Fusion Maia
Hone your technique under the guidance of yogi experts at Kamalaya

Set upon the Thai island of Koh Samui, escape to this award-winning yoga retreat in Thailand where you can enhance your practice in a paradise setting. Whether you are a beginner or an expert yogi, daily private yoga sessions are customised to ensure you meet your health goals and develop the areas you wish to improve on. Aside from focusing on posture, breathing and meditation through yoga, guests are treated to rejuvenating Asian inspired spa treatments from experienced Thai therapists, including a royal Ayurvedic massage, to stimulate your entire body in a relaxing and calming way.

Information and Booking: Kamalaya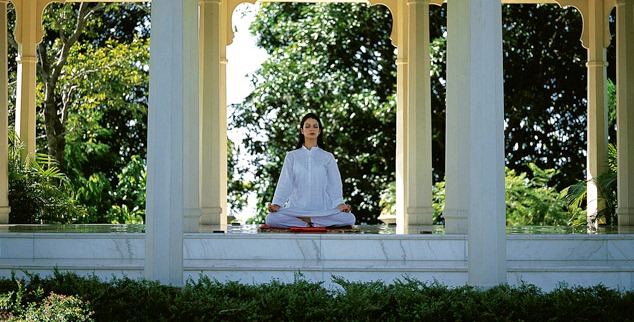 Achieve inner peace and calmness at Ananda

Treat yourself to the rediscovery of inner-peace at Ananda in the Himalayas with a mixture of personalised yoga classes and the Ayurveda spa holiday to relieve yourself from the stresses and strains of everyday life. Utilise the wellness and lifestyle consultations available to optimize your time at this luxury yoga retreat in Asia and ensure you are boosting your well-being in the best ways possible. In-between strengthening muscles, heightening posture and controlling breathing, relax in the luxury spa on a yoga and Ayurveda retreat where you can choose from an extensive
list of over 80 holistic treatments designed to enhance your overall well-being.
Information and Booking: Ananda in the Himalayas
Immerse yourself in calming holistic activities at Chiva-Som

Journey towards self-discovery, wellness and peace of mind at this secluded beachfront yoga retreat in Thailand. Focus on you and gain a greater sense of awareness on a yoga retreat for singles as you partake in group yoga classes or one-on-one sessions in a range of practices, including hatha and vinyasa flow. Complete your yoga retreat in Asia by immersing yourself in different holistic activities like meditation, Pranayama or Ayurveda cleansing techniques to promote general well-being. With a choice of daily massages, including a Thai foot massage and an Oriental scalp massage, you will return home feeling more relaxed in both body and mind.
Information and Booking: Chiva-Som International Health Resort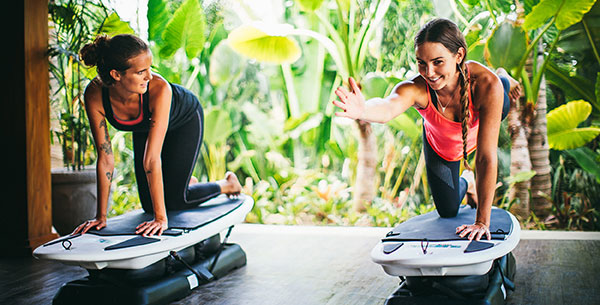 Learn to balance your mind and body at Komune

Up your wellness experience at this beachside yoga retreat in Asia, set upon the stunning east coast of Bali. Take your practice to a whole new level with the combination of yoga and surf holiday, which will teach you greater balance both on and off the water. Mix things up on your yoga retreat as you absorb the local culture and atmosphere through an exciting list of other activities, like white water rafting, a traditional cooking class, rice paddy tour or a volcano hike. Refuel with cold pressed juices and fresh organic food to nourish and detox your body.
Information and Booking: Komune Resort & Beach Club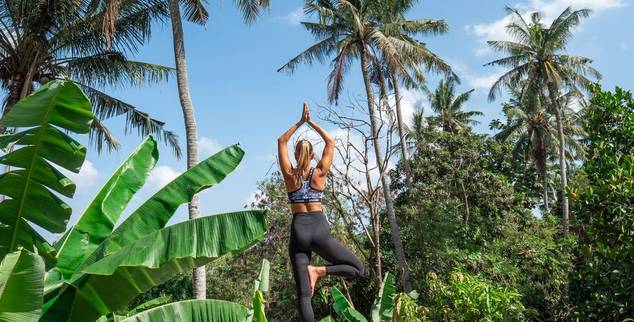 Heal your mind, body and soul at Escape Ritual

Engage in a luxurious back to nature yoga retreat in Asia at Escape Ritual where you can embrace the tranquil environment as you learn how to master your half-cobra pose. Begin your healthy holiday with daily yoga sessions, including Hatha flow, Yin and Restorative, to improve strength and posture. Continue to boost your well-being with sessions including guided sensory and guided visual meditations on a yoga and meditation holiday that will heal your body, mind and soul. Complement these holistic classes with a selection of treatments in the spa including hot stone massages and coconut body scrubs which will realign your energy pathways.
Information and Booking: Escape Ritual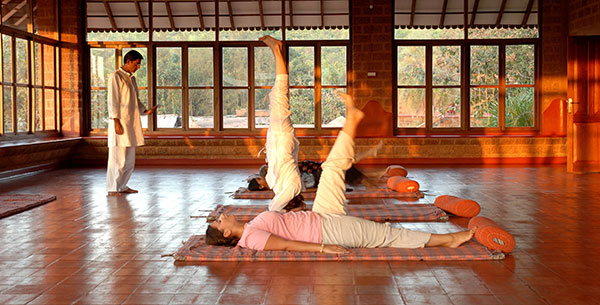 Restore your health and vitality in the blissful surroundings at SwaSwara

For those looking to escape the hectic pace of a fast-paced daily life, this tranquil yoga retreat in India is sure to bring about peace of mind as you absorb the calming atmosphere and blissful surroundings. Cleanse your body with kriya yoga on your first day for a yoga and detox retreat which will set you off on the right foot, paving the way for yoga sessions, naturopathic massages and meditation to have full effect on your mental and physical state of being. Return home from your yoga retreat in India ready to face life head on with renewed vigour and restored vitality.
Information and Booking: SwaSwara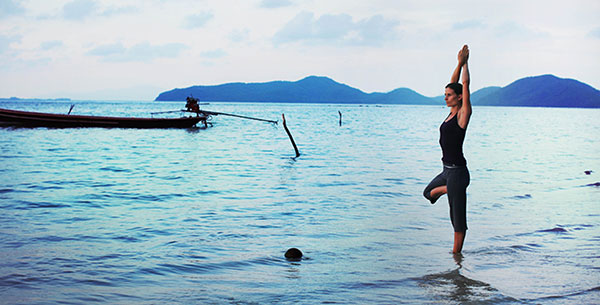 Adopt a positive and stable mindset at Samahita

Set on the south coast of Koh Samui, restore your well-being and boost your fitness at the same time on a yoga and fitness retreat where you can enhance your yoga practice and achieve your fitness goals. Restore your body's vitality through a selection of cycling and core body-weight resistance classes, before stretching out with twice daily yoga classes. Take some time to relax during daily morning meditation sessions, to ensure you adopt the right mind set for enhancing your well-being. Make the most of the luxury spa where ancient Ayurveda treatments heal your body, leaving you in a revived state of health.
Information and Booking: Samahita Retreat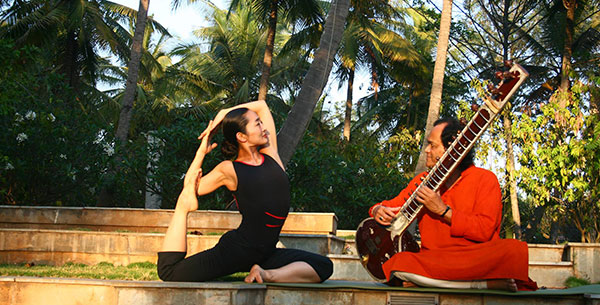 Transform yourself into the ultimate yogi at Shreyas

Surround yourself with tranquillity at this yoga retreat in Asia where you can enhance your spirituality as much as your mental and physical well-being. With so many different styles of yoga on offer, ranging from Nidra to Kriya to Trataka, transform yourself into the ultimate yogi. Experience the award-winning spa and indulge in therapies designed to soothe your tired muscles and achieve optimal relaxation. Boost your cultural awareness on a yoga and culture retreat with excursions to nearby farms or schools, or attend a cooking class to heighten your knowledge about Indian cuisine.
Information and Booking: Shreyas


Talk to one of our Travel Specialists on 0203 397 8891 or contact us here to discuss tailor-making your perfect yoga holiday.