The Best Spa Retreats in Paradise
Created: 12 December 2016

12 December 2016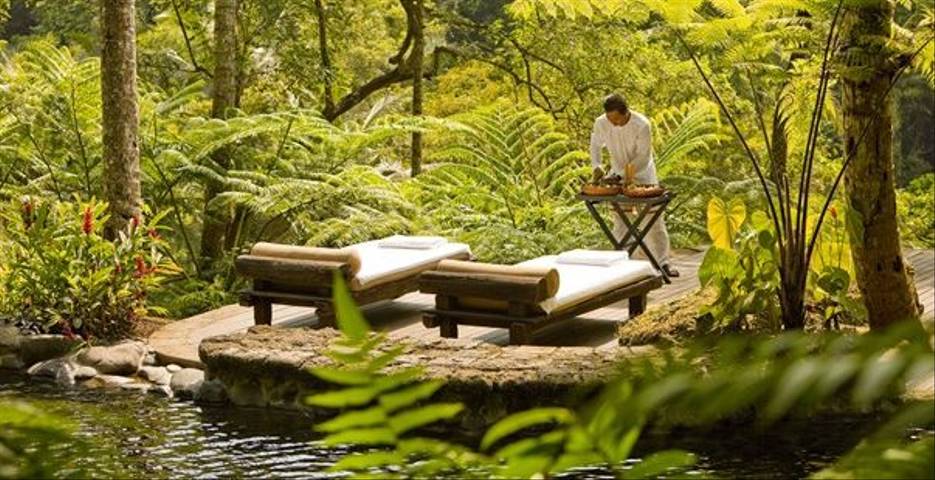 Living in today's fast-paced world, a holiday to an exotic tropical paradise where you can embrace pure relaxation on a luxury spa retreat might just be at the top of everyone's travel wish list. From the lush forests of Costa Rica to the tropical hills of Bali, you are sure to experience your dream holiday on a spa retreat in paradise with just the right mix of leisure and adventure. These beautiful, exotic destinations offer the full package; magnificent surroundings to explore, a whole new cultural experience, delicious flavourful menus, fun activities, and luxurious spas for ultimate relaxation, making them the best spa retreats in paradise.


Rediscover the essence of tranquility at Como Shambhala Estate

Located in the tropical hills of Bali, revive your senses on a spiritual and holistic retreat at one of the best spa retreats in paradise. This multi-award winning spa offers a back-to-nature holistic approach, with an array of Asian-inspired spa treatments to improve overall well-being. With Ayurvedic and oriental medicine treatments, this spa retreat in paradise focuses on the person as a whole and aims to re-balance mind, body and soul. The ancient practice of yoga and the art of Pilates are used together with spa treatments to reach this goal and help guests discover a more balanced lifestyle.

More information: View Como Shambhala Estate


Experience a luxury spa retreat in paradise at The BodyHoliday

Jet off to the beautiful island St Lucia for an unforgettable spa retreat in paradise where you will be pampered with daily spa treatments. Home to an award-winning spa that delivers a personalised stay of spa treatments and activities based on the principles of exercise, diet, restorative beauty and relaxation. With a wide range of spa holidays, from healthy ageing to the cutting edge BodyScience program, which uses DNA testing to create a precise approach to helping your body reach optimal health, experience one of our ultimate luxury spa retreats in paradise which will transform the way you spa forever.

More information: View The BodyHoliday


Calm your mind, body and soul at Soneva Kiri

Nestled in a tropical rainforest, this spa retreat in paradise features the renowned Six Senses Spa which offers a variety of Asian inspired wellness treatments, making for a truly authentic relaxation and pampering spa retreat experience. With a range of bespoke spa programs, from Ayurvedic wellness to sleep and stress management, your personal requirements can easily be fulfilled to help you reach optimal wellness. End your relaxing day with a unique tree pod dining experience, taking in spectacular ocean views six metres above the ground, as your waiter delivers food to your own pod via a zip line.

More information: View Soneva Kiri


Relieve your body from daily stresses at Shanti Maurice

Escape to a spa retreat in paradise set amongst the tropical gardens of the Mauritian south coast with breath-taking views over the clear turquoise waters and offshore reefs. Rediscover your inner self at this wellness retreat with treatments at the Nira Spa which focuses on the connection between the mind, body and spirit. Aiming to achieve complete harmony between the inner and outer self, a variety of holistic spa treatments have been created through a synthesis of ancient and modern wellness practices. Indulge in a series of massages and other spa treatments on a relaxing de-stress spa retreat to balance your well-being and calm your spirit.

More information: View Shanti Maurice


Soak up the sun by beautiful Maldives beaches at Maalifushi by COMO

Discover the tropical island of Thaa Atoll on a spa retreat in paradise surrounded by the dazzling blue waters of the Maldives. Explore the unspoiled sea paradise on a beach spa retreat where you can witness the bustling underwater marine life. Fill the rest of your days relaxing by the pool taking in the magnificent sea views, practicing yoga and indulging in restorative spa therapies embracing the holistic approach to health. Return home after an unforgettable spa retreat in paradise feeling completely restored and re-energized having had a good mix of fun and relaxation.

More information: View Maalifushi by COMO


Rejuvenate in the paradise of Costa Rica at Florblanca

Discover the tropical jungles and coastlines of Costa Rica on an adventurous spa and sport retreat in paradise where you can explore the exotic surroundings with a range of fun-filled activities including surfing, horseback riding and zip lining. Make the most of the rich tropical jungles and wildlife on a guided trek; spotting monkeys and sloths, and be sure to make it to the top for the breath-taking hill top views. Complete your spa retreat in paradise by taking some time to laze by the pool and indulge in tropical inspired massages and facials at Florblanca's Spa Bambu.

More information: View Florblanca
Talk to one of our Travel Specialists on 1300 551 353 or contact us here to discuss tailor-making your perfect spa retreat.