The 7 Most Expensive Remote Luxury Wellness Hotels in the World
Created: 26 October 2020

26 October 2020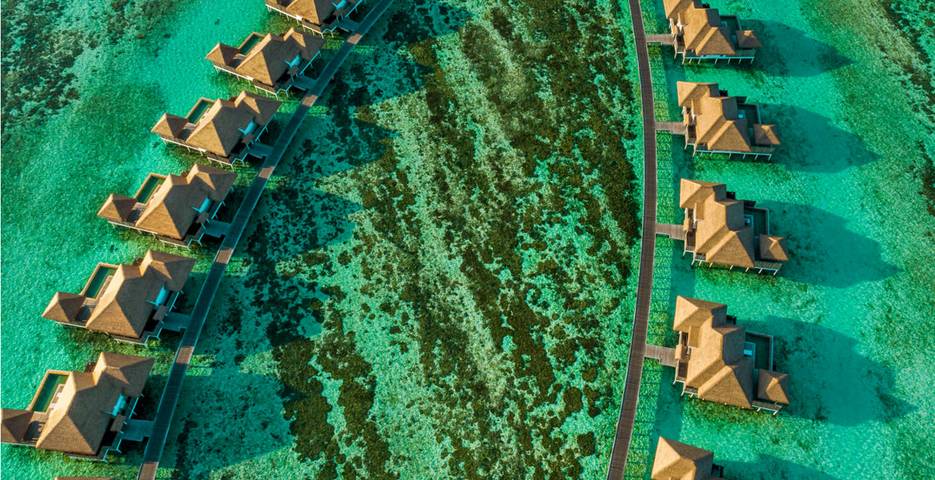 The world seems to be getting smaller. In the past 45 years, the population of the world has almost doubled and it shows no signs of slowing. It is becoming harder to get the peace we need from the mania of the modern world. However, there are oases out there. These remote luxury wellness retreats prioritise your peace of mind for a holiday in incredible comfort. In some of the most breath-taking natural landscapes, they envelop you in a retreat experience that aims to rid you of all anxiety. From the Gulf of Oman, to the Maldives and on to the Caribbean, there are remote luxury wellness hotels to satisfy every taste in culture and climate. For a truly reliably and exclusive time, arrive at your glamorous destination on a chartered private jet: organised, hassle free, by our Health and Fitness Travel team. For those looking to immerse themselves in peaceful seclusion, here are the 7 most expensive remote luxury wellness hotels in the world. 
COMO Parrot Cay, Turks & Caicos
Nothing says remote luxury like arriving to your holiday island by private boat. This glamorous arrival will be yours with a holiday at COMO Parrot Cay in the overseas British colony of Turks & Caicos. The luxury Caribbean resort is located on a small private island off of North Caicos. It is a sublime sanctuary surrounded by luscious, unspoilt natural beauty and temperate waters. The lights and noise of a city strip will feel light years away as you watch the sun set from your waterfront beach house. Live life as a 21st century Robinson Crusoe on your own Caribbean island.  
More information and booking: COMO Parrot Cay
Kamalaya, Thailand
Koh Samui embodies the natural wonder of a recently discovered island. It wasn't even until 1973 that a single track was built for vehicles on the island. Prior to that, your journey to your hotel would have been a hike through thick tropical jungle. Even to this day, a wellness holiday in Koh Samui is a throwback to the beautiful and hospitable past of Thailand. The simple life of calm, reflective spirituality is what you'll find at Kamalaya. Guided meditation is offered as a continuation of the Buddhist heritage of the island, along with programmes to de-stress and improve health.
More information and booking: Kamalaya
Ananda in the Himalayas, India
Ananda is the 100-acre estate of a former Maharaja, and the palatial majesty of the building is as present as ever. Situated near to Rishikesh, this hidden wonder overlooks the Ganges river valley: the spiritual life blood of India and Bangladesh. At the foot of the Himalayas, Ananda sits in serene peace with its surroundings making it the perfect location for a luxury meditation retreat. This grand hotel's spa has been voted world's best 4 times by Conde Nast Traveller UK in the last 15 years. Ananda's award spinning spa and mountainous location makes it one of the best luxury remote wellness hotels in the world.
More information and booking: Ananda in the Himalayas
Six Senses Zighy Bay, Oman
Discover why the middle east has always had a reputation for incredible hospitality at Six Senses Kaplankaya. You'll fly to Dubai but you'll leave the Vegas of the UAE far behind as you journey in to the natural seclusion of Oman. From the shade of the private bay, you can look out over the Gulf and the Hajar Mountains. Guaranteed bright weather, wonderful views and 5-star facilities makes this a luxury remote resort in an unconventional, yet spellbinding, destination. Discover Six Senses admirable commitments to eco-friendly holiday making as 80 percent of the waste created on the property (organic or glass) is recycled or upcycled on site.
More information and booking: Six Senses Zighy Bay
COMO Maalifushi, Maldives
The most geographically remote on this list, COMO Maalifushi is a Maldivian paradise. Access to this tropical paradise is by a 13-hour flight to Male international airport and then a 60-minute seaplane journey to the hotel dock. This is the only resort to open on the unspoilt Thaa Atoll, giving this resort a true feeling of seclusion and exclusivity. The cobalt coloured Lagoon is easily viewed from exquisitely designed buildings which respect the natural surroundings and are sensitive to the local culture. Island paradises are not just for fantasies, this remote luxury hotel is the physical embodiment of a dream wellness holiday.
More information and booking: COMO Maalifushi
Amanpuri, Thailand
Discover Thailand, as it was in bygone days, with its thick natural scenery still intact. Amanpuri rests on the hill top of a Phuket peninsula, giving those who visit a rare opportunity for panoramic views of the Andaman sea. White sand beaches and coconut groves give this remote luxury wellness hotel a look of rich, natural bounty. The temple style of the hotel's architecture blends perfectly to the surroundings, creating a modest yet luxurious atmosphere. Amanpuri's world class fitness and wellness centres are ideal for those looking to improve their fitness. Keep your distance from the crowds in luxurious Thai style.
More information and booking: Amanpuri
COMO Shambhala Estate, Bali
COMO Shambhala is shrouded in dense jungle and sits close to the wild white waters of the River Ayung. The resort uses only natural spring water for its pools: free of the chemicals found in many chlorinated rivals. Tall palms and rich foliage bury the authentic thatched roofs of this luxury remote resort in a flourishing of natural peacefulness. COMO Shambhala's spiritual and holistic retreat offers a blessing from a local priest in honour of Ganesha at their natural spring. Transport yourself back to the ancient practices of the region as you feel the cleansing healing properties of the natural Balinese water.
More information and booking: COMO Shambhala Estate
Talk to one of our Travel Specialists on 1300 551 353 or contact us here to discuss tailor-making your perfect remote luxury wellness retreat.