Strong, Healthy Women Interview Series: Sophie Guidolin
Created: 01 March 2019

01 March 2019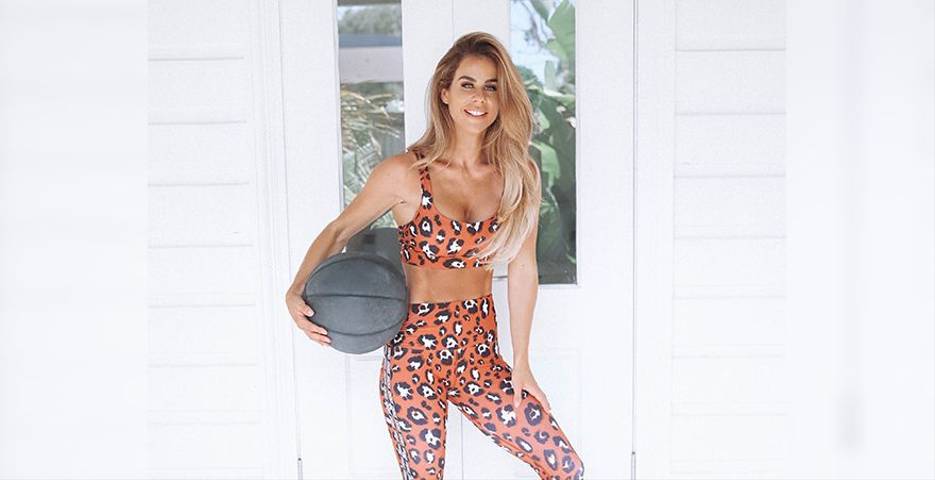 Sophie Guidolin is an Australian born author, with her 7 published recipe books being loved to death in tens of thousands of households. She is the queen of multitasking, thrives on organised chaos and creates nourishing goodness from her family kitchen in the NSW coast. Along with being a mother-of-four, Sophie is a nutritionist, recipe creator, personal trainer, fitness model, professional IFBB bikini athlete and writer, and relishes in the craziness of it all! She still gets butterflies from her husband, Nathan and savours every quiet second they can squeeze in with their four kids, including their twin girls. Sophie lives for the days spent in the kitchen cooking, but when she is not, she is never far from her children, usually at the beach or nestled with a book somewhere sunny. Sophie is also the OG of THE BOD, a global movement of men and women changing their lives for the better through nutrition and exercise.
Find inspiration as we talk to Sophie Guidolin in our #StrongHealthyWomen interview.
---
Hi Sophie! Thank you for being part of the Health and Fitness Travel, Strong, Healthy Women Interview Series, where we are shining a light on the importance of self-care, not as an indulgence but a necessity to reduce stress and general health issues.
Is there such a thing as a typical day for you and what does that look like?
There are a lot of daily routines that always stay the same when I am not travelling- I wake up early to work out, get the kids sorted for school and I head into our office in Burleigh. A typical office day has a lot of variety- from approving book proofs to testing recipes, workout videos and responding to customer emails. I love that there is so much variety, but my favourite part of my entire job is seeing client successes and our BOD weekends.
Can you share a time when you felt your well-being was challenged in the past and what did you overcome it?
It is a daily challenge. For me finding the balance of work and home is an everyday struggle. I have a lot of projects on my plate and I need to ensure they're all run simultaneously without hiccups. It can be a real juggle because having 4 kids requires a lot of my attention as well. I have recently stepped back from a lot of the micro managing of my different projects to ensure that my family doesn't suffer as a result.
What does being healthy mean to you and how do you keep this at the forefront when life gets unavoidably busy?
Being healthy is more than what you eat and how much you exercise. It is what you think, how you sleep, how clear your skin is, how much energy you have and the impact you have on others lives.
I have recently started meditating and appreciating the different feelings and emotions that life can throw our way rather than avoiding the things that make me upset, but embracing them and focusing on the why and how I can get past them.
Have you ever taken a holiday specifically for your well-being? Can you share what the experience was like?
No, but I think it sounds like a great idea. You cannot pour from an empty cup. You know when you're on a plane and they say to fit your own mask before anyone else, because you're no help to anyone if you're down? That is a great analogy with life also, do you first, always.
Every woman's idea of self-care is different, tell us about yours?
I think that self-care is integral as a woman. It is about saying no to the things we cannot find the energy to dedicate time to. It is saying no to the things that pull you away from the things you love. It is putting your own needs above others and learning to be your biggest supporter. We are taught from an early age not to love ourselves out of fear of being arrogant or self absorbed, but in the process we create an insecure being. Loving ourselves should be the first step in becoming a woman. Learning that we are perfect just the way we are and being happy on your own.
And you have a new recipe book and app, The Bod. Can you tell us about your inspiration for this?
In 2019 we have so much information- all conflicting in regards to health and fitness. My aim is to make it as easy and possible and I truly believe that we are achieving this goal. Our new recipe book has scalable recipes that directly load the nutritional breakdowns into your smart phone. The app will change the game in so many ways- think of it like a personal coach in the palm of your hands- it guides you through your workouts, provides you with a custom meal plan and also gives you the recipes you need with a dedicated shopping list to help you even further!
Want to tell your story? Reach out to us via This email address is being protected from spambots. You need JavaScript enabled to view it. and be featured as our next strong, healthy woman.