Strong, Healthy Women: Sharon Joy
Created: 28 August 2020

28 August 2020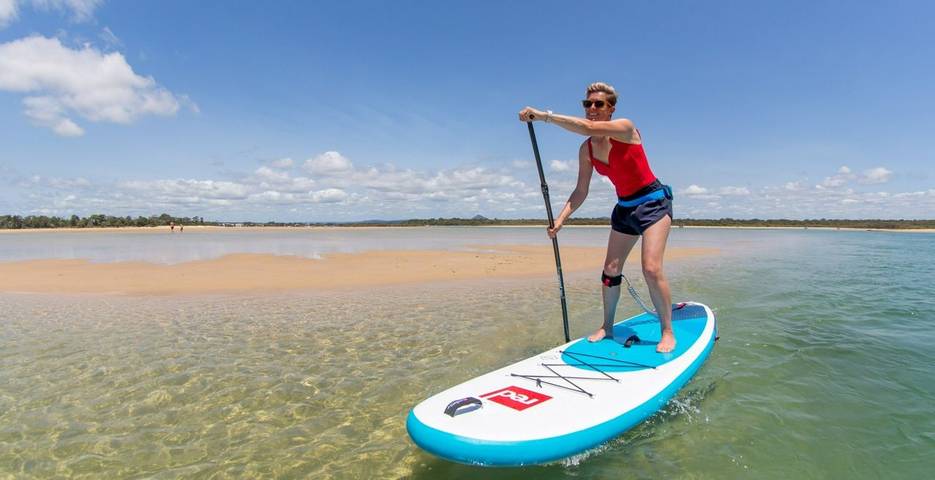 Sharon Joy went from being a tired primary school teacher to a full-time traveller before transforming her career to become the Marketing Manager of Red Paddle Co Australia and inspired soulpreneur. Now living the laptop life, her joy is helping people to live out their dreams by sharing her love of stand up paddle boarding for its many mind, body, balance benefits as well as helping women to bring the buzz back.
Sharon specialises in helping people transform their online brand, their wellness and their life by putting the spark into soul and selling and the whole into wellbeing. 
She's the founder of Wandering Wellness Collective, a Certified Soul Modes® Mentor, one of only a handful in the world as well as a Raindrop Technique® Practitioner, Young Living Silver Leader, social slayer, marketer, writer, speaker and source of inspiration and she believes that life and business get to feel good!
---
Thank you for being part of the Health and Fitness Travel, Strong, Healthy Women Interview Series, where we are shining a light on the importance of self-care, not as an indulgence but a necessity to reduce stress and general health issues.
Is there such a thing as a typical day for you and what does that look like?
As a Certified Soul Modes® Mentor, I try as much as possible to work with my modes. This really means doing things that feel good for me in the moment. For this reason, I don't have a rigid morning routine, rather instead I have a range of morning rituals from which I select which feels best in the moment. This might look like journaling, an "I am" meditation, going through an essential oil ritual, drawing an affirmation card, gentle stretching, a steady or brisk walk along the beach and maybe a sneaky coffee at the local coffee shop with hubby.
I like to catch up on messages from my mentoring clients during my morning walk. Using voice messages means I can mentor and walk at the same time. I get home in time to see the kids to the school bus and then it's into the office to get to work on projects and client appointments.
Both my husband and I work from home. He was formerly a chef and will usually make us a delicious plant-based lunch. 
Once the kids are home from school there's afternoon tea and the dancing run. I often incorporate the dancing run with a dash to the post office and also squeeze in another walk or sometimes a drive up to the headland nearby where I take a few deep breaths as I take in the view.
After I feed my belly with a nutritious dinner, I like to feed my brain with something equally as fulfilling. This usually looks like reading, tuning into a training or watching a documentary.
Before bed I enjoy reading and meditating. I usually use the Insight Timer app at the end of the day.
https://www.instagram.com/p/CCE643lj13R/
 
Can you share a time when you felt your well-being was challenged in the past and what did you overcome it?
Without a doubt my well-being was at its lowest while I was teaching and living in a big city. I became very used to pouring from an empty cup and my overall health and vitality declined as a result, particularly in the later part of my career as a school leader. A turning point was hearing that principals have an early death rate much higher than the general population- mostly due to heart attack (from stress and poor lifestyle) and suicide. I did not want to become a statistic and I knew it wasn't my style to not give the job 100%. I was very underweight from not eating properly, I had regular bouts of anxiety, sleeplessness, fatigue and generally ran on empty.
My way of overcoming my poor well-being was quite extreme but one that I would recommend to anyone in need of a shift! I got the balance back by leaving my job, selling my home in the city, moving my family of 5 into a caravan to travel Australia for almost 2 years before resettling in a sleepy coastal village with an amazing community and lastly deciding to completely change my career in search of a better balance. The best thing I could have done for my overall health and well-being.      
What does being healthy mean to you and how do you keep this at the forefront when life gets unavoidably busy?
To me, being healthy means addressing wellness in all key areas of life: social, emotional, physical, spiritual, intellectual, environmental, and occupational. It's not realistic to expect that we can keep an even focus on all of these areas all of the time. Instead, I try to be intentional and consciously aware of the choices I make in these areas and try wherever possible to balance out my activities to fill each of these 7 buckets as often as possible. Taking time out regularly to check-in with myself and ask "how am I tracking?" is enough to have me realise what's working and what needs to change. I also ensure I have regular check-ups with health care professionals and natural therapists including my GP, dentist, skin specialist and naturopath. I'm all about supporting my health naturally wherever possible and I have carefully chosen a team of professionals who support me to do this.
Have you ever taken a holiday specifically for your well-being? Can you share what the experience was like?
Yes! A lap of Australia with my family in our caravan. It was nothing short of life-changing! I spent lots of time paddling around on my Red Paddle Co SUP pondering all things life. It helped my well-being. I had no anxiety whatsoever while we travelled, my sleep improved, and I put on weight… perhaps a little more than I would have liked. I blame all those happy hours!
Every woman's idea of self-care is different, tell us about yours? 
My thoughts on this is that self-care is not selfish it's essential! Most modern women are literally doing the equivalent work of not only our grandmothers but also our grandfathers as well. We are juggling all the things. Self-care has definitely been something that I had shelved there for a few years, especially after I became a mum and then returned to work but I've slowly brought it back into focus. Understanding my Soul Modes® has definitely helped me better manage self-care. I know that having a lower than normal mood and energy isn't forever- it's just bear mode. I make time to rest when I feel like this now and ride it out rather than forcing myself to do all the things and risk feeling worse.
On all of the other days, connecting with others, nourishing my mind, body and spirit, creating and writing as well as having a flexible work/life balance so I can parent and do my work in the world feels like a good dose of self-care to me.
Want to tell your story? Reach out to us via This email address is being protected from spambots. You need JavaScript enabled to view it. and be featured as our next strong, healthy woman.