Strong, Healthy Women Interview Series: Lorna Jane Clarkson
Created: 05 July 2018

05 July 2018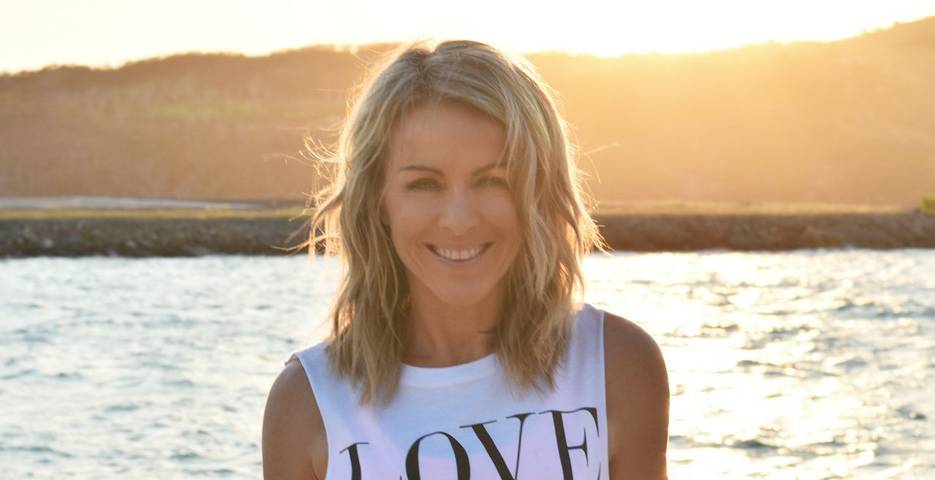 Lorna Jane Clarkson is the Founder and Chief Creative Officer of Lorna Jane and is credited as being the inventor of the cultural phenomenon that is Activewear. She is also a wellness guru, author, entrepreneur, the single most awarded Activewear designer and an eternal optimist. Her Active Living Philosophy inspires millions of women globally to love themselves, chase their dreams and live their happiest and healthiest life each and every day through the daily practice of Move Nourish Believe.
Find inspiration as we talk about her day in the life, her approach to well-being and her self-care routine:
---
Hi Lorna! Thank you for being part of our Strong Healthy Women Interview Series, where we are shining a light on the importance of self-care, not as an indulgence but a necessity to reduce stress, overwhelm and general health issues.
Is there such a thing as a typical day for you, and what does that look like?
Honestly, things can get pretty crazy at work, but I somehow still manage to keep my routine consistent. Having a good routine is really important to me because it makes healthy living (and making positive choices!) really simple.
I naturally wake up early, around 5:30am. And the first thing I do is have a big glass of water with lemon juice and a dash of cayenne pepper (to hydrate and boost my metabolism) and then I whip up a quick smoothie to energize me for my morning workout.
I vary my morning workouts and do strength training twice a week with my trainer, yoga 3-4 times a week, cardio sprints on the treadmill and beach walks and hiking on the weekends. I always find time for a little meditation at some time during the day and I walk my dog Roger morning and night.
With my morning workout done, I then check a few emails over breakfast and then head into the office most days to be with my team.
Every day is different, and you'll find me planning campaigns, reviewing ranges, organizing shoots, in meetings, writing, planning future designs … and then all of the little day to day things that come with running a business.
I take ALL of my own food to work and eat regularly throughout the day. I always drink lots of water (at least 2 litres) and try to keep it to one coffee a day, which is always black and before lunch.
No matter how busy we are, my husband Bill and I always try to leave the office at a reasonable time and head home to take Roger for his afternoon walk. This is probably my favourite part of the day, because it's the perfect time to share the good and the bad of what has happened at work, get it all off our chest and start to relax and enjoy the evening together.
When we get home, dinner is always something quick and easy because by this time we're both pretty hungry! Often, it's just some pan-fried fish (salmon is my favourite) with greens or a quick and easy stir-fry. Followed by dessert, which I have every day. It's a non-negotiable for me and is usually just a couple of squares of dark chocolate, some yoghurt with granola and fruit or a homemade 'healthy' dessert left-over from the weekend.
The rest of the evening is spent either watching Netflix, reading a good book or doing a little yoga and meditation. We head to bed usually between 9 and 10pm and always with a cup of herbal tea or some water infused with lavender oil for relaxation.
As an advocate for healthy living, do you feel more pressure to strive for perfection, and how do you stay balanced?
In the past maybe, but over the years I've come to realise that perfection is just an illusion! It's a concept based on comparison and stories we create in our own minds or what we think we see when we look at the highlight reels of someone else's life.
No one is perfect and that's ok because we're not meant to be!
I personally love that were not perfect, and I think that it's our little quirks and unique qualities that make us who we are. Make us more special, more loveable and more memorable.
Rather than trying to be perfect, I think that we should strive to follow our own dreams and aim to be the best version of ourselves instead.
I think that the more time we spend focussing on ourselves, getting to know and love ourselves (crazy quirks included!) the more confident we will be in our own skin to go out and create a life that makes us happy. And that's exactly what I do!
Can you share with us a time in the past when your lifestyle has challenged your health and well-being and how you have overcome this?
It can be challenging at times to maintain a healthy routine especially when you're traveling or working a lot, but I think the secret for me has always been to be consistent.
My diet and exercise routine may not always be as good as I would like it to be but I just 'do what I can' at that moment. So, if I'm challenged for time I just get up a little earlier and get in a 20minute workout instead of my usual hour. If I'm finding it really hard to get something healthy to eat, I just eat the healthiest option of whatever is available and make sure I drink plenty of water. If I'm feeling really stressed and overwhelmed I just take the time to do some breathing exercises to calm myself down and then promise myself a long weekend when the job is done.
I believe it's what you do most of the time that matters so I just go with the flow and do the best that I can when I'm super busy – and then get back on track when things get back to normal.
Every woman's idea of self-care is different, tell us about yours?
I strongly believe that if you want abundant energy, a positive and motivated mindset and a body that's going to support and carry you through your life with ease, then you need to invest in your health and wellbeing.
We can only think, feel and perform at our best if we first of all make the time to take care of ourselves!
I look at self-care as prioritising my health and wellbeing because without health, what do we have? We need to take the time to invest in ourselves, to care for ourselves and love ourselves. Because it's not selfish, it's essential!


Have you ever taken a holiday specifically for your well-being? If so where did you go and what did you do?
I try to live in a way that supports my health and wellbeing so that I don't need to take holidays to focus on it. And I do this because I think that it's really important to make our lives a place that we don't want or need to escape from.
I LOVE to travel, don't get me wrong, but I want it to be a life enhancing experience rather than a chance to run away from a life that is not supporting my health.
Think about the amount of time we spend at work and in our 'day to day' life compared to being 'on holiday'. So, why not invest time and energy into making our work and daily life, where we spend the vast majority of our time, an enjoyable place that we want to be? A place where we're happy, stress-free, fulfilled and feel 'Well'
Probably the closest I've been to taking a holiday for my health, is when I went to a yoga retreat in Bali with one of my best friends. It was wonderful, I learned how to teach yoga, came back qualified, energised and totally inspired.
And you have a new book, Eat Good Food can you tell us about your inspiration for this book?
Eat Good Food is my 6th book and 2nd cook book and I decided to write it because I know from personal experience that what you eat can actually change your life!
I believe that if you can do just 'ONE THING' to improve your health then my advice would be to start with what you eat. Because when you start to eat well you'll find that you have more energy to workout, you'll think more clearly, have a more positive mindset, feel happier and have a body that is capable enough to do all of the things that you want to achieve in your life.
If you start to EAT GOOD FOOD you will have more energy to work out and when you combine working out and good nutrition on a regular basis - you cannot help but feel more energetic and enthusiastic about your life.
I want to show people that being healthy didn't have to be about calorie-counting, deprivation or boring food. That eating healthy can be enjoyable and that eating your way to good health can be SO delicious that they'll want to eat good food for the rest of their lives.

Want to tell your story? Reach out to us via This email address is being protected from spambots. You need JavaScript enabled to view it. and be featured as our next strong, healthy woman.