Strong, Healthy Women Interview Series: Lizzy Williamson
Created: 14 December 2018

14 December 2018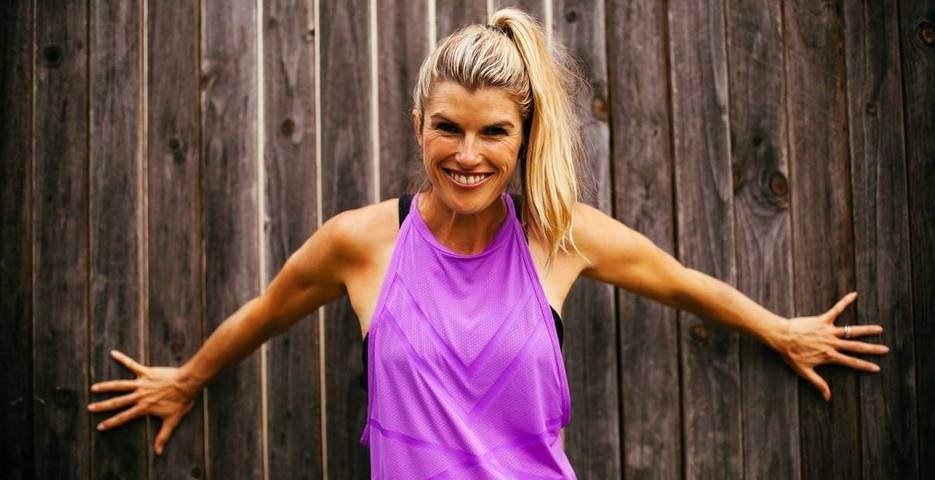 Lizzy Williamson is a certified personal trainer, integrative nutrition health coach, presenter, keynote speaker, author and a mum-of-two. She has a website called Two Minutes Moves - where anyone can learn to love their body, keep ther sanity and live with vitality. Her workouts have been featured in various shows plus many other fabulous online publications, programs and blogs. 
Find inspiration as we talk to Lizzy Williamson in our #StrongHealthyWomen interview.
---
Hi Lizzy! Thank you for being part of the Health and Fitness Travel, Strong, Healthy Women Interview Series, where we are shining a light on the importance of self-care, not as an indulgence but a necessity to reduce stress and general health issues.
What does your ideal day look like?
Alarm goes off before the family wakes up and I get up - no snooze button! Practise of gratitude which for me is staring out the window and thinking of 3 things I'm grateful for. Then it's non-negotiable morning exercise. If I can get out for a jog I will and before I get home I find a spot to sit and meditate for a few minutes. I find this time for me makes me a much less crankier mum and I don't feel as resentful when I'm asked to look for a lost homework book or missing shoe. After the kids go to school and I'm finished with my personal training clients, I get to work on the Two Minute Moves part of my business which fills my cup big time. I make sure I eat at every meal a mix of protein, fats and smart carbs like sweet potato so I have enough energy for when my kids return home from school. A veggie platter is on the table on their return so we all snack on that throughout the afternoon. The afternoon is filled with interspersed with physical activity like jumps on the trampoline and a living room dance off. Then, if it's Friday, a date night with the hubby down on the beach with a bottle of champagne to celebrate the week.
Can you share a time when you feel your health and well-being was challenged in and what you did to overcome this?
When I had a baby and a toddler I hit rock bottom. When I finally admitted I needed help and went and saw my doctor, she diagnosed me with post-natal depression, gave me treatment options and also said to me, 'You know when you get on a plane and they tell you to put your oxygen mask on first before assisting others? That's what you have to do.' So even though it was the last thing I felt like doing, I become determined that I was going to try and find that oxygen mask. The obvious thing for me was movement as that's where I used to find so much joy when I was a dancer. I decided I was going to try and do a 20 minute home workout and put on Playschool for my daughters. I went to my kitchen bench, pretending it was my ballet barre and started doing some moves. It only lasted a couple of minutes until my baby started crying and even though my first instinct was to think that this workout thing wasn't going to work, there was something about the feeling I got in those couple of minutes that led me to a whole change of mindset when it came to exercise.
What do you consider to be the single most important change you've made to your life in terms of wellness?
When I lay in bed that night thinking about the little workout I'd done I felt this sense of achievement. I couldn't remember the last time I'd done something for me. Normally I'd lie in bed listing out all the things I'd done wrong as a mother that day but this night instead I started thinking about how many rules I had set up around what exercise had to look like. I had a total all or nothing attitude about it. And after months of taking a couple of minutes whenever I could to move I realised I was making my way up out of a downward spiral I never thought I'd get out of. Now that I knew the power of exercise it was something I couldn't keep to myself so I got my qualifications and started training clients. When I heard about people I knew that were not in a good mental state, I'd film a 2 minute workout and send it to them. Then I started sharing them publicly and the Two Minute Moves Movement grew in to an online business, a book plus speaking and tv opportunities.
Have you ever taken a holiday specifically for your well-being? If so where did you go and what did you do?
Noosa, QLD, is my go-to well-being holiday. The National Park walk to Sunshine Beach is my favourite jogging path in the world. I go body-boarding as the waves are just my size (little) and then a Massimo Ice-cream to follow puts the biggest smile on my face.
You recently published your first book, TWO-MINUTE MOVES. Congratulations, can you tell us about your inspiration for this book?
I had done a 5 year plan and it become obvious that to take the Two Minute Moves message out to the world I had to have a book. So for a year every morning at 5am for an hour I wrote the book that I would have wanted when I thought exercise was not possible for me. A book that could sit on your kitchen bench or office desk to show you how possible it is to get exercise in to your day. So no matter what your excuses voice was telling you - 'I don't have the time, I'm too tired, I've got too much work to do, I can't be bothered etc' - you could bust through that excuse and get your precious body moving. I'll never forget the day I ran up to school to tell my daughters I got a book deal.
Every woman's idea of self-care is different, please tell us about yours?
I get really worried about spiralling in to depression so I practise what I preach. Every day for my self-care, no matter what, I move my body. Sometimes that is as little as making the commitment to every night doing 20 push ups at my kitchen bench. I know that when it's the last thing I feel like doing, it's my signal that I need to do it the most. I put on a song and dance around the kitchen either by myself or with my girls. I never wait to feel motivated as I have learnt the hard way the it's the taking of action that proceeds and gives you motivation. I also never feel guilty any more as I know that if I don't take care of myself or if I start to fall apart, my whole family suffers. I want my daughters to see that prioritising things like movement, meditation and mindfulness is a powerful tool for their mental health. And that each moment you take to give back to YOU is so worthwhile and adds up to big difference.
Want to tell your story? Reach out to us via This email address is being protected from spambots. You need JavaScript enabled to view it. and be featured as our next strong, healthy woman