Strong, Healthy Women Interview Series: Estelle Williams
Created: 23 August 2018

23 August 2018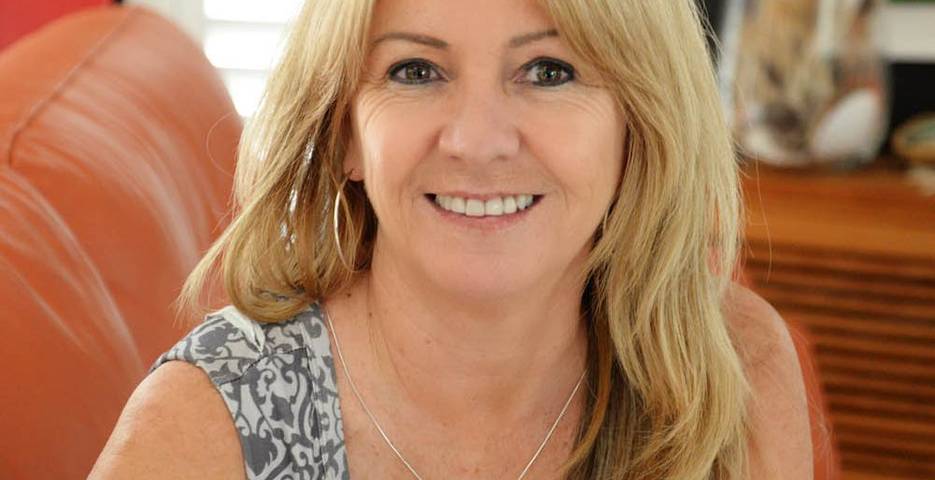 Estelle created Smart Healthy Women Magazine to inspire smart women everywhere to live more joyful, loving lives filled with meaning and purpose, by offering strategies and tips direct from experts in diverse areas of concern to women such as health, fitness, food choices, mindfulness, well-being, relationships, career, money and family. The experts who share their wisdom in the magazine all have a desire to help and support as many women in our world as they are physically able to.
Estelle has a background in Information Technology, Coaching, Consulting and empowering women. She could see that there were many experts who have the desire, the skills and the talent to make quantum shifts with their clients, and her mission is to get this valuable information out to a wider audience of women in the world through Smart Healthy Women Magazine. She believes that by being empowered to live their best lives, women have the capacity to change the world.
---
Hi Estelle! Thank you for being part of our Strong Healthy Women Interview Series, where we are shining a light on the importance of self-care, not as an indulgence but a necessity to reduce stress, overwhelm and general health issues.
While each day varies, what would your typical day look like?
I'm an early riser and I always start my day with a warm water with lemon juice or ACV, take some essential supplements before doing a session of yoga or stretching or some other movement activity. If I don't have a big day on, I'll take a walk by the beach if the weather is nice (which it often is).
I'll then have breakfast and get to work, which differs every day. I believe in the importance of taking regular breaks and so the tomato-meter is a great online tool to time 25 minutes of work followed by a 5-minute break, where I will (mostly!) get up and move around, perhaps have a cup of tea before going back to work.
A light lunch followed by a few stretches and it's back to work. I always finish at 5pm and start to unwind, and occasionally I'll have a video call with one of my authors or business associates on the other side of the world, so schedule these after dinner when I need to. If I've got a pressing deadline I do occasionally work after dinner up until around 9pm but find that relaxing before bed is essential.
Mostly I love to unwind after dinner and have recently picked up creating artwork, watercolours and mixed media, to really rest my left brain which has been in charge for most of the day, and activate my creative side, which has a wonderful balancing effect and helps when I need to rely on my creative thinking.
I am usually in bed by 10:30pm and will often do a short meditation as a way to move in to a relaxing sleep.
You created the Smart Healthy Women Magazine to empower women everywhere to live their best lives. What inspired you to go to this direction?
I originally started SHW as a local women's business group, as I was meeting a lot of local business women at networking breakfasts but felt there was something missing in these events to specifically support the challenges we women were all facing. I wanted to create a safe space for these women to talk about their challenges and have some real help and support in a non-judgmental space. This small group then morphed into a global magazine as I felt that I had a bigger vision and wanted to expand it beyond the four walls of our local group.
I had worked in a corporate sales role in IT for ten years and was feeling uninspired and burnt out. The money was great but there was little real soul nourishment in the role and I felt that I wasn't doing justice to my customers and company. It was a very male dominated industry at the time and while I met some great role models in women at higher levels in the business, I felt that I had gone to the end of the road in my role and I was not inspired to continue.
So, I started training in life coaching and Neuro Linguistic Programming among other things and found a lot of joy in utilizing rapid change strategies that really empowered people's lives, often in areas where they had been struggling for years. I was also connected to a large community of coaches around the world whose work was also creating massive and rapid change for their clients, at a time where people were still asking me "Why do I need someone to coach my life?" It was a bit of an oddity and not so mainstream as it is becoming now. Now you can find a coach to help you in any area of your life!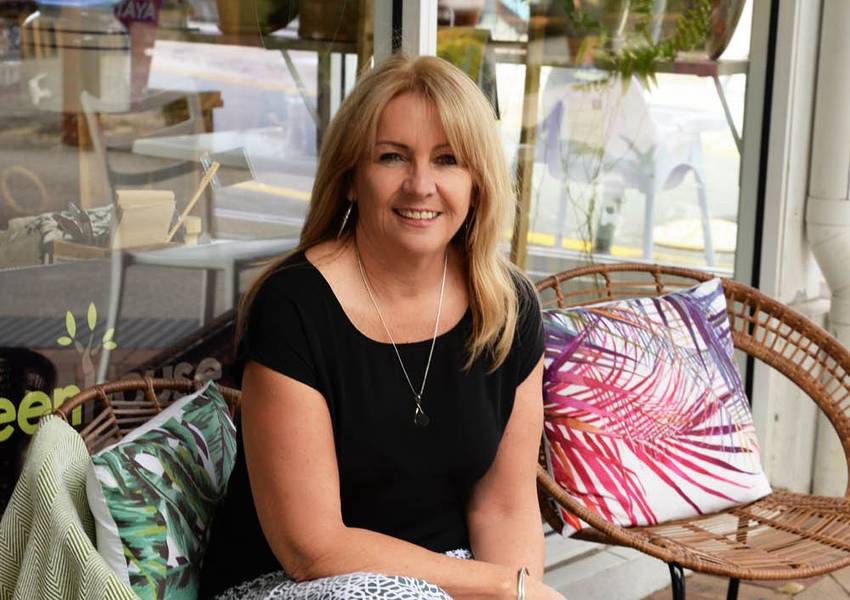 Photo by: Karen Cougan
About five years ago I woke up one morning with a clear vision that Smart Healthy Women should be a global magazine that was a meeting place where women could come and be supported in the struggles they were experiencing, with real strategies that created change and that turned them more towards their joy. I invited coaches and experts from around the world to contribute their expertise to the magazine and the result has been nothing short of amazing. The passion and enthusiasm that these coaches have to help women empower their lives is a real joy to facilitate.
What motivates you to priortise your personal health and wellbeing and how do you keep this at the forefront when life becomes overwhelming?
One of the things that I talk a lot about in Smart Healthy Women is the importance of selfcare for women, and so naturally I need to walk my talk.
It's often difficult to prioritise your health and wellbeing when building up a business, however I have found that when you are doing work that you love, it doesn't feel like work and is actually nourishing to the soul.
Having said that, it is vitally important to look after the engine and keep it well-greased to operate optimally. One of the biggest realisations I've had is that every single person is different in terms of what makes them fully live their potential in health, wealth and happiness.
It's each person's journey to find out what works best for them and to listen to their body's wisdom when embarking on any fitness or health regime. Yoga might be the best exercise for one person, where lifting weights, or running marathons, or swimming might be the best for someone else.
Try lots of different activities – the body loves to move but find out what helps you reach a state of joy, and mix it up so it doesn't get boring.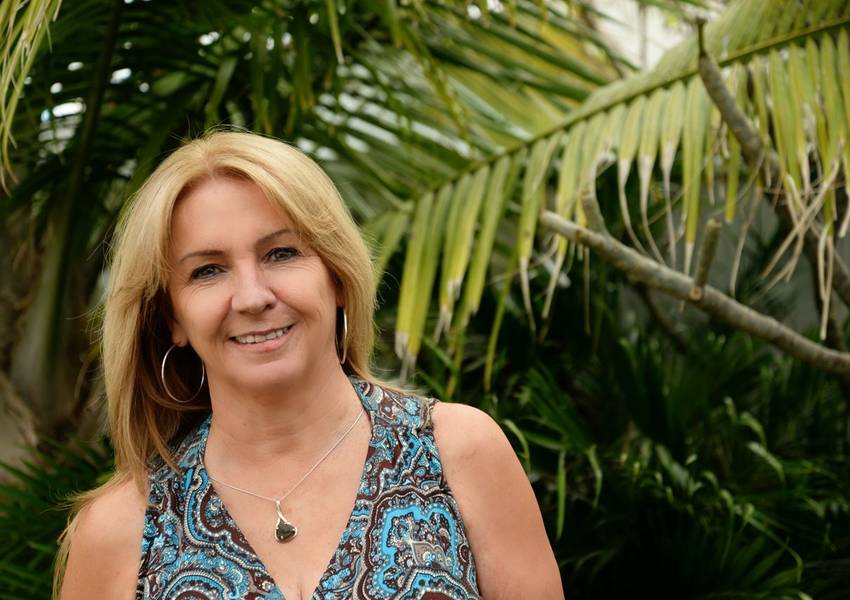 Photo by: Karen Cougan
For myself, I find yoga and meditation are the most nourishing and non-impacting activities I can do, but I also love walking and mixing things up by doing Body Groove or Belly-Dancing as these all really serve to connect me to my body, are fun and light-hearted, and don't we all need a bit more of that in this world today?
When things are crazy-busy, I make sure I schedule in a bit of me-time and make this as high a priority as anything else in my calendar. Even if I can sit in the sun for five minutes with a cup of tea and just breathe, empty my mind of thoughts and concerns, it's enough of a tonic to see me through the busiest of days.
I also have to mention two other keys to wellbeing that I prioritise in my life – gratitude and focus. Every day I think of things in my life that I am grateful for, of which there are many, and then I focus on these things when I'm feeling overwhelmed or down. It never fails to bring my spirits back up and is a huge key to living a happy, well-balanced life.
Have you ever taken a holiday specifically for your well-being? If so, where did you go and what did you do?
That's a great question, and you know, every single time I take a holiday I consider it a natural step towards improving my well-being.  How lucky are we that we can just jump in the car or hop on a plane for a total change of scenery, culture and experience?
I particularly love visiting Bali and there's an amazing retreat just north of Ubud, the Bagus Jati Health and Wellness Retreat, that I could happily spend all of my break to get away from the hullaballoo and just BE.  Set on acres of land perched above the Jati River, it is the perfect place to go to escape the madness of the crazier tourist hot spots – you don't even have to leave the property as they cater for everything there, and have daily yoga and meditation classes, and an amazing spa.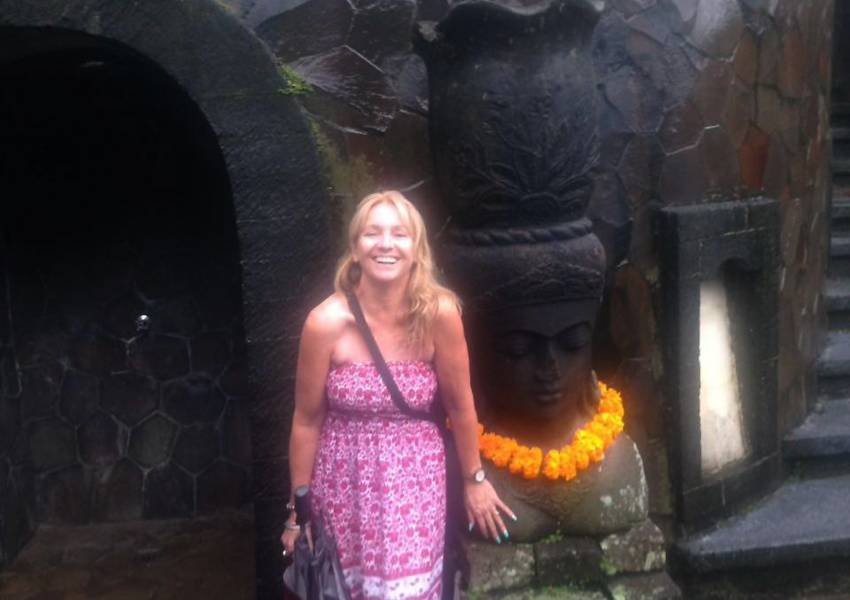 Another favourite holiday is Hawaii with it's beautiful scenery and wonderful locals, and in fact one of the most profound experiences of my life was found during a helicopter ride into the heart of Mt Wai'ale'ale, an extinct shield volcano on the island of Kauai, that is reported to be the wettest location (in terms of rainfall) in the world. While experiencing the awe-inspiring beauty of being inside this volcano, which is plastered with walls of green vegetation peppered with many waterfalls, I was so moved that my eyes spontaneously filled with happy tears – it really was a divine spiritual experience that I will never forget.
Wherever I go, I love to learn about the history and culture of the place and also about the people who live there and their stories. I can't separate my well-being from those who I meet on my travels – we're all in this together!
Every woman's idea of self-care is different, tell us about yours?
Self-care for me is about prioritising my health and wellbeing before anything else. If I deplete my energy by taking on too many things, which I've been guilty of in the past, then not only does my physical health suffer, but my mental health will suffer too. Pushing myself beyond my capabilities is no longer an option for me, and I have no qualms in putting myself first, because it means the care and service that I want to provide for my partner, my family and my community is so much more valuable as I can commit my energy fully to that when I do.
And so, I look after my health, I watch what I eat and I can't tell you the last time I had junk food. It's just not of interest any more, in fact it's something I have an aversion to because I understand that inflammation in the body caused from poor nutritional choices is a precursor to illness, as is stress.  Reducing inflammatory response and stress are two of the most important self-care options that are available to everyone.
Food that is as close to its natural state with minimal processing, fresh filtered water and paying attention to my food and what went into it, being grateful for the ability to access whatever I want and having the freedom to choose – these are all important factors to self-care.
Taking care of my environment also comes under the heading of self-care, so that is my body, my home, my local area and ultimately this planet. When the space around me is calm and uncluttered, then that has a direct correlation to the amount of stress I feel and is also vitally important in my self-care rituals.
Want to tell your story? Reach out to us via This email address is being protected from spambots. You need JavaScript enabled to view it. and be featured as our next strong, healthy woman.