Sophie's Review of SHA Wellness Clinic
Created: 10 January 2014

10 January 2014

With warm temperatures in Spain still around 23 Celsius in mid-October; I decided to take a short healthy holiday to SHA Wellness Clinic in Spain for a sunny detox retreat.
After a smooth journey from the airport to the resort, I was greeted by the friendly staff and given a brief tour of the facilities. I stayed in an expansive Superior Suite which could accommodate two or three people easily, particularly as it contains two bathrooms. The Deluxe Suites are equally as luxurious; perfect for a solo traveller, couple, or friends sharing.  The bathroom was stocked with SHA's own organic amenities and the bed was so comfortable I had my best night's sleep in ages.  
I opted to include a Jacuzzi on my terrace for a small daily charge which I highly recommend.  Although the main outdoor infinity pool is large and offers stunning scenic views, I loved being able to return to my room after a workout in the fitness centre and unwind in the privacy of my own Jacuzzi.


Superior Suite at SHA Wellness Clinic


Upon arrival, I was presented with my schedule of consultations and treatments, along with the weekly timetable of complimentary group activities and classes.  Since these schedules change from time to time, I was allocated an iPad so that I could keep track of any amendments and plan my day accordingly.  It also contained a wealth of other useful information about the resort, its principles, the available treatments and therapists.
I had chosen the SHA Discovery programme, designed for a 4-night luxury spa break, so that I could learn how to adopt healthier habits, as well as sampling the vast range of treatments and therapies available.  My wellness programme began with an initial consultation where my objectives were discussed; ensuring I got the most out of my stay. I chose Reiki and a Thai massage and also opted for the lymphatic drainage massage to help detoxify my system.
Before I had the chance to indulge in any therapy, it was time for my first introduction to macrobiotic food.  I had some background knowledge about the health benefits and I was looking forwards to learning a lot more. The gastronomic food at the SHAmadi restaurant was my first taster. The team at SHA are under instructions to ensure guests adhere to their prescribed meal plans, and so will always check your room number to ensure you're eating from the correct menu. There are three choices: Kushi, for detoxification; Biolight, a lower calorie menu designed to aid weight loss; and SHA, the gastronomic, but healthy menu option.
Since I had not yet received my nutritional consultation, I could have selected any of the options, but being a foodie, I naturally chose the 3-course SHA menu. My starter was an exquisite plate of mint smoked vegetable grill, with cream of peas and tarragon, presented in a Heston Bleumenthal-esque fashion with the cloche removed at the table to reveal a flurry of smoke!  The main course of vegetable lasagne was small but perfectly formed, and did not leave me feeling bloated, as is often the case with pasta.  The delicious dessert was a little, light apple pie, with non-dairy vanilla ice cream.  If this was macrobiotic food, I was certainly enjoying it.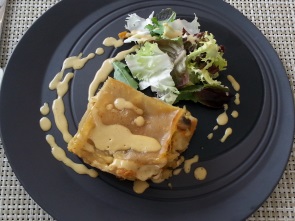 Mint smoked vegetable grill (left). Healthy vegetable lasagne (right).

My consultation with the resident nutritionist and macrobiotic consultant, Kenneth Prange, was informative and insightful.  Studying my face, nails, hands and tongue, he was able to determine possible ailments and deficiencies, and recommend a modified diet with the introduction of therapeutic teas, to be taken at certain times of day: Mu tea, a concoction of 16 different herbs, to strengthen the immune system; Kombu tea, made from the sea vegetable of the same name, to and calm the nerves; and Apple Kuzu tea, a relaxing evening drink to aid sleep and improve digestion.  
The lymphatic drainage massage was my first treatment; my therapist explained that it was not like a usual massage, but a gentle technique of stimulating the lymph glands in various parts of the body to assist with the elimination of toxins, a beneficial massage for anyone following a detox or weight-loss programme.
In addition to food, exercise also plays an important role in the macrobiotic lifestyle that SHA encourages. As part of the SHA Life Learning Programme, all guests can participate in various activities during different parts of the day. The morning activity involves light-to-moderate, preferably outdoor exercise like walks to the beach or the nearby lighthouse. The midday activity is aerobic-based to get the body moving and heart pumping. The evening activity tends to be something more tranquil, such as yoga, Pilates or Tai Chi, to allow the mind and body to wind down and prepare for rest.
I began my second day with a morning beach walk in a small group of other early risers. The sun had not yet risen but the air was pleasantly warm and, after a short journey in the shuttle, we arrived at the nearby beach in Altea. Many local residents were also there for morning walks, bicycle rides, or swims in the sea. It was clear that this early morning activity was not only good for the body, but for the mind and soul as well.
We were led by one of the personal trainers who let us know we could all walk at different paces, as long as we were comfortable, so there was no pressure on anyone to keep up; the important thing was to get our bodies moving. After watching the sun rise over the Mediterranean Sea and returning to resort, I was more than ready for my healthy breakfast so I could refuel for my day ahead.
My next check-up was with one of the nurses, who listened to my medical history and performed routine health checks, such as checking my weight and blood pressure. Some guests arrive at SHA with health problems, and the thorough checks by doctors and nurses ensure you are in safe hands. I was also permitted a consultation with the aesthetic doctor and the resident dentist. 
Inspired by my morning walk, I then visited the fitness centre where I had a consultation and hour-long workout with a personal trainer. Fabiana was brilliant, by far the best personal trainer I've ever worked with. I often dread visiting a personal trainer, as it can feel like a punishment, but Fabiana was gentle and patient, and tailored the exercise according to any injuries or concerns I had.  She made some helpful recommendations and highlighted areas where I could improve.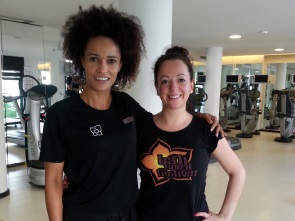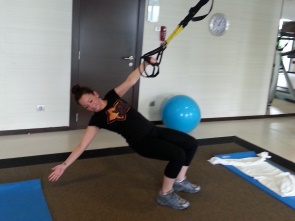 Sophie with her personal trainer, Fabiana (left). Sophie doing a TRX workout (right).

Despite Fabiana's gentle nature, I was still a little sore after my workout, so I decided to soothe my aching muscles and explore the Hydrotherapy circuit's massaging jets, saunas, and ice baths.  Though there is a map on the wall indicating the various pools, I would recommend asking a member of staff for a more thorough explanation of the 21 areas before entering the circuit.   
After lunch, I attended the daily afternoon lecture, which was on macrobiotic food products.  We were introduced to products commonly used in macrobiotic diets and cooking, many of which are Japanese in origin and have therapeutic benefits.  In particular, we were recommended to increase our consumption of a wide variety of whole grains to regulate blood sugar and provide energy, and to begin consuming small quantities of various sea vegetables, rich in calcium and other nutrients.  Learning about the macrobiotic food and lifestyle was of great interest to me, particularly its healing benefits, as I am a great believer of using healthy food to nourish the body and cure ailments.  Some guests were finding it more difficult to adjust to the new health regime, devoid of meat and dairy, and so I would advise before you arrive to have some basic knowledge on macrobiotic food.
With a little spare time before my next treatment, I topped up my vitamin D levels with a swim in the infinity pool. Thanks to the area's microclimate, the pleasant weather was perfect for sunbathing, even though it was late October. For my afternoon treatment, I enjoyed a Thai massage, my personal favourite. This deep, full-body massage focuses on meridians and clearing energy blockages to leave you in a relaxed but energetic state; one of the best I've had outside of Thailand.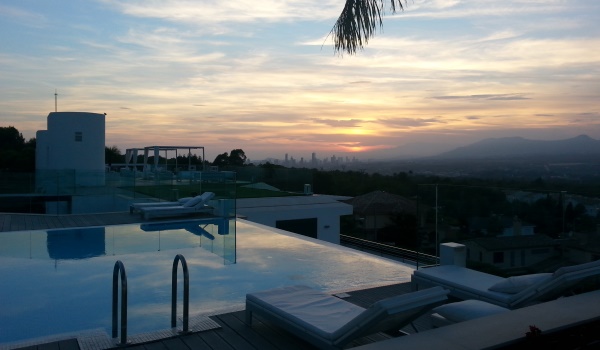 Infinity pool at sunset


Dinner was accompanied by some lovely live piano music and created the perfect atmosphere for appreciating the stunning sunset from the restaurant. The clientele was a mixture of couples, friends and solo travellers, and I noticed many friendships forming, as people relaxed, opened up, and shared similar experiences with one another.
On my final day of my spa holiday, I had my first experience of Reiki, a relaxing and emotionally cleansing therapy I had wanted to experience for a long time, and I was not disappointed.  It was so relaxing that I fell asleep!  Following my treatment, where my therapist concentrated her energy on my seven chakra points, she revealed her thoughts on my particular emotional issues and areas that she advised me to focus on.  Her diagnosis was surprisingly accurate, and reminded me of the need to embrace and enjoy life without succumbing to stress.
The afternoon lecture was a macrobiotic cooking demonstration delivered by one of the resident chefs. It featured easy-to-follow comforting recipes, such as vegetable fried rice and chocolate mousse (dairy-free of course).  Once you learn a bit more about the preparation, you realise that adapting your lifestyle is not as difficult as it may initially seem. 
I was sad to leave SHA, as I found the whole experience and atmosphere incredibly relaxing and revitalising, but I departed with an interest in a new healthy lifestyle that I was keen to explore.  Though a longer stay would have been preferable in order to reap the benefits of the wealth of treatments on offer, I would definitely recommend SHA for a short healthy break or for a longer wellness holiday to rejuvenate your body and de-stress.


How to Book
To request a quote or for more information visit our SHA Wellness Clinic page
Talk to one of our Travel Specialists on 0203 397 8891 or contact us here to discuss tailor-making your perfect wellness holiday.