Samantha's Review of Siddhartha, Bali
Created: 29 May 2014

29 May 2014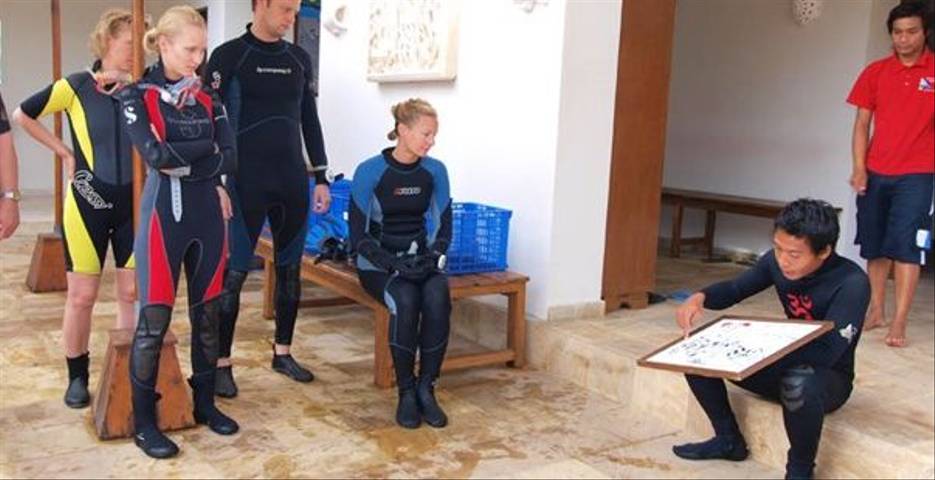 I learnt to Scuba Dive almost a decade ago and have been enjoying diving in tropical destinations ever since, I always make sure to check out the best dive spots when I'm on a healthy break and am lucky enough to be staying at Siddhartha Ocean Front Resort & Spa in Bali with some of the best diving spots on my doorstep.
Situated right on the water in the small village of Kubu on Bali's north-east coast, this diving holiday offers the perfect diving adventure. The 3 hours from Denpasar airport pass quickly as I enjoy the scenery and hustle and bustle of daily live in Bali life. The weather is warm and sunny and on arrival I am given a tour of the grounds including a library with internet access, games room, gym, small shop and the spa, all of these I will visit over the next few days.
I am shown around the in-house dive centre, just 30 metres from the beach. Here the team cater for your every diving whim, with a full service offering, the team store, clean and carry (that's right carry) all equipment, as a diver you simple have to dive! I am shown the house reef map and advised of all the excellent dive spots nearby including the Liberty Wreck and the "Tulamben Drop Off" which can be reached in only a few minutes by boat.
I go to my Deluxe Bungalow, a huge open plan bedroom come lounge area, semi-outdoor bathroom and front deck complete with two sunbeds, and a view of the ocean. I have an afternoon dive booked in and make my way back to the dive centre which is less than 2 minutes from my room to be kitted up with my gear for during my stay and head out for on the house reef.
The large infinity pool (left). Travel Specialist Samantha checking in her Deluxe Bungalow (right).


The water is a balmy 28 degrees and only metres from shore I see numerous fish and several crabs amongst the coral, the volcanic sand makes for an unusual background and I am thankful to have my dive instructor Jeremy to show me around on my first dive, he is great at pointing out all the great spots and I quickly become customised to the reef which would make for many happy days exploring.
I am told practically every species of reef fish can be seen here, schooling fish such as barracudas, as well as the solitary species of fish such as large groupers, I see many of them including the beautiful Lion Fish.
After an hour I head back onto land and very much enjoy the 'pick up' service as the team meets us to bring in our gear and leave me free to head off for a shower before dinner at Tantris. The menu is Asian Fusion and there is a real variety of international specialities & traditional Indonesian dishes available, I enjoy the Sate Ayum (Satay Chicken) which comes still sizzling on its own Balinese grill.
After dinner I get a book from the library as there are no TVs in the Deluxe Villas encouraging you to curl up with a good book or turn in early (TV available in some other room types). It is quiet across the resort as all the guests head to bed, eager for the next adventure.
I wake with the birds and take some brilliant shots of the sunrise (being two hours ahead of Australian time, I find it easy to wake up early and make the most of the day), I am rewarded with some excellent photos, then head up to the small on-site gym which has a range of equipment so you don't have to forgo your workout while you are on holiday, I enjoy cardio workouts and even set myself up a circuit including free weights.
Between diving and dining I also have time for a treatment at the Six Elements Spa, I decide on the Signature Treatment "Infinite Pleasure" this is completed in its own custom room fashioned into a cave (each of the treatments have their own specially designed rooms). My treatment starts with an aromatic footbath, and then an excellent massage, during which 31 lava stones are heated in hot water and placed on channel energy points of my body, this excellent 2 hour treatment is finished off by a tropical bamboo "raindrops shower" and a cool bath in the private candlelight cave dressing room. Bliss!


Learning the ropes for rock climbing (left). Enjoying a well-deserved dinner at Glow Restaurant (right).


I also spent time swimming in the large infinity pool, which is situated between the ocean and the imposing 3241m high "Mount Agung" a truly amazing vista no matter which direction you look, and the pool bar offers a variety of mocktails as well as alcoholic drinks for those of us who might like to indulge.
There is lots to do at Siddhartha Ocean Front Resort & Spa whether a diver or not, this is a side of Bali largely untouched by commercial tourism, if you want to see another side to this Island on your active holiday, make sure you take the time to head over and explore, enjoy the spa, take part in a dive course and be sure to leave some time to climb to the top of the dormant volcano peaks for a spectacular view over the Bali coastline at sunrise.


Sunrise over the ocean directly in front of Siddhartha Dive Resort and Spa
 
Siddhartha Ocean Front Resort & Spa is ideal for not only diving enthusiasts but all types of healthy travellers with a wide variety of activities and spa treatments on offer making it an alternative for a spa holiday; perfect for couples, friends traveling together or those who enjoy peace and quiet and enjoy getting off the beaten track.
For more information visit: Siddhartha Ocean Front Resort & Spa
Talk to one of our Travel Specialists on 1300 551 353 or contact us here to discuss tailor-making your perfect wellness holiday.