Samantha's Review of Aro Ha Wellness Retreat
Created: 13 August 2014

13 August 2014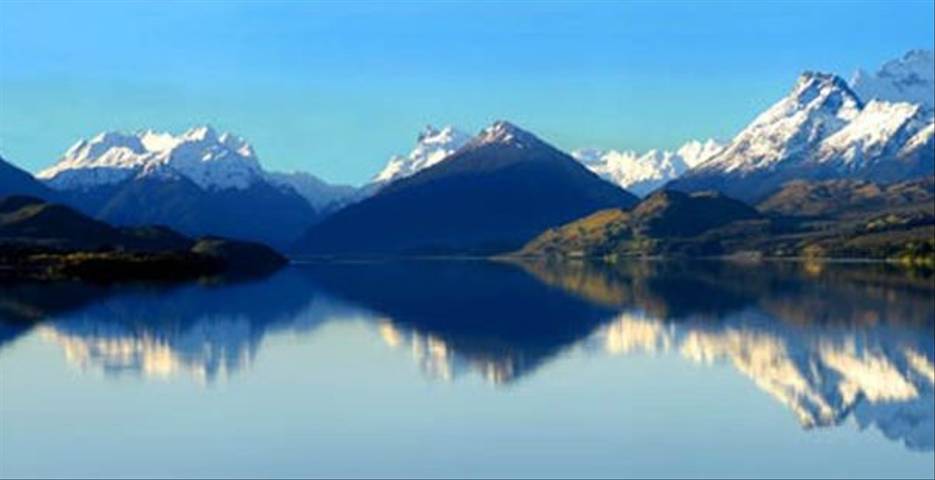 What is Aro Ha Wellness Retreat?
Located in New Zealand's Southern Alps about 40 minutes' drive from the centre of Queenstown, is first-of-its-kind Aro Ha Wellness Retreat, Opened in January 2014 offering all-inclusive healthy holidays to change the way you think about wellbeing, programs range from 4 to 7 nights, however the signature program Invigorate & Enrich (Winter Wellness during the winter months) runs for 5 days / 4 nights. All programs are run on set dates and speciality retreats are run throughout the year.


The Property
Multiple structures make up the retreat, the main community building with reception, lounge, dining and kitchen, Spa area with treatment rooms, saunas, plunge pool and heated spa, fully equipped hiking room, accommodation blocks and the heart of the property the Aro Ha building where most of our classes from yoga, Pilates and functional training take place.
Zen inspired rooms, created for comfort and function and complement the landscape, full of decadent rich textures, woven natural dyed blankets and luxurious linens. Big windows overlook the rolling hills and blue waters of Lake Wakatipu. There is a shared bathroom and entry alcove to hang jackets, slip off your shoes and share herbal teas. 
Complimentary Wi-Fi is available in the rooms but there is no mobile phone reception on the property so be prepared to switch off (if needs be you are welcome to use the phone in reception).


First Impressions
The landscape on which Aro Ha is built is truly mesmerising. My retreat begins in the lounge area, where I am introduced to our small group who are to become close friends over the coming days, supporting each other through the Winter Wellness 4 night / 5 day program, (intimate group sizes are encouraged here with a maximum of around 16 attendees per retreat). We also meet with Damien Chaparro, co-creator of Aro Ha, he will be our guide for the retreat, a hands on leader Damien completes our initial consultation and generously shares his knowledge throughout. After this I have my weight and measurements taken which is optional but serves as a marker and I choose to take part.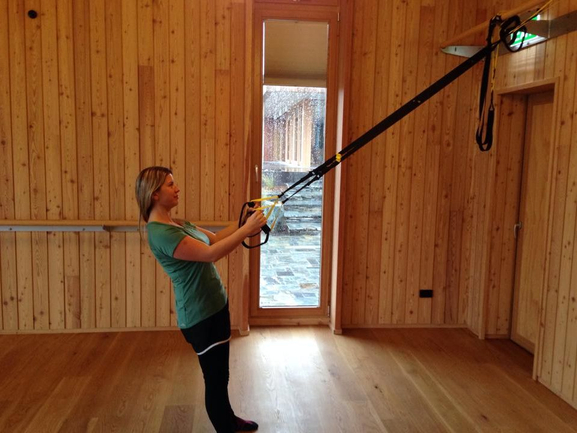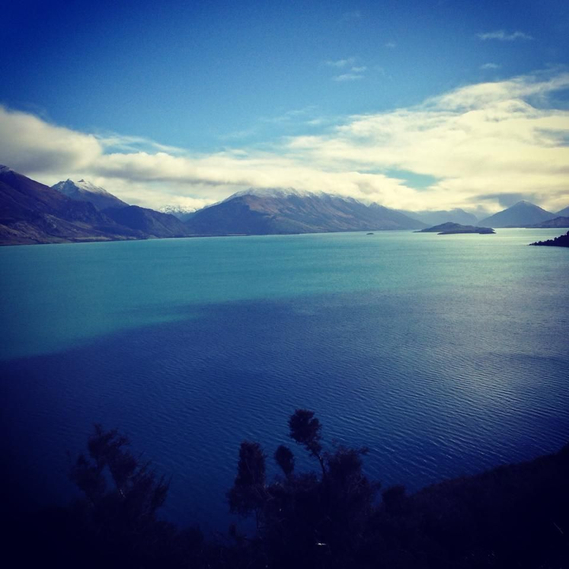 TRX Training (left). View heading out to Aro Ha from Queenstown (right).


Health and Fitness Activities
Each day there is a mixture of soft and hard activities, equally balanced to stimulate and relax the body and mind, we start the day being woken just before dawn for Vinyasa Yoga, where we watch the sun rise, the landscape changing dramatically during the session. 
After breakfast we explore on a spectacular sub-alpine hike for up 3-4 hours. There are some challenging elevations but we are rewarded with magnificent views and with multiple guides each attendee can experience at their own pace and safety is paramount.
There is also a different functional training class, either Pilates or Dynamic Playground – which is a mixture of TRX and circuit training, run by retreat leader Adam, these commence with a fun sequence to get you warmed up. There is also an informative session, be it a cooking class with Chef Rani, a sustainability talk with Damien or learning how to grow your own micro herbs, these are where you can expand your knowledge and take these learnings home with you.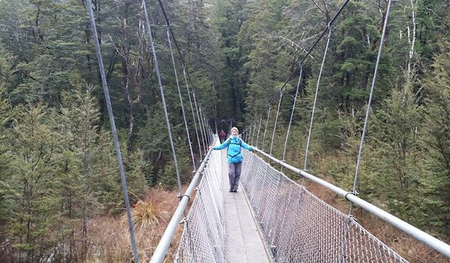 Travel Specialist Samantha on the Routeburn track, one of the Top 10 best treks in the world. 


The Food
The cuisine is raw, nutrient dense and vegetarian and each day we are given three meals plus snacks and never feel hungry. Much of our food grown right on the property using permaculture techniques (The development of agricultural ecosystems intended to be sustainable and self-sufficient) and the team intends to increase this as the gardens grow and develop each year.
One of the most liberating things about Aro Ha is that there are no decisions to make. The program simply runs, the delicious meals are served and all you have to do is turn up and absorb the benefits. (Prior to the retreat a questionnaire provides all the information the kitchen needs to ensure your dietary requirements are met). The kitchen staff are incredibly knowledgeable and everyone is super approachable and happy to answer any questions at all.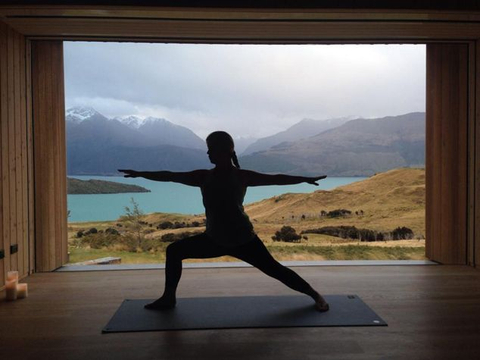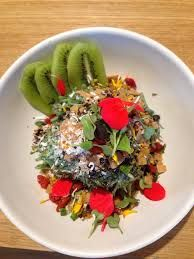 Morning Yoga with a spectacular view (left). Self-love cereal for breakfast (right)
Relaxation Time
After lunch the daily massages commence, these are spread across the afternoon flowing through the group like a Mexican wave of relaxation, a necessity to keep you supple and ready to tackle the next hike. The massage therapists are exceptional and I enjoy some of the best massages I have had the pleasure of experiencing, with a special mention to Bruce. (You can request a particular therapist with 24 hrs. notice and the team will do their best to accommodate).
Before dinner the group connects again in restorative yoga, run by different teachers throughout the stay including retreat leader Rafa, local teacher Rachel and Damien the experience remains one of calming stretching and nurturing, the perfect way to end a full day of activity, here we also practise mindfulness and meditation.
During the evenings we make the most of spa time and also revisit the simple acts of journaling, connecting with ourselves and nature and simply observing how we feel. Things too often overlooked in the rush of the hustle and bustle of everyday life.


The Scenery & Surroundings
Set against an unforgettable backdrop, the beautiful ethereal Southern Alps mountain ranges, capped with snow over winter, the rolling white clouds and the undulating land, Aro Ha is truly mesmerising. The hiking explores even more of the incredibly beautiful New Zealand landscape and photos simply do not do it justice. A fantastic opportunity to reconnect with nature and yourself.


The Staff
The Aro Ha team were are very warm, welcoming and knowledgeable. All guests were given excellent service tailored to their health and fitness levels, nothing was ever too much trouble and the team really make this experience exceptional.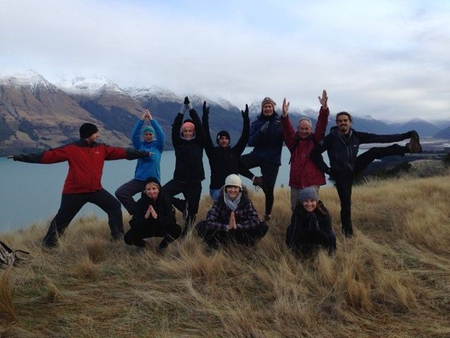 Travel Specialist Sam (second from left) and new friends strike a yoga pose with Aro Ha retreat leader Rafa


Highlights
They hiking is world class, and the Routeburn track is one of the top 10 tracks in the world.
Star gazing from the outdoor spa in the evenings.
Morning yoga while the sunrises over Lake Wakatipu.


Notes & Recommendations



Make sure you have well-worn preferably water proof hiking boots. All fitness levels are catered for. 
Tell your family, friends and work you are offline for the week and truly disconnect to benefit the most from this getaway.
If you have time, discover Queenstown; the adventure capital of the world.


A Typical Day



07:00 Vinyasa Yoga
08:00 Breakfast
09:30 Hike
14:00 Lunch
15:00 Relaxation time
16:15 Functional training
17:30 Cooking demonstration
18:30 Restorative Yoga
19:30 Dinner
20:30 Spa time


My Summary
As my healthy holiday comes to an end, my measurements and weight are re-taken and I am surprised to see a total loss of 21.5 cms and a 2kg loss, a great result of the program in such a small amount of time, and the team let me know I can expect continued weight loss the following week and encourage me to take home many of the principles from which I have benefited into my everyday life.
Aro Ha is perfect for solo travellers, couples, friends or anyone who is serious about making a difference to their wellbeing, my advice is to trust the program, relinquish the decision making and come out the other side feeling better than you thought possible. I look forward to the chance to come back in summer and kayak on those blue waters across to hike on the nearby islands and explore more of the incredible landscape and my sense of well-being.


For more information view: Aro Ha Wellness Retreat

Talk to one of our Travel Specialists on 1300 551 353 or contact us here to discuss tailor-making your perfect wellness holiday.