Paul's Review of The BodyHoliday LeSport, St Lucia
Created: 22 April 2014

22 April 2014

The Caribbean is known for its palm beaches, rum punches and all-inclusive hotels, but in St Lucia there's a well-being resort which promises if you give them your body for a week they will give you back your mind, and if you really engage yourself in their healthy holiday promise it will happen.  
I spent 9 nights in St Lucia at The BodyHoliday for a health and fitness break to put my mind and body back on track, mixing healthy juices and indulgent breakfasts with exercise, activities and daily spa treatments.  
Voted one of the best destination spas in the world, with an endless list of treatments from Acupuncture to Shiatsu paired with a variety of fitness classes from beach fit to spinning and activities from sailing to tennis, this is an ideal wellness holiday for those wanting to focus on their health and fitness. For a more spiritual holiday there's a variety of holistic classes including daily yoga, Pilates, meditation, Chi Gong and Tai Chi along with specialised treatments.
After arriving into St Lucia, I opted for the short helicopter transfer which I can highly recommend for a scenic view of the island's Atlantic Coasts and beautiful rainforest. After settling into my luxury ocean view room, I headed down to the club house for a cocktail at sunset and to pick up my weekly activity schedule along with the Body Yoga schedule. I had also pre-booked Health and Fitness Travel's exclusive BodyHoliday Fusion Fitness programme which gave me a 7 day flexible wellness programme to choose from a varied menu of one-on-one private activities and specialised treatments to suit my personal goals.


Fitness, Activities & Sport
My first day started with a 7am Beach Fit class which was a challenging workout combining both cardiovascular and resistance exercises (very energetic), followed by a hatha yoga class at the Wellness Centre. I was then ready for breakfast at Cariblue restaurant, a great buffet of choice with a variety of healthy options – the perfect way to start the day.
With a state of the art gym, exercise studio, spinning room and a whole host of fitness classes including BodySpin, Zumba, Body Tone, Circuits and Step to Box Fit, L.B.T, Absolution and WaterWorks Aqua to get you toned. Activities ranging from sailing lessons to golf, tennis and archery, along with a running club and group bike rides, not to mention various watersports, there is something for everyone making this a great activity holiday. Don't miss the morning guided walks to Pigeon Island.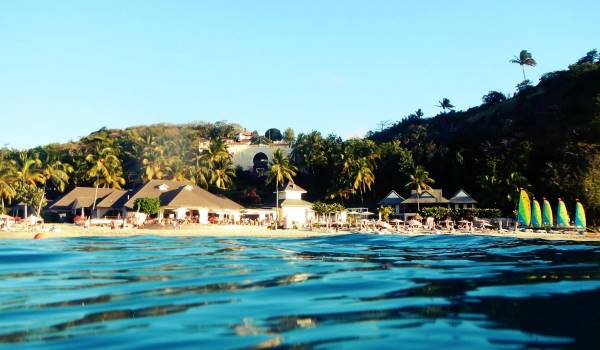 View of The BodyHoliday from the sea


I'm a big fan of the water and spent most days if not swimming, trying paddle boarding, windsurfing, kayaking and sailing with the assistance of the fabulous Watersports team. I did attempt the morning swim to Smugglers Beach (2.5km) which was more challenging than I anticipated but as the speed boat followed us out, I knew if I got really tired I'd be okay. However I'd recommend starting with the morning swim to Smugglers Bay (1km) for an easier introduction.


Mind & Body
Having a personal interest in yoga, I was pleased the yoga schedule offered four daily yoga classes with two teachers offering different styles from Ashtanga, Vinyasa and Hatha to Pranayama, Katti, yang and core fusion yoga, making this a perfect destination for a yoga holiday. Lily Eslahjou, the resident yoga teacher is one of the best teachers I've practised with; she teaches many styles and is also certified in Pilates, offering many variations to each pose making her classes suited for all levels. I did yoga everyday (sometimes twice daily) and saw my practise develop with the help of Lily. For those wanting to add private lessons try the BodyHoliday Yoga or Pilates programme.
Asides from yoga and Pilates, Lily also specialises in Bowen Therapy which is a treatment for injuries in the body. I was interested in exploring the therapy to see if it could assist my neck pain which was causing me discomfort. I rested on the massage table whilst Lily worked her magic with gentle moves performed primarily with her fingers and thumbs over my muscles. As she worked on specific points of my body I went into a total state of relaxation and saw noticeable results after my treatment.
To complement yoga there is meditation most days and I'd highly recommend attending the classes taught by Samantha who is also a Yoga Practitioner and Ayurvedic Doctor. Samantha really did have a natural touch for putting the class into a deep relaxation for totally serenity. Toby's Qi Gong classes and Edwin's early morning Tai Chi at Coubaril Valley are also worth trying, and if you want to wake up with an early morning stretch class then stretching with Dr. Alan Platt is a must.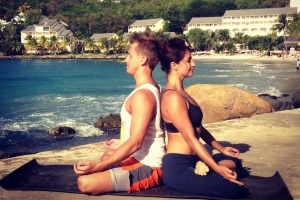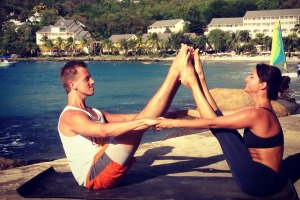 Paul having a private yoga lesson with teacher Lily Eslahjou at 
The BodyHoliday


The Wellness Centre and Spa
What I really love about this wellness retreat is that all guests have a complimentary 50 minute daily spa treatment included in the price on this luxury spa holiday. The Wellness Centre is nicely positioned away from the main resort with breath-taking views of the coastline; one of my personal favourites was the Lime & Ginger Scrub which included a firm massage, head rub and exfoliation leaving my skin feeling super soft. The hydrotherapy is also fabulous with its powerful jets and sea water; the body exercises you follow are just as good as having a full body massage.
Asides from the all-inclusive offering it's also worth paying extra for the more holistic and rejuvenating treatments for the ultimate wellness experience. Remedial, Sports or Shiatsu massage with Serbian therapist Biljana Tanaskovic (aka Billy) is recommended along with Holistic Practitioner Toby Maguire who specialises in Sujok Acupuncture, Chi Nei Tsang, Thai massage, Reiki, hypnotherapy and life coaching. The resort also brings in guest practitioners and with Reflexologist Andrea Hurst there, I decided on a treat for my feet, however this was so much more! When Andrea worked on my reflex points her observations highlighted areas in need of attention and not only did I have the best night's sleep afterwards, but I left the treatment more in tune with my body.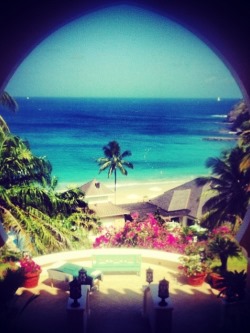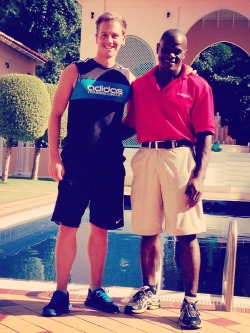 The view from the Wellness Centre (left) Paul with personal trainer Felix (right) 

Being a big fan of Ayurvedic treatments I opted for some of the specialised holistic therapies at the Ayurveda Centre run by Acupuncturist Dr. Maha. The Ayurveda treatments are impressive with Udvartana being my personal favourite – a detoxifying therapy to cleanse the body with a mixture of different natural herbs. The bolus bag massage is also a great treatment using warm muslin bags containing organic herbs, and for total tranquillity and clarity for your mind try Shirodhara. I started to feel like I was on a detox holiday feeling so radiant inside and out.
There is also a beauty Salon at The BodyHoliday with a specialised Skin Clinic offering a range of anti-ageing spa treatments from non-surgical face lifts and microdermabrasion to Hydrating intensive facials. I opted for the Dr Michael Prager Illuminator Facial; a Skin Ceutical Peel was applied, followed by Transderm; a Micro meso-therapy treatment without needles that infuses the skin with Hylauronic acid, vitamins and minerals; leaving my skin glowing and looking very youthful. 


Food and Restaurants
With four dining options to choose from, book Tao for Asian fusion a la carte and Cariblue Windows for fine dining Tapas. Cariblue restaurant is good for Mediterranean, seafood and lunchtime themed buffets. Of all the restaurants my favourite was The Pavilion Grill for a good atmosphere in the evenings on the boardwalk with the sound of the waves and delicious buffet cuisine. For lunch The Deli was my preferred option with delicious salads, wraps and lots of detox juices. The Super Antioxidant (with banana, orange, blueberries, strawberries and fresh spinach) was yummy and try the ABC Breakfast or Protein Shake for a pre-workout energy boost. If you're not strong willed and you want to detox, be careful of the included wines, champagnes and tempting desserts. However for the amount of exercise and activities I was doing, I opted for a few treats as I was on holiday after all.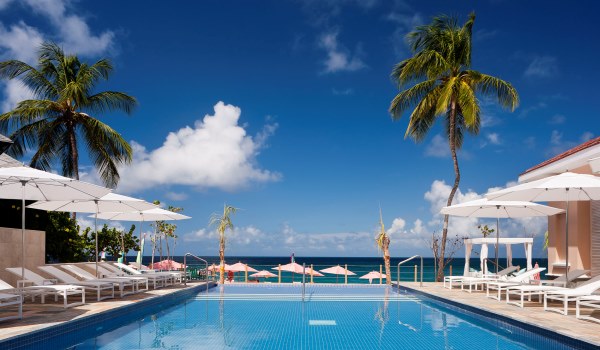 Activity swimming pool at The BodyHoliday
The Resort and Guests
Asides from all the activities, therapies and beautiful surroundings, there is friendliness everywhere. I was always greeted with a smile (staff and happy guests) and I felt very welcome. I was on holiday alone but I never felt alone with the options to join communal tables for dinner where guests meet at The Piano Bar from 7pm and with the offering of single garden rooms for a large cliental of solo travellers, making this the perfect destination for a singles holiday. The 'Bodyguards' are always around to look after you whether taking a fitness class or having a drink with.  Many guests return every year which is a great testament to how good this healthy holiday is.
There is also good evening entertainment at the Clubhouse every night; the live bands were a highlight with a good atmosphere, great cocktails and most people on the dance floor. It was fun dancing to live music. You can be as busy or as quiet as you like at The BodyHoliday and there is plenty of time for relaxation too.
If you are in St Lucia for longer then try some soft adventure tours from snorkelling trips to the Pitons, extreme  mountain biking and the Gros Piton Climb, along with diving trips and sunset cruises. It's a beautiful Island and worth looking at a St Lucia Discover Recover holiday if you can extend your time.  
I enjoyed my activity-filled break on this beach spa holiday and returned home feeling wonderful.
How to Book
To request a quote or for more information visit our The BodyHoliday page
Talk to one of our Travel Specialists on 0203 397 8891 or contact us here to discuss tailor-making your perfect wellness holiday.