Paul's Review of Palacio Estoril Hotel, Golf & Spa in Portugal
Created: 31 August 2017

31 August 2017

What is Palacio Estoril and who's it for?

Palacio Estoril is a thirties five-star luxury golf and spa 130-room hotel just outside Lisbon with a colourful clientele from politicians and pop stars, to footballers and royal family. The sixth James Bond film was also filmed here.
For clients who appreciate grandeur and luxury, set in the heart of Estoril and a short walk from the nearest cafes, shops and beaches, the hotel attracts wellness, golf and spa lovers with a flair for culture offering lavish interiors set in lush gardens. Whether you are a solo traveller searching for a relaxing spa break, or a group of friends looking to get fit, Palacio Estoril has the wellness programme for you.


Getting There

Lisbon airport is a 30-minute drive from the hotel and the train station is a short walk away. The hotel is a 5-minute walk from Tamariz beach and its promenade lined with bars and terrace cafés to enjoy the sea and sun. Also, just yards away is the famous Estoril Casino, the largest in Europe. On the Estoril Coast and in Sintra alone, golfers can enjoy seven magnificent golf courses including Palácio's own famous course, Estoril Golf, just 1 km away, which presents a real challenge to all players.


The Hotel & Accommodation

1930's elegance and history is reflected throughout the hotel. The lobby and entrance are so grand, it's very entrancing. In keeping with the theme of the hotel, my room was lavishly decorated, providing a sense of timeless comfort and creating idyllic ambiance to relax and unwind.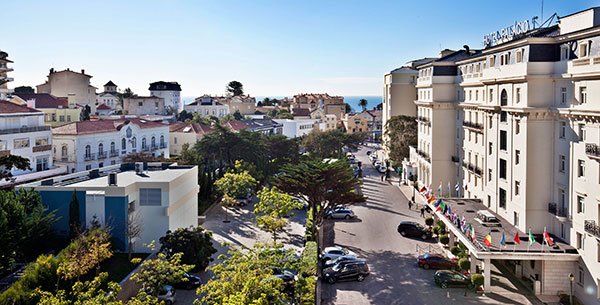 Picturesque views of Palacio Estoril


The Spa

The state-of-the-art Banyan Tree Spa and medical facility at Palacio Estoril is world-renowned whilst the orient-inspired décor evokes minimalist elegance, consuming you in a wave of tranquillity as you arrive through its doors. A haven of thick white spa robes, subdued lighting and shiny décor, I loved the Organic Café which serves some delicious and healthy smoothies. 
The spa has a two-method way with high-tech medical diagnostic tests to find out how we're ageing and what's going on with our hormones and health, but also a range of treatments designed to ease stress, loss of collagen and improve muscle tone. I recommend trying the thermal pool for Watsu (also known as water shiatsu) an amazing therapeutic treatment with a mix of massage, floating and being cradled like a baby, whilst being slowly swirled around. Less relaxing is a Hydrobike, which is effectively a spin class on a bike in warm, salty thermal waters. 
Having heard of the healing and rejuvenating benefits of the highly talked-about HydroBanyan circuit, I was enthusiastic to enjoy a dip in the dynamic pools and experience it myself. The Hamman offers a sanctuary where I felt completely at peace, the water jets dissolved the tension from by body, specifically in my lower back and shoulders, and the Turkish bath helped to cleanse my skin.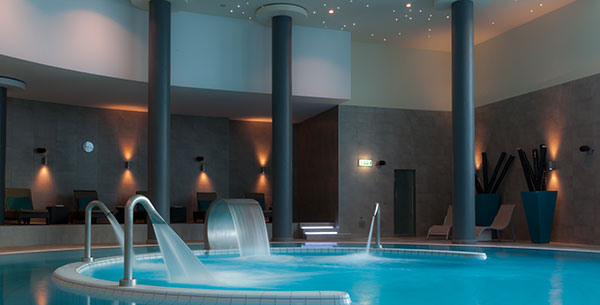 The Banyan Tree Spa 

My favourite treatment was the full body Banyan Tree massage; a 90-minute treatment to release pressure in areas of my body and increase energy flow. My physiotherapy and acupuncture treatment left me feeling so relaxed, words cannot describe just how revitalised I felt after, which encouraged the best night sleep I had in over a month.


The Fitness

Fitness is a key component of wellness at Palacio Estoril, and there are a wide variety of fitness classes available. From Barre and yoga, to Tae Bo and Hydrogymanstics, I did my best to try out as many as possible during my stay. Initially I opted for a Hydrobike class; expecting a relatively easy ride, I was sadly mistaken. Hydrobike is an activity with one of the highest calorie expenditures, and boy, did I feel it! Pilates was a genuinely pleasant experience, the class was small, permitting one-on-one time with the instructor, I'd also recommend having a private Pilates reformer class. The body toning group class was intense, fun and encouraging to be around others doing the same workout, and although my muscles were sore after, it was nothing that couldn't be fixed with a quick trip to the spa and hydro circuit to rejuvenate.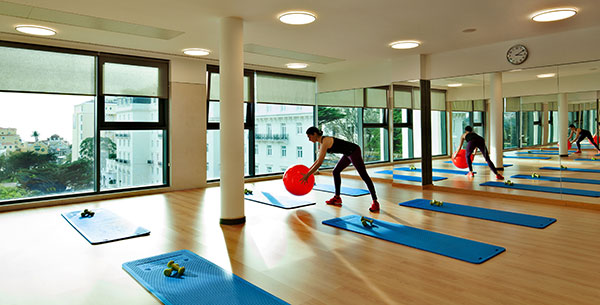 Train with expert personal trainers 

In addition to all the group classes, there is also a 200m2 gym. With the supervision of expert personal trainers, gain strength and improve your fitness through the resorts philosophy of functional training.  


Food/ Restaurants

During my stay, I had the pleasure of frequenting both in-house restaurants; Bougainvillea Terrace, a chic and stylish eatery overlooking the pool, and Grill Four Seasons, an elegant and sophisticated dining space. The first thing I noticed when perusing the menus was the enormous variety of dish options available. From international dishes to Portuguese staples, there were preferences to satisfy even the most discerning of palettes. One particularly memorable dish was the lamb entrecote baked in salt crust, ratatouille fine and allumette potatoes.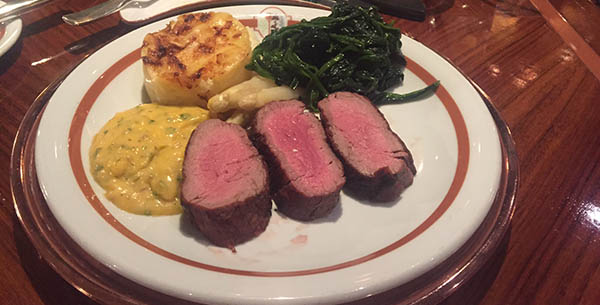 Indulge in rich and flavoursome meals

I deemed it necessary to try a few dishes from the 'healthy menu' available at both restaurants. My first choice was the vegetarian 'Wild mushroom and vegetable quinoa risotto'. It was outstanding. The chef, aka sorcerer, somehow managed to create a well-balanced, low calorie (370kcal), healthy meal without compromising the defining full-flavour and velvety consistency of a risotto. The second selection I had was 'Prawns braised with sautéed vegetable panache and coriander infusion'. Impeccably cooked, the prawns were tender and succulent, and combined with the coriander infused vegetables, shaped a zesty explosion for the taste buds. 
Although no food is to be served in this third location, I would be doing a disservice to both the hotel and our clients if I did not mention the impressive Bar Estoril. With a wide selection of classic and contemporary beverages, and a plethora of historic influence, it's a very suave place to enjoy the evening.


The Wellness Programmes

There's a comprehensive selection of wellness programmes on offer, each designed with peace, vitality, pleasure and health in mind. Each health programme integrates holistic and traditional healing practices with modern medicine to provide you with a bespoke, effective solution to your requirements. The programmes on offer are: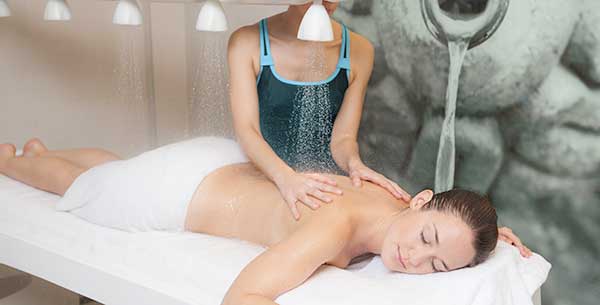 Vichy shower spa treatment at the Banyan Tree Spa
The Staff

All the staff were so friendly and impossibly youthful.  The clinical team of doctors, the spa therapists, fitness trainers, restaurant team, housekeeping and reception were all so helpful and made me feel so welcome, nothing was ever too much trouble. 


The Scenery & Surroundings

The view over the Bay of Cascais is not one I could forget easily. Just minutes from the hotels perimeter, which encircles beautiful gardens, you arrive at the attractive beach promenade, humming with shops, cafes and life. I would highly recommend one of the free morning walks down to here, with the refreshing sea air. Only 30 minutes (by car) or 20 minutes (by train) you arrive at Lisbon, Portugal's bustling capital city. Named one of Europe's most charismatic and vibrant cities, the energy is contagious, and another must on the to-do list.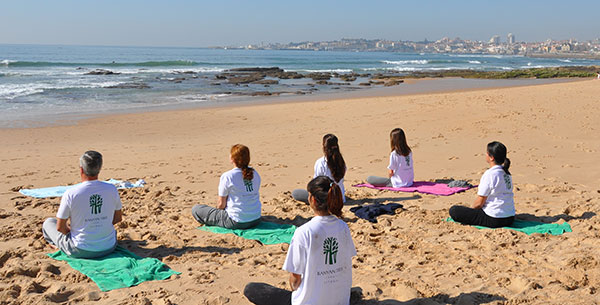 Enjoy yoga classes on the beach


Highlights
The dynamic pool and HydroBanyan circuit
Day trip to Lisbon
Pilates reformer
The Banyan Tree Spa and treatments


Notes & Recommendations

Choose the healthy food menu; it's irrefutably the best food I've tasted, and doesn't leave you with that horrible feeling of having over-indulged.
Book an extra night with your wellness programme, this allows you to get out and explore Lisbon for a day.
No one ever regrets a spa treatment -the therapists are amazing!


A Typical Day

9am – Breakfast
10am – Free walk to the Bay of Cascais on the promenade by the sea
11am – Pilates, yoga / fitness class 
12pm – Relax in the Dynamic Pool – Hydro Banyan circuit
1pm – Lunch 
3pm – Health consultation – medical or physiotherapy
5pm – Spa treatment  
7pm – Gym or group class
8pm – Dinner


My Summary & Verdict

After spending three nights at the Palacio being pampered and looked after, I felt totally restored and relaxed. I'm sleeping better, my skins radiant, I feel less stress and much calmer. If you're serious about improving your health and well-being, Palacio Estoril is the place for you. The central location gives you the freedom to leave the hotel and explore if you desire, yet by no means compromises your ability to relax. The selection of wellness programmes and fitness classes on offer are extensive, and the staff go above and beyond their duty to ensure your stay is the best it can be.


How to Book
To request a quote, or for more information, visit our Palacio Estoril page. Talk to one of our Travel Specialists on 1300 551 353 or contact us here to discuss tailor-making your perfect wellness holiday.


Fact Box
Best time of the year to go
: May to September
Months to book in advance for: 
June to August 
No. of rooms: 
130
Check-in/check-out: 
14:00/12:00
Wi-Fi: 
Yes, high-speed and free of charge throughout the resort
Children: 
Yes
Reception/room Service: 
24h
Alcohol: 
Yes
Nearest airport: 
Lisbon Portela Airport (LIS)
Airport transfer time: 
30 minutes
Address: 
Palacio Estoril Hotel, Rua Particular, 2769-504 Estoril, Portugal