My Apprenticeship at Health and Fitness Travel
Created: 25 April 2013

25 April 2013

I started my apprenticeship on the 3rd September last year and after a one week introduction of training and learning about the brand, I hit the ground running. There are no photocopying and tea run type jobs to do here but rather a variety of different tasks, some done on a daily basis and others done intermittently. In the last 7 months I have learnt everything from social media marketing strategies to the development and upkeep of our website, and most recently I have been involved in the design of the new site that is set to be launched in the summer. 
My day starts at nine o'clock where I will go through my emails and action list and work out what tasks need to be done. My daily tasks include posting to our social media sites (Facebook, Twitter, Google+ and Pinterest) and this consists of posting about our healthy holidays, experts' articles, blog posts, reviews, imagery and more. I also spend time each day responding to and logging media enquiries, and assisting journalists with upcoming feature ideas. The rest of my day is spent on all kinds of different tasks. We post at least one article to our popular blog each week, and once I have edited that week's article I am in charge of putting it together on Dreamweaver (web design software using HTML) and uploading it to the site. In fact, I'm in charge of everything that goes up onto the website, from new holidays and new experiences to weekly blog articles and our experts' articles, as well as making sure everything is up to date.
I may also be asked to write up information for new destinations, put together an interesting new blog article or write interview questions for a fitness expert. In addition, I have the responsibility of preparing our newsletters and creating them in Dreamweaver twice a month, but once a week during our peak periods like winter and summer. At other times of the week I search for websites to target for featuring us, or perhaps potential brand partnerships in order to expand the company's cooperation in the health and fitness industry.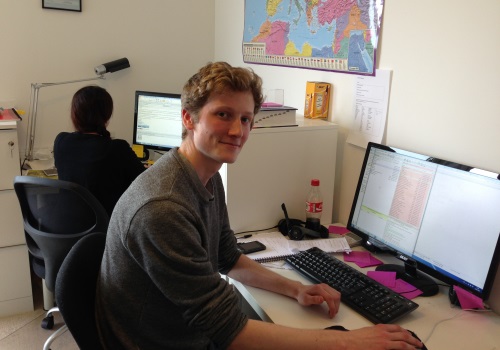 At my desk, and above a sunset from our London office
Much of my work surrounds SEO (Search Engine Optimisation) where we are always trying to maximise the number of visitors that the site receives. There are many more tasks that I may be asked to do each day; the diversity in my role is excellent. There is always something to be working on to grow the company to new heights.
Health and Fitness Travel comprises of a small and close-nit team who are all easy to work with and talk to for advice and to share your own ideas. My personal growth and what I've learned has been incomparable to other apprenticeships. Here you learn how to communicate with your colleagues, journalists and other professionals in the field of travel effectively as well as learning how to use web design software and gain an important understanding in SEO. I've greatly improved my writing, organisation and multi-tasking skills and the internship has set me up for a whole host of different professions. It has offered me a much better understanding of the type of career I would like to pursue, and offers an ideal placement if you are still undecided and would like to experience working in a thriving and friendly workplace.
If you are looking for an apprenticeship that is really going to push you, in a diverse and rounded way, with the added bonus of having a keen interest in the travel and health and fitness industry, then I highly recommend an apprenticeship with Health and Fitness Travel.
Visit our Jobs Page to apply for our apprenticeship vacancies.