Lorna Jane's Packing Tips for An Active Holiday
Created: 08 October 2018

08 October 2018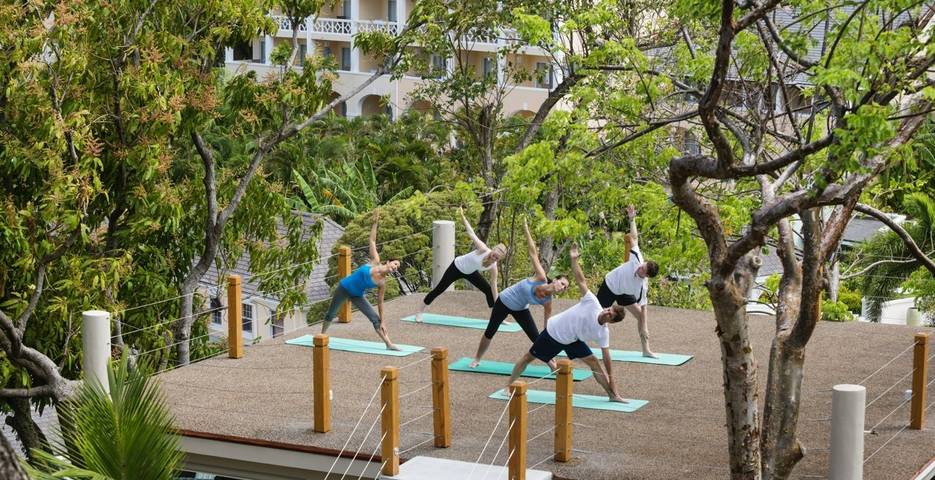 Lorna Jane Clarkson, the founder of women's premium activewear brand Lorna Jane is no stranger to travelling. Based in Brisbane, Australia means travelling all over the world and frequent trips to her LA home and USA Support Office in Santa Monica. Lorna has tried and tested tips and routines that keep her fit, healthy and ready for anything when she's constantly on the move and has given us her top tips for a fit and healthy holiday. "I must admit, I love routine and I'm a firm believer that it's what we do every day that sets us up for success in our lives.
With the holiday season here I thought I would share with you some of the go-to things that I do to stay fit, healthy and feeling 'myself', whether I'm traveling for business or just for fun.
So, the first thing I would like to share are some of my fail-safe packing tips.
Like most things practice makes perfect. And, over time I've worked out some simple things that, not only take the stress out of packing but also ensure that I have everything I need when I reach my destination.
Here are my top packing tips for staying fit, healthy and happy while you're on your travels:

Versatility is key
I choose clothes that can easily transition from Ath-leisure to Active. Think outfits that can take you from lunch with friends to an afternoon hike or yoga class by swapping out just one or two pieces.
 
Flight comfort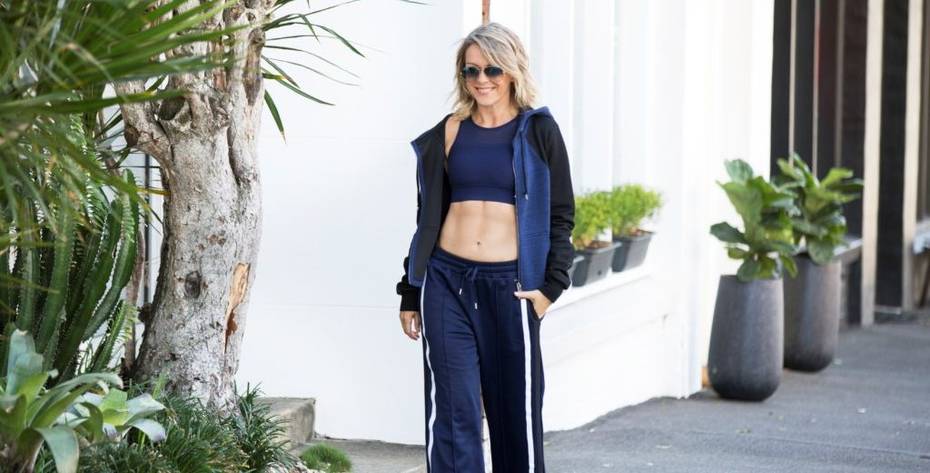 Although it's almost always a warm destination I'm traveling to, keeping warm during the flight is the key to a happy journey. I take a lightweight blazer if I am traveling for work or a relaxed style bomber if my trip is a little more low-key.
 
Plan your outfits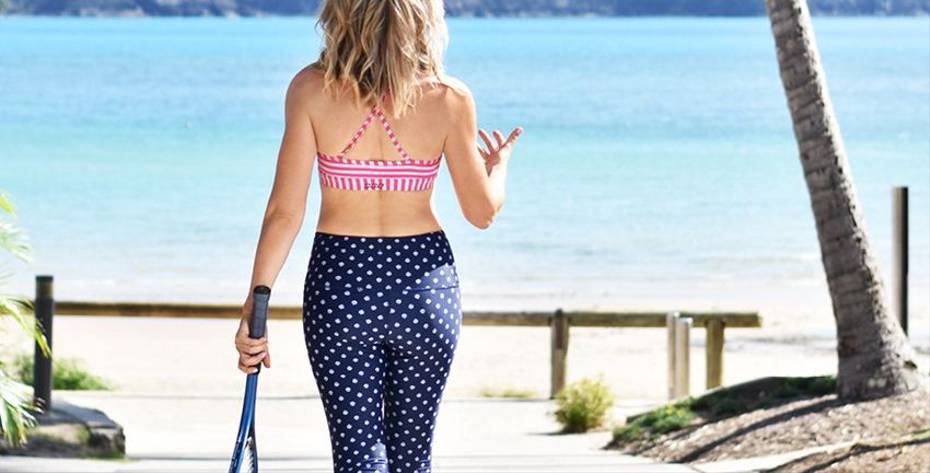 I create outfits before I pack, deciding on the essential pieces that I want to take with me and then building 3-4 separate looks around them. I photograph each look together with accessories, so that I can just flick through my phone to remind myself when I get to my destination. I then check how many days I am away and make sure that I have enough outfits for all the things that I plan to do, including all of my workouts of course!
 
Roll up
I 'roll' my clothes (instead of folding them) which surprisingly allows me to fit more pieces in my suitcase. It also minimises creasing, which is a huge bonus when you get to your destination because, who wants to iron clothes when they're on holiday?!
 
Make a list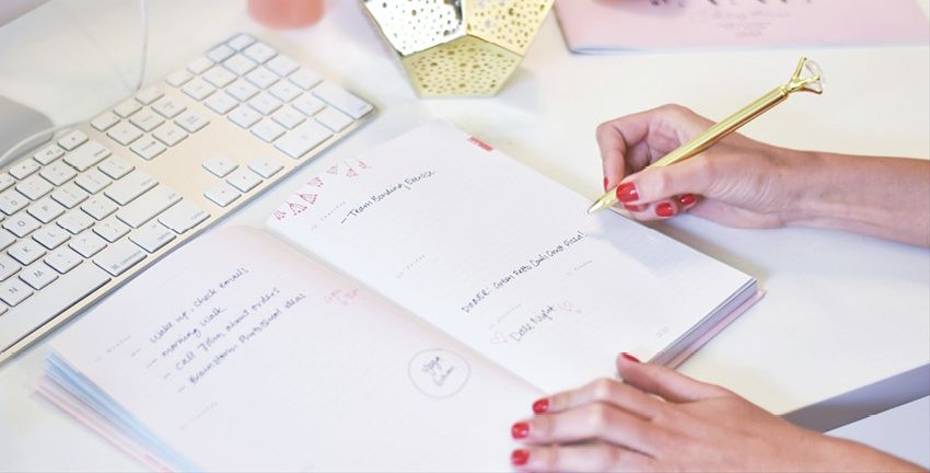 I also have a checklist (that I keep with my passport) to ensure that I don't forget any of the essentials:
Travel documents (which I keep in the same wallet for the entire trip)

Phone charger and travel adapter

Currency for the country I'm traveling to

Sun-screen

Vitamins

Sunglasses

Keys to my house (always a good idea if you want to get back into your house when you get home)

Hair brush (which surprisingly is something I forget all the time!)

Hair straightener

Beauty essentials (which I will cover in detail in my next blog)
 
The unexpected: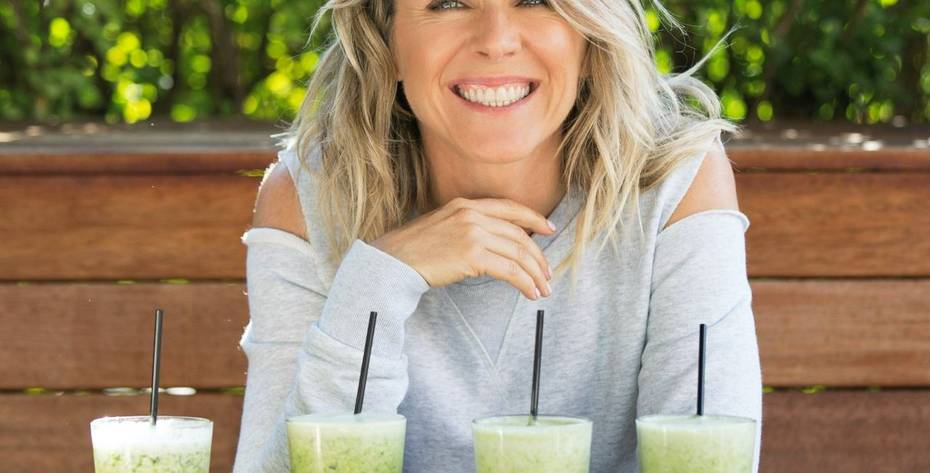 When I'm traveling within Australia, I take my Nutri-Bullet so that I can make my morning smoothie before I work out.

I also take my favourite tea's (usually a mix of Peppermint, Cacao and Chilli or Liquorice), my favourite snacks and protein powder.

If I've got enough space, I throw in my own Coffee Mug because I find the ones in hotel rooms are just too small for my night-time tea or morning coffee!

I like to take a small esky of food with me on the plane, but also for carrying healthy snacks with me whilst I'm out and about on holidays.

My favourite candle to make my hotel room smell like home

Lavender oil for my pillow to help with relaxation and jet lag

A linen bag for my dirty clothes – so I can take it straight to the laundry when I get home

And lastly, I always pack a few essentials in my carry-on just in case my checked luggage goes missing…

My carry-on 'must-haves' are a few basic cosmetics and something I can wear walking. Because, one of the first things I do when I reach a destination is put on my active wear and get outside.
I love to get moving after being in a plane for hours on end. It's also a good way to get to know the neighbourhood, find places to eat and pick up a few healthy snacks for my hotel room.
Well there you have it, just some of the things I've learnt about packing over the years as well as the things I like to take along with me to make sure I can be fit and healthy where ever I am – no excuses.
Happy travels!  
Love, Lorna xx"