Life as an Intern at Health and Fitness Travel
Created: 03 September 2013

03 September 2013

I started my eight week internship with Health and Fitness Travel at the beginning of July and it couldn't have been more worthwhile. This experience has been incomparable to the other internships I've done, where filing and clock-watching were main activities. Here, I've really been made to feel a part of the small and friendly team, carrying out a variety of different tasks and with some real responsibility.
There's no time to get bored during this internship; as soon as my day begins at nine o'clock I already have an action list of tasks to do. One of my main responsibilities has been to write a number of interesting blogs to go on our website. This involves researching around the topic, coming up with my own ideas, structuring the blog correctly and writing in a casual and friendly style, which is different to the academic writing that I'd been used to. I've also learnt a lot about SEO (Search Engine Optimisation).
With the upcoming launch of Health and Fitness Travel's new website, I've been responsible for writing some of its content. This includes writing brief overviews for each of the destinations that we sell, enhancing my editing skills. I've also written several new pages and helped with the design and marketing of a new product range.
The travel specialists are always on the lookout for new luxury healthy holidays to sell to their clients, so when a new one is commissioned I write up the product information which will appear on our website. But beware of this task, after researching the hotel websites and browsing the wonderful photo galleries, you'll have a severe case of wanderlust!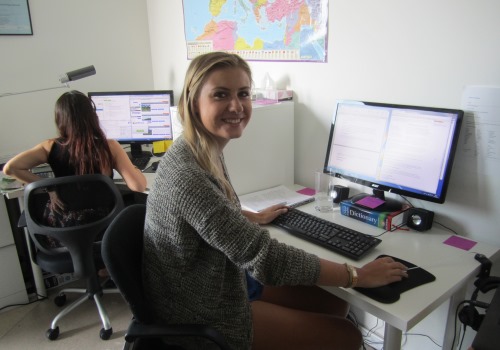 Isabel at her desk at Health and Fitness Travel HQ

One of the most worthwhile skills that I've learnt is how to write a press release. The support and feedback I've been given throughout the process has been second to none. Writing an effective press release is so important; it's key to getting our product marketed to clients. I was so pleased to be given the opportunity to have a go at such a crucial task and I felt so satisfied and proud when I finished my first one.
Something that I've really enjoyed during my time here has been the research aspect; I was given a task to find new brands to target for cross-marketing purposes, which could include anything from luxury gyms to healthy food companies and travel luggage specialists. This is an essential job, as it'll help to expand the company's presence and take it to new heights in the future.
My more day-to-day tasks have involved uploading material to our social media sites, which are key to spreading brand awareness. I've used Twitter daily to interact and tweet people with our recommendations and advice. I have also been uploading a couple of our colourful and inviting holiday photos to our Pinterest boards each day and making sure they were organised and looking good.


Our Twitter page                                       Our Pinterest page

I never thought that I'd learn this much during my internship; not only have I gained essential knowledge about marketing and PR, the fields I'd like to go into once I've graduated, but also about the health, fitness and travel industries, which I am now even more passionate about than before. I've improved my transferable skills, including organisation, multi-tasking, time management and communication within the workplace, which will prove invaluable to me in the future.
So, if you're looking for a placement which will help you to reach your full potential, with a variety of dynamic and worthwhile tasks, and which will enhance your knowledge of the health, fitness and travel industries, then I'd highly recommend an internship with Health and Fitness Travel.


Visit our jobs page for more information jobs page for more information...