Joanna's Review of Borgo Egnazia in Puglia, Italy
Created: 11 December 2018

11 December 2018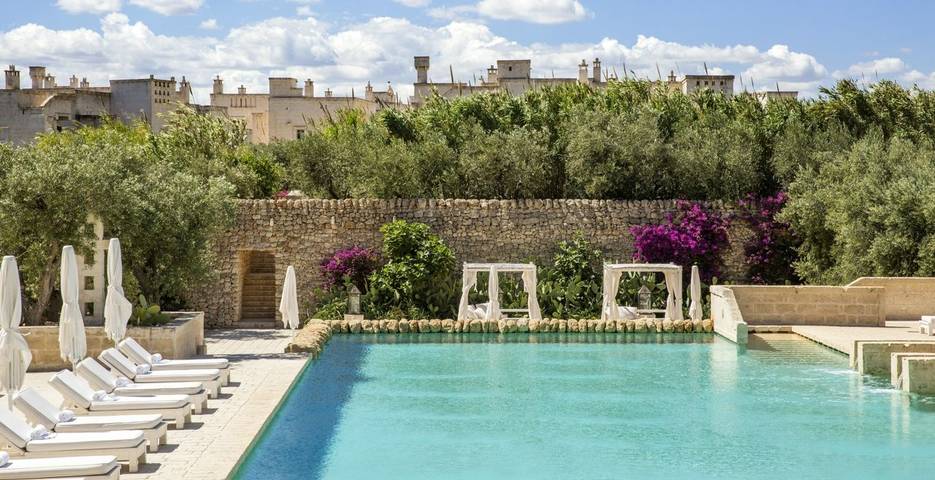 What is Borgo Egnazia and who's it for?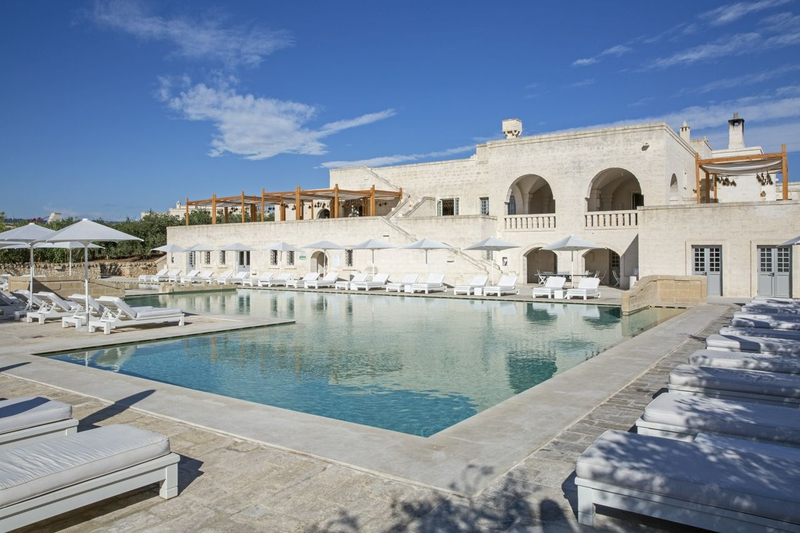 Borgo Egnazia is the perfect destination for anybody who wants to escape the daily stresses of life. From an award-winning spa and Michelin star restaurant, to stunning rooms and scenery, there's no doubt that this luxurious 5-star resort will offer an experience like no other.
Getting There
Located in the heart of Puglia, deep in the heel of Italy, Borgo Egnazia is easily reachable from Brindisi and Bari airport with several flights departing daily. After winding through olive groves, you approach the castle-like, hidden sanctuary of luxury.
The Hotel and Accommodation
Borgo Egnazia is made up of a great choice of accommodation from traditional hotel rooms in La Corte, to one- and two-bedroom townhouses in Il Borgo, and two-and three-bedroom Villas in Le Ville.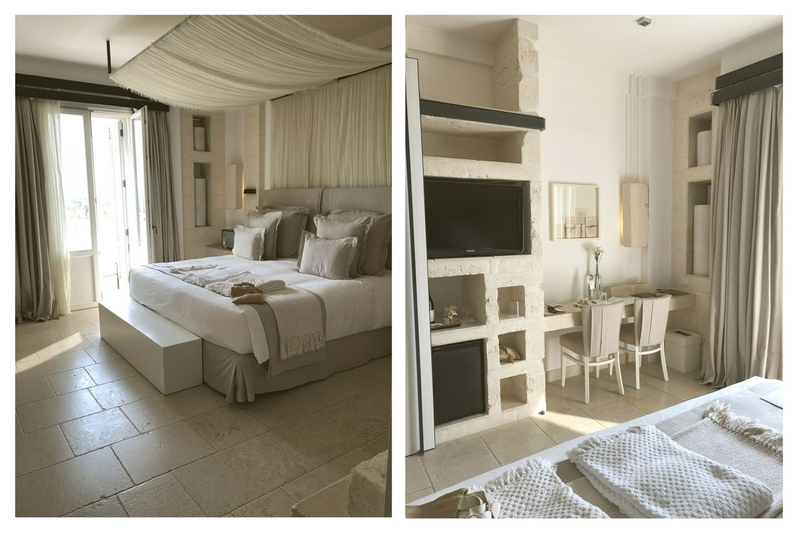 La Corte comprises spacious rooms contemporarily designed with creamy interiors, and all mod cons, each with balconies or terraces, they truly offer a hidden sanctuary of luxury. La Borgo, meaning 'village' in Italian, offers a more rustic feel and all rooms are equipped with small kitchenettes. The villas are lavishly decorated with plush interiors and feature fully equipped kitchens and private pools, ideal for families or guests looking for a more exclusive experience.
There is something for everyone, with 4 swimming pools, including a heated and family friendly pool, a crèche for babies 8 + months, a kid's club, reading room, games room and cigar room, as well as access to 2 beach clubs and an 18-hole championship golf course.
The Spa
The highlight of my trip was a visit to the Vair Spa which was recently voted one of the top 8 spas in the world in Conde Naste, and rightfully so.
Vair, meaning 'true' in Puglian dialect, offers holistic treatments to heal and rejuvenate the mind, body and soul. The local healing therapies are integrated in Vair's unique programmes, comprising treatments and 'life changing experiences' based on ancient Puglian rituals and are led by a talented team of therapists, artists, musicians and dancers.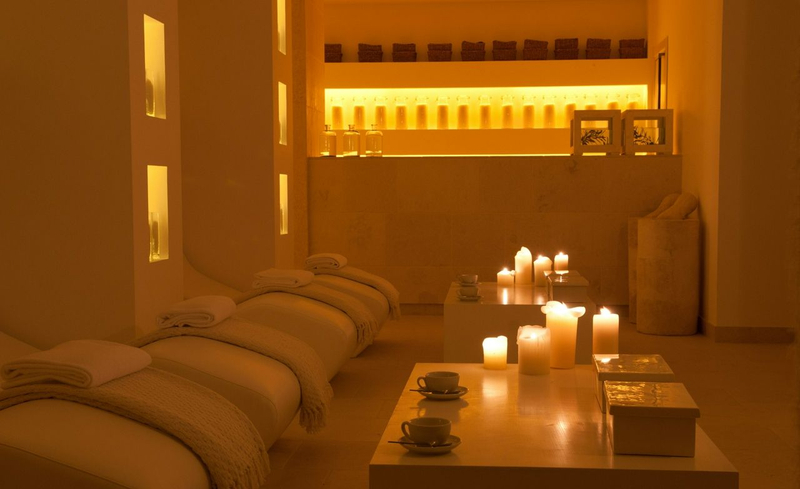 Upon entering the candle lit spa and being greeted by the therapists in their flowing Grecian dresses, I felt an immediate sense of calm. I started my journey with a consultation to discuss my lifestyle and my initial treatment. This treatment was 'Addur', a sensory Olfactory experience which involved smelling several different aromatherapy oils and experiencing how smells can influence our thoughts, emotions and memories.  From this, I recalled lots of personal memories associated with my childhood. The smells that I liked indicated that I enjoy being active and to improve my wellbeing. I was given salts with my preferred scents which, in turn, were used in my other treatments.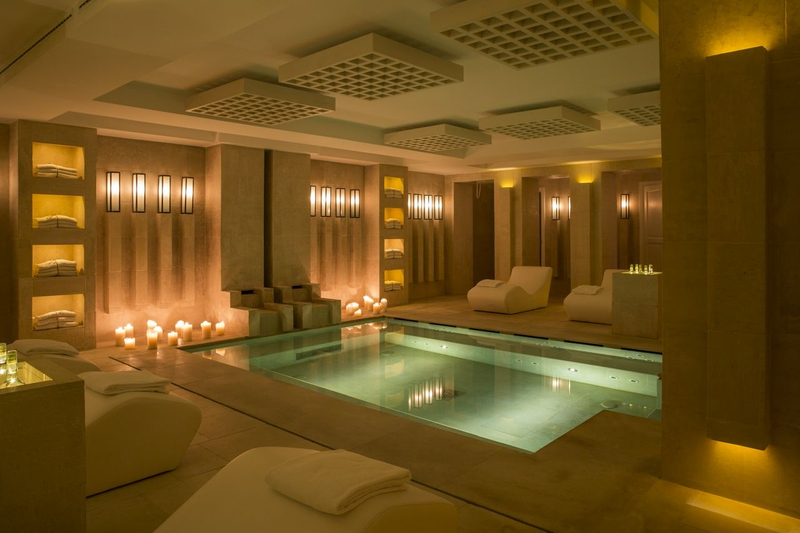 I also had a chance to try the signature treatment which I would highly recommend. My therapist guided me through different parts of the Roman Style baths, alternating hot and cold experiences, starting in the heated hydrotherapy pool to a cold shower, then advancing to a sauna and tepidarium which was complemented with a refreshing ice scrub. My experience left with me in a blissful daze, lying on a stone slab in an olive and salt scrub with wafts of my preferred Olfactory scent passing through the air.
The Fitness
With a spacious gym full of Technogym equipment, 2 tennis courts and 4 swimming pools (indoor and outdoor), there are plenty of opportunities to keep active.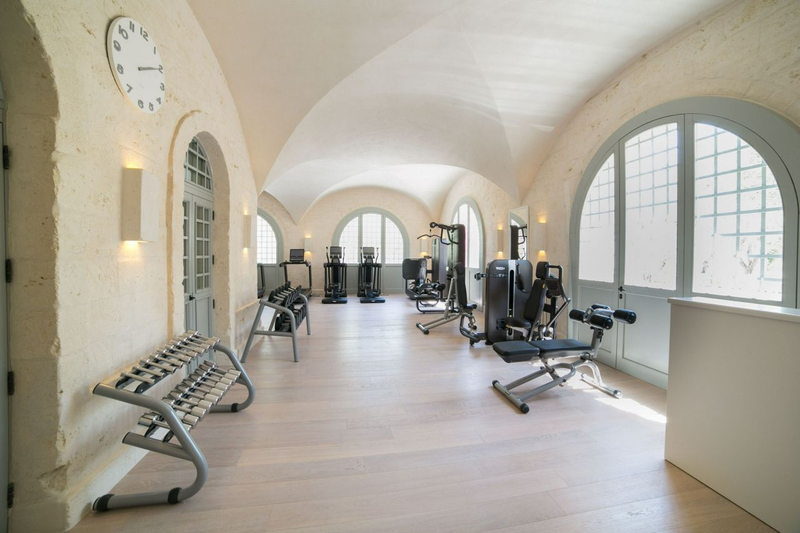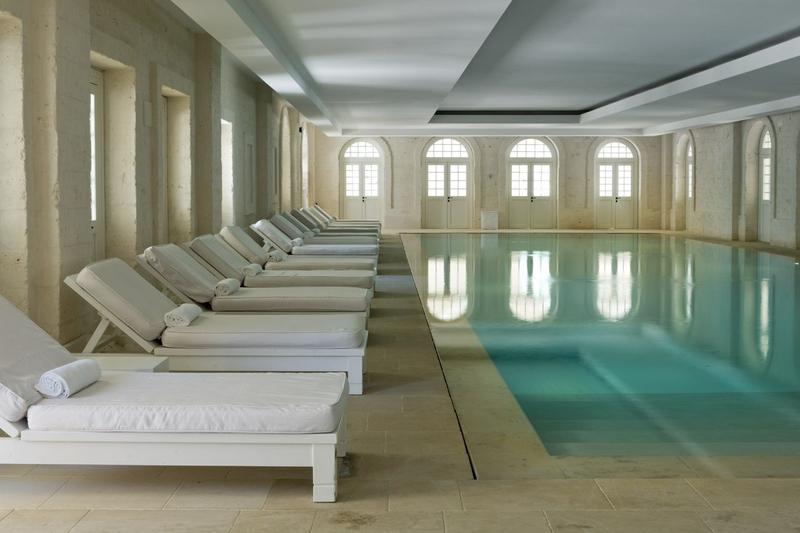 Borgo Egnazia also offer daily group fitness activities including yoga, jogs around the area and FitWalking in the local fields, a fantastic way to start the morning before breakfast! You can also hire bikes from the hotel to explore the local village, Savelletri, building up an appetite before enjoying a freshly packed picnic beneath the century old olive trees.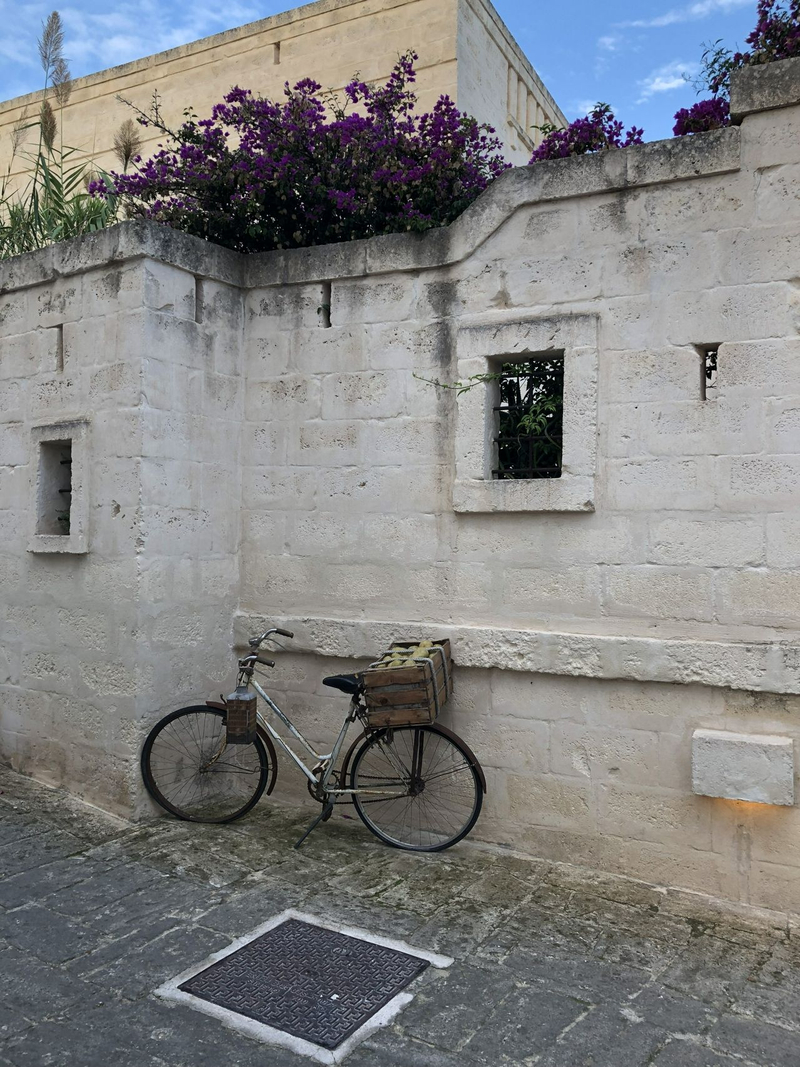 I did our Fusion Fitness programme and I especially enjoyed the nature HIIT class, where my personal trainer Roberto and I were able to benefit from exercising in the scenic surroundings within local fields and beaches in the freshest air.
Food/Restaurants

With 6 restaurants to choose from, you really are spoilt for choice. From fresh fish by the beach at Cala Masciola, to the almost too beautiful to eat, Puglian cuisine from the Michelin star gourmet Dua Camini, to a more simple and homely fare in La Frasca in the rustic setting.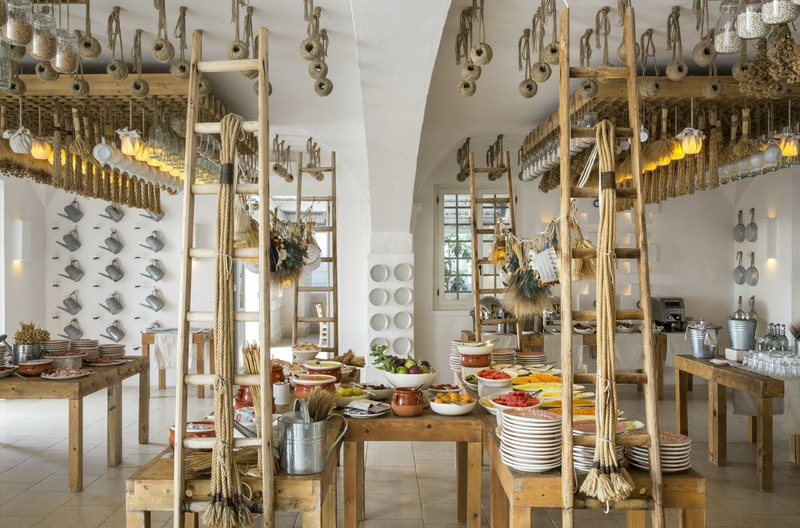 As we all know, the Italians love their food, so you can certainly eat well and heartily here. The food is simple yet light and flavorsome, with a big emphasis on the Mediterranean diet. The specially designed menus offer meals from recipes passed through the generations and cooked in the locally produced olive oil and plentiful herbs and vegetables from the surrounding fields. You can learn to recreate these meals with cooking classes for adults and children.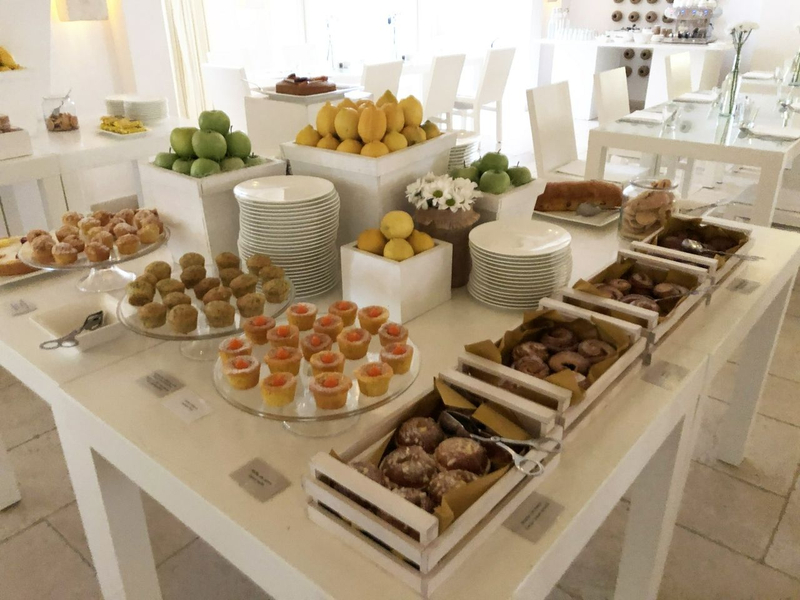 Breakfast also offered a vast choice from healthy to indulgent, and you're spoilt for choice with traditional Italian cakes and pastries and meats and cheeses. Everybody is catered for, with detail such as gluten free cakes and lactose free cheese.
The Wellness Programmes 
Borgo Egnazia offers two different wellness programmes which include:
The Staff

The staff are warm and approachable; 90% of them are from the local region with fantastic knowledge of the area, and it is clear there is a genuine pride in being able to share their insider tips of the region with their guests. Additionally, on arrival, you will be assigned a local advisor who is available behind the scenes to help with any queries or excursion bookings.
The Scenery & Surroundings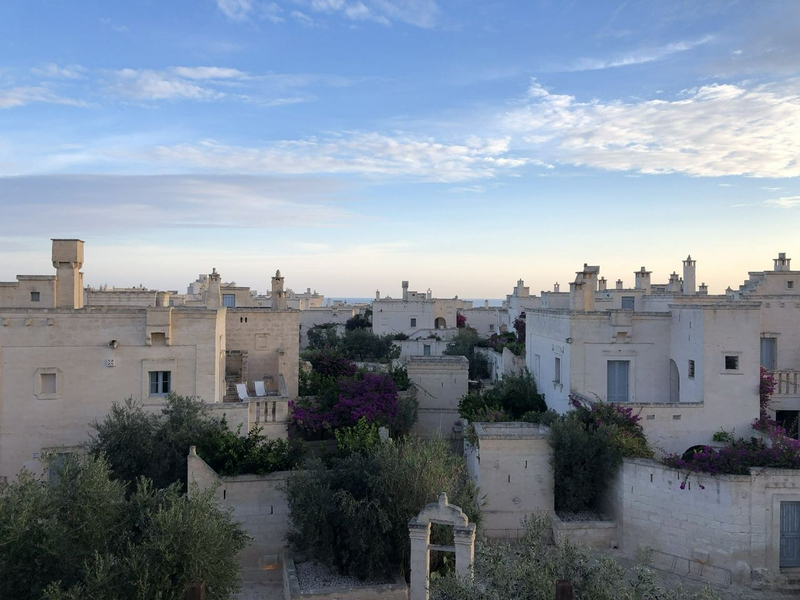 Borgo Egnazia resembles a typical Puglian village, oozing luxurious simplicity which matches the local architecture and history of the untouched region of Southern Italy. I loved getting lost in the maze of cobbled lanes and discovering the secret stairs with hidden terraces, and the main piazza in the heart of the village where events are often held. All the buildings are truly picturesque, with the creamy limestone simply decorated with fuchsia Bougainville flowers, and little local seasonal touches scattered throughout.
My Summary and Verdict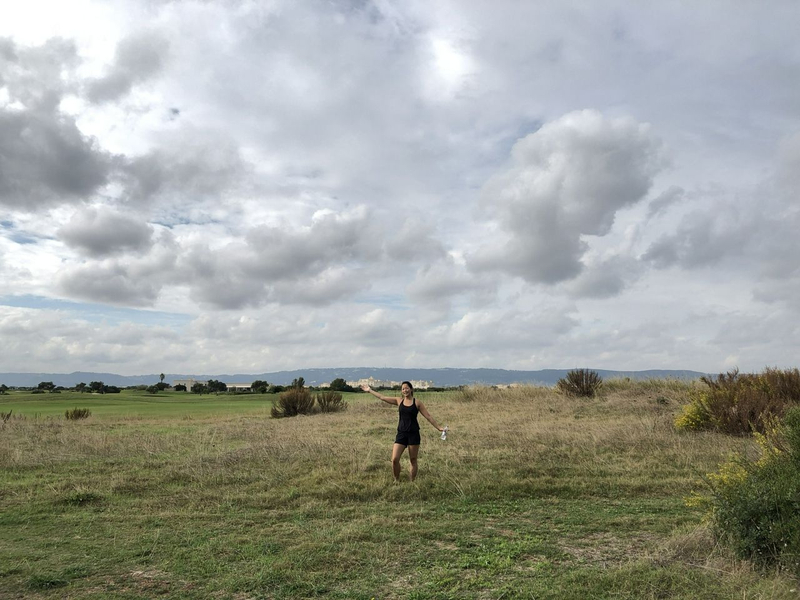 If you're looking to relax and indulge yourself in luxury, then there is no doubt that Borgo Egnazia is the place to do so. Ideal for families, friends and singles alike, there is something for everybody, whether you want to switch off in Vair Spa or explore the local culture of Puglia.
Highlights
The amazing Spa and the knowledgeable staff, who make the stay so comfortable and for all their insider tips on where to visit in the surrounding area.
How to Book
To request a quote or for more information visit our Borgo Egnazia page.
Talk to one of our Travel Specialists on 1300 551 353 or contact us here to discuss tailor-making your perfect wellness holiday.
Fact Box
Best time of the year to go: April to November
Months to book in advance for:
No. of Rooms: 184
Check-in/check-out:  15:00 / 12:00
Wi-Fi: Yes
Children: Yes – kids club also provided
Reception/Room Service: Yes
Alcohol: Yes
Nearest Airport: Brindisi
Airport transfer time: Brindisi 40 minutes / Bari 50 minutes
Address: Strada Comunale Egnazia, 72015 Savelletri di Fasano BR, Italy