Hollie's Review of Almar Jesolo Resort & Spa, Italy
Created: 23 October 2019

23 October 2019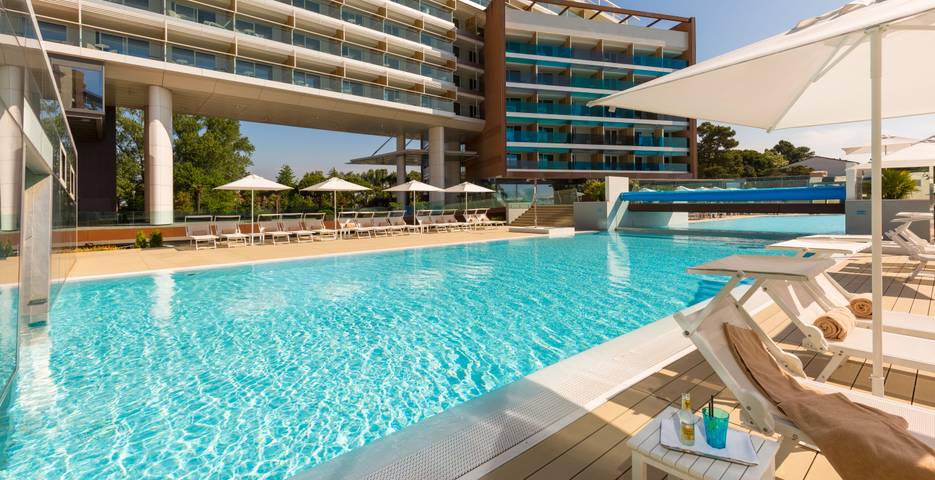 What is Almar Jesolo and who is it for?
A 5-star luxury lifestyle resort gracing the Italian Riviera, Almar Jesolo Resort & SPA is designed for well-being with exquisite service, class, and an award-winning spa.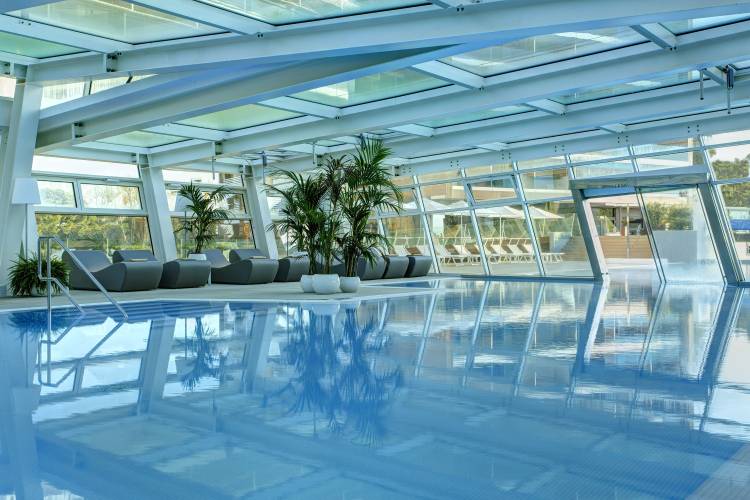 Getting There
The resort lies adjacent to the Lido de Jesolo and is a 40-minute drive from Venice Marco Polo airport, where we were met by our private chauffeur. It is a pretty rural drive along the flat plains of Northern Italy, flanked by lines of fields, farmhouses, and wildflowers gracing the countryside. Venice is an easy distance away, either by boat or by car, which will take less than an hour.
The Hotel & Accommodation
The reception of the hotel is beautifully designed and elegant with an abundance of freshly cut flowers, interesting artworks, and smiling receptionists. Bikes lie in rows just outside, which as the beach promenade extends for miles as well as the nearby towns, are most inviting.
The design of the hotel is very chic and contemporary with floor to ceiling glass creating the feeling of being outside and at one with the surroundings. Although a large hotel, it does not feel overwhelming, but on the contrary warmth and friendliness exude from the staff and the service is attentive without being overbearing.
We had a Prestige Suite overlooking the sparkling sea and long sandy beach with a large terrace with our own private sun-loungers, a living room and separate bedroom. There was plenty of space on the terrace to practice yoga or to sunbathe in private. Upon entering the room, we were greeted by a bountiful array of fresh fruit, nuts and chilled flavoured waters to refresh us. Each evening I bathed in the large bath with the spa's own brand of scented sea salt to melt the muscles.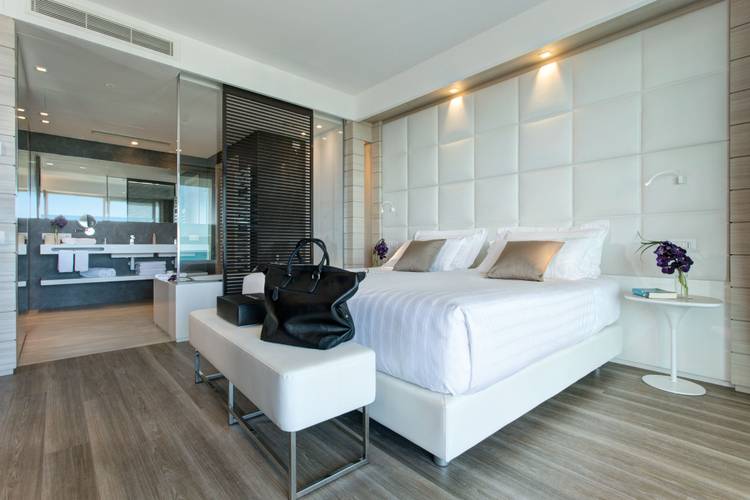 The Spa
The award-winning Almablu Spa is impressive in its holistic therapies, design and quality of service, where they use their own prestigious cosmetic line. All of the treatments, massages and rituals have been created exclusively for Almablu Spa and the energy massages are rooted in the wisdom of Classical Chinese Medicine. The hotel believes in continued professional development and each therapist spends at least 2 days per month developing their skillset, which is demonstrated by the skill and knowledge during the treatments.
As I am pregnant, the therapists gave me the choice of Mother-to-be pampering sessions, to which I choose a facial and head massage. Cuddled in a fluffy white robe I was nurtured, caressed and pampered until all worries and even thoughts had drifted away, leaving me feeling completely relaxed and nourished.
The indoor wet areas are vast, with many different hot, warm and cold arms as well as both indoor and outdoor swimming pools, making this the perfect destination for a luxury spa holiday. There are three adjoining swimming pools in total, at different temperatures which suits my partner and I, as we agree on most topics apart from temperature! I opted for the balmy indoor pool with massaging jets that pummel your shoulders into perfect submission.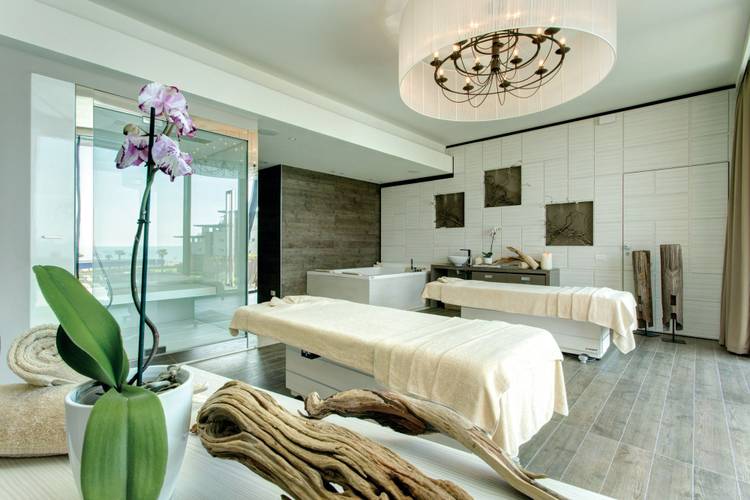 Fitness
The gym, with its floor to ceiling windows affords views over the pools and outwards towards the sea, allowing you to work out enjoying the scenery. The gym is well equipped with a variety of machines, free weights and an area to practice yoga or Pilates. We had a private postural analysis class with an experienced coach, Marco, who guided us through a series of movements designed to improve our alignment and body awareness. As we both have a good understanding and practice of yoga, we were able to benefit from these muscular-skeletal alignments and deepened our poses with added strength and grace.
Fruit and herbal water are in abundance by the gym and in the spa area, reminding you to keep hydrated and refreshed before and after working out.
Food/ Restaurants
The resort has two lounge bars, the main Mediterra restaurant and a well-stocked wine cellar. The cuisine is sophisticated with Italian twists presented in decadent opulence. There is a wide choice to suit each palette and we were pleased to see a dedicated wellness menu with wish to choose a lower-calorie choice, accompanied with a green juice or smoothie.
We had all our meals in the Mediterra restaurant, where each dish is expertly plated, designed and flavoured. A highlight of this gourmet experience was the dessert on the first evening – a cleverly constructed art-piece of white chocolate and zesty flavours made in the exact shape and texture of a lemon! (How I wish I had taken my camera to dinner that evening).
Breakfast in Mediterra offers cooked options including a variety of pancakes, freshly made omelettes and juices, as well as a generous buffet featuring some strong Italian additions. The freshly squeezed orange juice tasted divine and one could tell they had been newly plucked. The ricotta with smoked salmon and scrambled eggs was local, tasty and filling and there was plenty of choice for the more discerning wellness guest.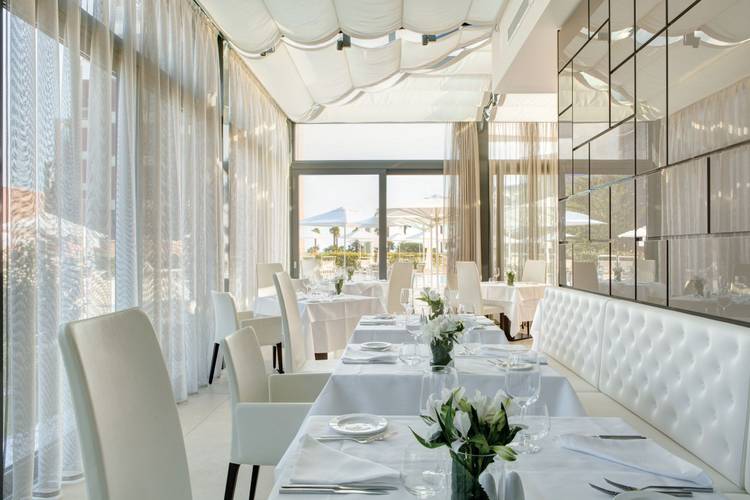 The Wellness Programmes
Almar Jesolo Resort is a new and specifically designed leisure and wellness hotel, offering different wellness programmes which include:
The Staff
Service here is excellent with staff exhibiting impeccable attentiveness, professionalism and charm. Being pregnant, I felt cared for to high degree and nothing was too much trouble, including extra pillow requests, green juices throughout the day and knowledge of provenance of restaurant ingredients.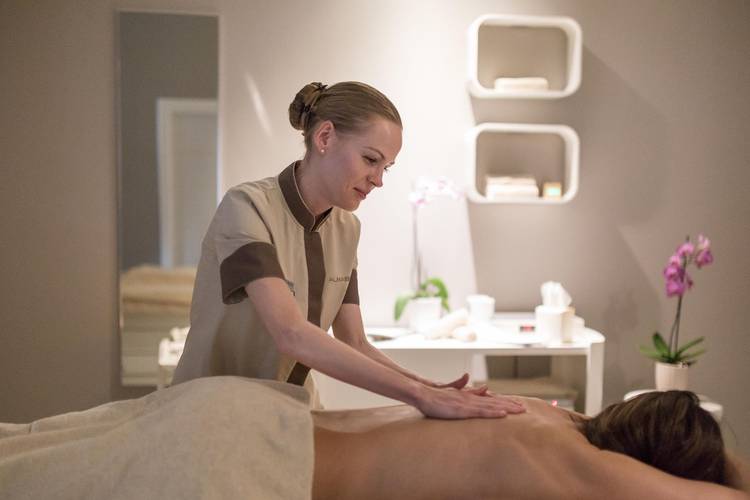 The Scenery & Surroundings
Surrounded by verdant gardens, a glistening swimming pool and a long sandy beach looking out onto the turquoise sea, Almar Jesolo Resort & Spa rests on the fertile lands of Northern Italy, on the Italian Riviera. The Promenade is the longest in Europe, with a golden sandy beach stretching for 15km.
Highlights
Cycling to the nearby towns and exploring the local boutiques of Italian fashion.
Spending hours in the luxury wet room areas, toped up with fresh fruit, citrus water and the sea views.
The combination a luxury spa holiday with the culture of Venice nearby.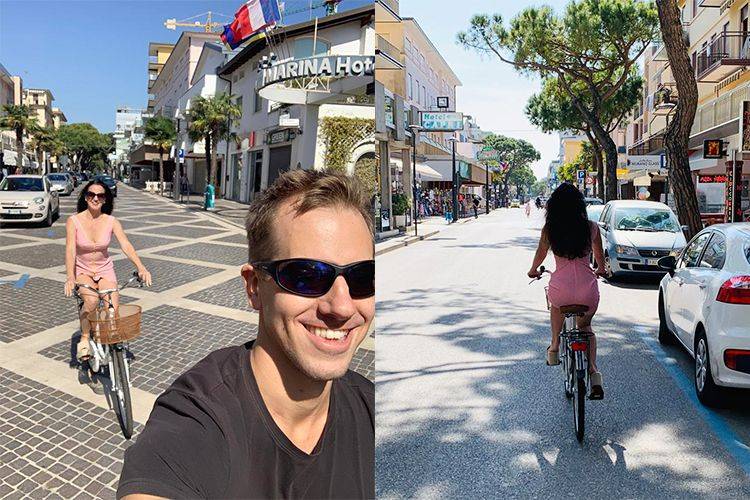 My Summary & Verdict
A contemporary beach-resort which is suitable for families, couples and solos alike.
How to Book
To request a quote or for more information visit our Almar Jesolo Resort & SPA page.
Talk to one of our Travel Specialists on 1300 551 353 or contact us here to discuss tailor-making your perfect wellness holiday.
Fact Box
Best time of the year to go: April to November 
Months to book in advance for: Summer months
No. of Rooms: 197 rooms & suites
Check-in/check-out: 15:00 / 12:00
Wi-Fi: Yes
Children: Yes – kids club also provided
Reception/Room Service: Yes
Alcohol: Yes
Nearest Airport: Venice Marco Polo
Airport transfer time: 40 minutes
Address: Via Dante Alighieri, 106-30016 Lido di Jesolo, Venice, Italy