Holidays to Strengthen Your Emotional Fitness
Created: 05 August 2013

05 August 2013

Jetting off on a wellness holiday can be the perfect way to kick-start a new healthy approach to life. Being able to relax and unwind on a tropical beach spa holiday can help you focus your energy on healing, and ridding yourself of harmful and toxic emotions. A combination of fresh air, vitamin D, exercise, nutritious meals and indulgent spa therapies is a great way to improve on all areas of your health and fitness, especially mentally and spiritually. A recent study tested the happiness of a small group of subjects over 7 weeks of active workouts and healthy, non-processed food. After the test, the participants' happiness had improved dramatically across the board*.
Learn, laugh, create, be grateful and appreciate the beauty in life. Every day, set aside some time and treat yourself; a piece of chocolate, a relaxing bubble bath or waking up late and having a lazy lie-in. Smile at a stranger, hold open a door for someone, and live life with a friendly and positive outlook. Banishing harmful emotions is the key to mental fitness; take an optimistic approach to life and you can't help but smile.
If you're looking to strengthen your emotional fitness, we have a range of healthy holidays that will help you focus on the important things in life. De-stress, unwind and heal on a holistic retreat, and enjoy a range of activities and indulgent spa treatments designed to remind you that your glass is always half full.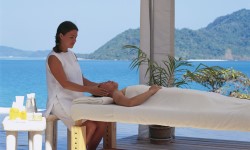 Unwind and rejuvenate on a de-stress spa holiday, with an array of handpicked destinations from Thailand to India. Discuss your feelings and any issues at an initial wellness consultation before embarking on a life-changing programme that will balance you spiritually and physically. Learning to cope with stress is a vital part of emotional fitness; we all need it in our lives for efficiency and enthusiasm, but excess amounts can lead to problems. Blend invigorating spa treatments with calming yoga and wellness activities and feel your stresses melt away.


Our custom Fusion Fitness programmes let you pick and choose your favourite holistic activities and spa therapies, and structure your dream healthy holiday. Combining a healthy routine with indulgent treatments can improve your mood by releasing endorphins into your body; which is why you feel so good after an energetic workout. You're in charge of what you do, so you can spend your time doing exactly what you want to, from circuit training and kayaking, to Pranayama and traditional healing massages. With over 15 handpicked holiday programmes around the world to choose from, you can work on your emotional wellness on your own terms.


Relax, rejuvenate and reinvigorate with world-class spa treatments on a spa and sport holiday. After an active and energetic day, indulge in luxury therapies and healing practises that will soothe tired muscles and calm your mind. Many of our retreats offer world-class spas alongside incredible sporting facilities, so you can mix and match healthy activities with a range of healing mind & body treatments. Friendly competition, laughter and playing sports are great ways to move your body and have some fun, and can help you relieve tension and stress.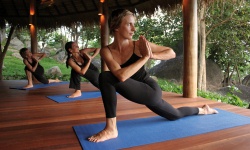 Encompassing meditation, breathing and both physical and emotional wellness; yoga is an ancient practise that acts as an invigorating way of improving your overall health. Indulge in private sessions and learn to boost your confidence and live a more stress-free life. Different disciplines help you work on diverse aspects of your mental and physical fitness, so include Pranayama breathing lessons and apply its message of tranquillity into your everyday life. Yoga can be enjoyed on a daily basis, and is an on-going holistic pursuit, so learn the basics on one of our healthy holidays and reap the benefits for years to come.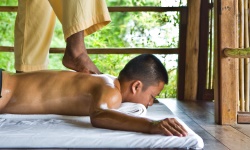 Take the time to heal on one of our luxury handpicked holidays, and leave feeling fresh and rejuvenated. Complement your stay with indulgent therapies including Ayurvedic treatments and traditional massages, along with mind & body activities such as yoga and meditation. Restore your energies in idyllic and tranquil locations and work on improving your mental aptitude and spiritual health. Whatever aspect of your emotional fitness you feel you need to work on; you can tailor your healing holiday to include your favourite treatments and holistic classes.



Talk to one of our Travel Specialists on 1300 551 353 or contact us here to discuss tailor-making your perfect healthy holiday.
* The CrossFit Journal - The Positive Impact of Physical Fitness on Emotional Fitness - Dr. Brooke R. Envick, Rick Martinez - May 2010