7 Healthy Habits you can take on Holidays
Created: 08 May 2015

08 May 2015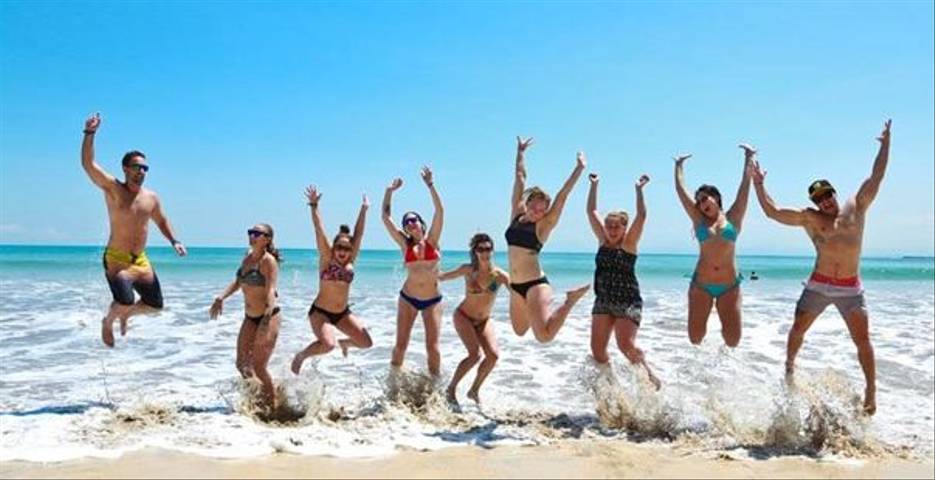 Em Esslemont is a physiotherapist, personal trainer, wellbeing blogger, co-founder of Nourishment Bowl and founder of Wellbeing Worldwide. As you can probably tell she is a self-confessed fitness and food fanatic with a passion for living a healthy lifestyle and helping others to do so too. Wellbeing Worldwide is an online database of all things healthy that came to fruition amongst the frustration of searching for a gym of any kind in a small Mexican surf town. Em decided to create an ultimate guide to help everyone live a little healthier wherever they go and today she is sharing her top tips on staying healthy on holidays.



I'm a bit of a health and fitness junkie. Yep I'm that girl on holidays that is on the lookout for the healthiest place to eat, where to find the closest gym or researching the best running trails to explore. Sure I have my fair share of indulgences and I love a sweet treat as much as the next person but I don't think a holiday should be an excuse to mistreat your body. It's an opportunity to unwind, relax and recharge. We live in a fast paced world where many of us never get a chance to stop and just be. Having a break from work and the stresses of everyday life is such as important aspect of your health and wellbeing.
Don't let your holiday completely de-rail all the hard work you put into your health. Follow these easy tips to take your health with you wherever you travel.
I. ENJOY THE OUTDOORS: Wherever you go there will always be a bunch of cool adventure activities you can get involved in. The best way to see a foreign city is to run first at first light, there is something special about watching the world wake up. Mountain trails, beach walks, zip lining, cycling, rent quad bikes.
II. START THE DAY WELL: Kick-start the day properly. A bottle of water, coffee (obviously) and a healthy, nutritious breakfast. This will set you up for the day ahead and ensure you have a heap of energy to get out and see the sites.
III. WALK WALK WALK everywhere! If you don't need to take the bus then don't. You will be amazed at the cool little things you stumble across in foreign cities when you are on foot or even bike!
IV. WATER: Hydration is always important and many drinks, particularly cocktails have a lot of sugar from fruit or flavour syrups (which is what makes them taste so good) so if you have overindulged then the best fix for a sugar hangover is a heap of water. Perhaps even add extra electrolytes to your water bottle, especially if it's a hot day.
V. EXERCISE: I'll be honest, I find it pretty hard to go an entire week without doing some form of exercise & this doesn't really change just because I'm on holiday. It doesn't mean go searching for the gym and slog it out all day, a quick 20 minute workout every other day is all you need whether it's a jog on the beach or a high intensity body weight circuit in the park. It doesn't have to eat into your day & don't stress if you miss a few days here or there!
VI. WATCH FOR THE HIDDEN NAUGHTIES: There is nothing more exciting than tasting different cuisines BUT there are a few things to watch out for if you want to make sure your food choices stay on the 'healthy side'
Always ask for dressing on the side, most are packed full of sugar not to mention salads taste better when they aren't drowned in dressing!
Watch out for sauces & salsas as these are often highly processed and full of sugar too
Portion size, this is especially relevant in America (from experience) where a main meal is fit for 2. Don't feel bad about not consuming everything on your plate!
 Go easy on the fruit. There is nothing better than an ice cold coconut or a bowl of fresh tropical fruit when you are lying by the beach, but just remember fruit does contain a lot of sugar so try and stick to 1-2 pieces where possible.
VII. SLEEP: Don't spend your holidays setting alarms, let your body wake up naturally. Sleep is just as important as exercise and nutrition when it comes to being healthy. We all have sleep debt that needs to be repaid so take advantage while on your break.
Obviously as always the most important thing is to have fun & relax! Happy Holidays!
Connect with Em and the Wellbeing Worldwide team via your favourite social media channel Instagram, Facebook and Twitter