Healing Through Aromatherapy
Created: 13 April 2015

13 April 2015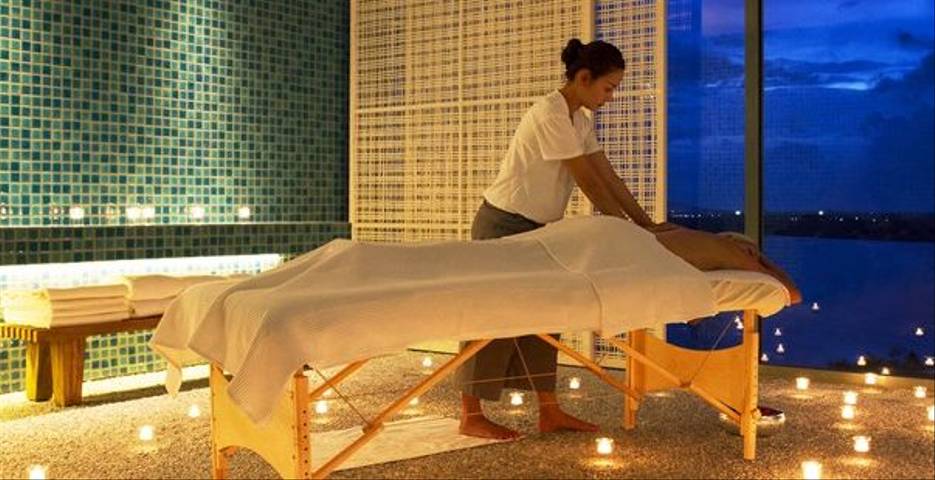 Our sense of smell often plays a keen role in our well-being than most of us realise. It's a sense that we can thank for distinguishing flavour, discerning safety, and even for triggering memories. Through this sense, aromatherapy holds an avenue for healing and is a rejuvenating experience, perfect for a healing holiday. Have you ever smelt the aroma of lemon or mint and felt refreshed and invigorated? As simple as it seems, that is the gateway to the concept of aromatherapy.


What is Aromatherapy?
Aromatherapy, ordinarily associated with alternative therapies, is the use of concentrated plant oils called essential oils to treat disease. Although the term was not coined until the past century, the grounds of this method can be traced back at least a thousand years ago from a number of ancient civilisations including the Chinese, Egyptians, Indians, Greeks and Romans. Practitioners administer the essential oils through inhalation, water immersion, and massage.


Aroma flower bath at Fusion Maia


The Science of Aromatherapy
The value of aromatherapy relies mostly on our olfactory system or our sense of smell. As you inhale, essential oil molecules transmit to your olfactory receptors. This exposure sends messages to your limbic system which mediates behavior, emotion, motivation, memory and hormones. Various oils are selected to target different symptoms like headache, fatigue and stress. Each kind is known to have different healing properties.
An ideal treatment on a luxury spa holiday, aromatherapy is often utilised during a relaxing massage, where essential oils are mixed with lotion or massage oil. The scent of the essential oils is diffused as the massage therapist kneads through the soft tissues and muscles of your body. Depending on the type of oil, it is thought to interact with your brain in such a way that can either calm or energise you. It is also absorbed into your body which in time affects the way your body produce hormones and enzymes. This inherently causes changes in blood pressure, blood circulation, stress levels, and pulse rate.


Top 10 Essential Oils and Their Health Benefits
As cited above, each kind of essential oils comes with different healing properties. With so many options to choose from, we have listed our top 10 essential oils and their corresponding health benefits:
1. Chamomile
calming agent, relieves anxiety, eases insomnia, anti-inflammatory


2. Peppermint
energy booster, relieves nausea and headache, analgesic for pain


3. Tea Tree
immune system booster, has antibacterial, antiviral and antifungal properties


4. Jasmine
eases depression, reduces tension and stress, enhances libido


5. Lavender

antispasmodic, effective treatment for a stress management break


6. Lemon
helps with skin irritation, indigestion and circulation problems, immune system booster, mood enhancer


7. Eucalyptus
powerful against respiratory problems, decongestant, has cooling and deodorising characteristics


8. Ginger
relieves nausea, eliminates gas, remedies pain, warming, promotes sweating


9. Cedarwood
calming agent, treats seborrhea, diuretic, manages lung and sinus congestions


10. Bergamot

reduces stress and anxiety, stimulates appetite, treats psoriasis and eczema


Now that you've understood what aromatherapy is all about, experience and learn more with us through our top wellness holiday destinations advancing healing through aromatherapy massage


Top 3 Holiday Spa Destinations Offering Aromatherapy Massage
The perfect destination for a holistic health retreat, Golden Door Health Retreat offers a wide assortment of healing spa treatments. Guided by a team of professionals, this wellness holiday focuses not only on restorative treatments but also on your personal health education, to guarantee that you return home equipped with knowledge for a healthier lifestyle.


Recharge and de-stress on Ananda's Stress Management Program, perfect for a healing Ayurveda spa holiday, with a wide selection of holistic therapies and treatments. Enjoy a unique spa experience with over 80 body and beauty treatments to choose from. Enjoy daily use of the hydrotherapy facilities, including the temperature controlled outdoor lap pool.


A dream destination for a beach spa holiday, experience the benefits of aromatherapy at Samahita Retreat in tropical Thailand. With the aim to help you reach your optimum well-being, Samahita gives you a combination of services that focuses on rejuvenating mind, body and spirit.




Talk to one of our Travel Specialists on 1300 551 353 or contact us here to discuss tailor-making your perfect healing holiday.