Fiona's Review of Borgo Egnazia in Puglia, Italy
Created: 05 April 2018

05 April 2018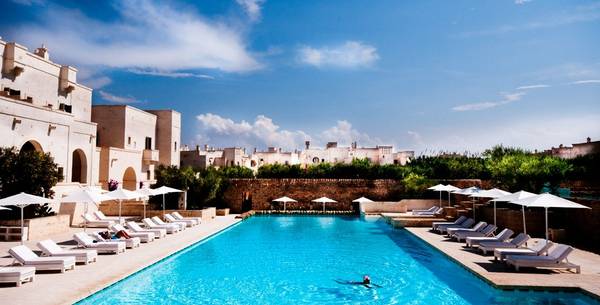 What is Borgo Egnazia and who's it for?
This is a wellness sanctuary for anyone that's looking for a place to truly get away from it all. The perfect destination to spend some time being pampered, find some tranquillity and reconnect with yourself. Borgo Egnazia provides a five-star luxury wellness break for anyone who needs to take a step away from their daily life and find some inner peace. The integrated wellness programmes are tailor-made to meet the specific needs and goals of guests, and along with breath-taking scenery and numerous events and cultural activities, makes Borgo Egnazia the perfect destination for solo travellers, couples and families alike.


Getting There
Located in South East Italy, Borgo Egnazia couldn't be easier to reach. You can fly into either Brindassi or Bari airport, both of which are just a short 40-minute transfer from the retreat. You will be driven along winding back roads through various small Italian villages and ancient olive groves before arriving to the picturesque gates of Borgo Egnazia. The drive will give you a sense of the peaceful way of life those in the south of Italy lead, your perception of which will only be enhanced once you arrive and start speaking to the local staff and experiencing the magic of Borgo Egnazia.


The Hotel & Accommodation
Borgo Eqnazia is truly unique. After taking in the beautiful Puglian architecture you will be escorted through the main entrance to be greeted by an overwhelming, welcoming sense of calm. All walls, both inner and outer, are built of white limestone and transmit a sense of peace and serenity, add the light aroma that breezes through the main building and you can't help but feel like you are in a whole different world to the one you left back home. As you head through the main building and outside, you will come across a timeless, self-contained, purpose built Italian village, 'El Borgo' which is made up of various villas, casitas and suites. Here you can wander at will through the paved streets, peering into secluded gardens and marvelling at tropical plants and cacti; I allowed myself to get lost in the winding streets and was pleasantly surprised when I stumbled upon the centre of the village, a huge paved area filled with tables and chairs, each one individually decorated in keeping with the whole retreat's rural detailed interior and exterior design. It is here in the village's centre that local performances, events, markets and activities take place on a weekly basis in order for guests to really get a feel for the Puglian way of life.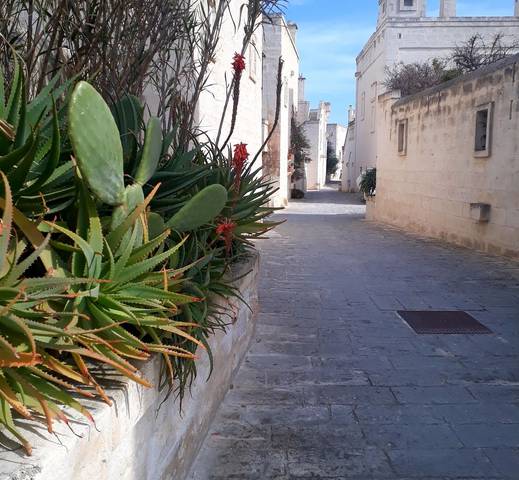 Paved streets of El Borgo 


My suite blew me away; with a vast luxurious queen size bed and option for a second bed, and a bathroom that boasted two sinks as well as waterfall shower and a bath deep enough to swim in, be prepared to never want to leave. All rooms and suites have balconies or patios on which you can enjoy the morning or evening sun whilst reading a book or making the most of the delicious room service menu.


The Spa
The minute you step into the spa, time ceases to exist. This truly is a life-changing place that focuses on mental and emotional well being as much as physical well-being.  After walking past the stunning array of lightly flickering candles into the cool, softly lit basement of the hotel, you will be welcomed by a smiling therapist who will guide you through the winding corridors to the changing rooms. Once your personal therapist has prepared your room they will come and find you; there is never a need to stress or worry inside the spa as your every possible need is pre-empted, here you will always feel special and cared for.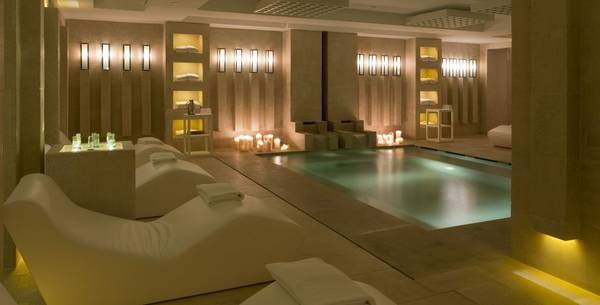 Indoor spa lounge at Vair spa in Borgo Egnazia 

I was spoiled with the number of treatments I received. A highlight was my 120-minute Roman Bath experience which took me through various temperature pools and saunas, I must say having a bucket of freezing water over my head was much more invigorating than I imagined! The scrub and mud rub at the end really left me feeling like a new woman. You cannot visit the spa without meeting their in-house Shaman and experiencing an ortho-bionomy session. He will work through tiny movements of your body to release tension and encourage the body to self-correct any misalignment. During this session you will overcome a multitude of emotions to find deep relaxation and a sense of exceptional well-being. I cannot begin to describe the feeling after the treatment, but I know it's one that I will never forget, this is an absolute must during any stay at Borgo Egnazia.


The Fitness
With Tennis courts, a fully equipped stunning gym, 18-hole golf course, three swimming pools and excellent 'Lara Croft-like' personal trainers, all of your fitness needs can be met. Whether you would like an introduction to fitness or if you are training for a Triathlon, the Vair spa will strive to cater to all of your healthy holiday goals. I headed out on a particularly stunning sunny morning for a taste of the FURE fitness programme which uses nature as the basis of the fitness session. You will run, jump, squat and climb over fallen trees and rugged stone walls, all the while taking in the scenery and fresh sea air. The programme can be a combination of interval, circuit, weight, cardio or strength training and you will be sure to come back feeling energised and well! Most guests make the most of the stunning surroundings of Borgo Egnazia, heading out for morning walks, runs and bike rides through the neighbouring golf course and along the coast line looking out across the deep blue waters.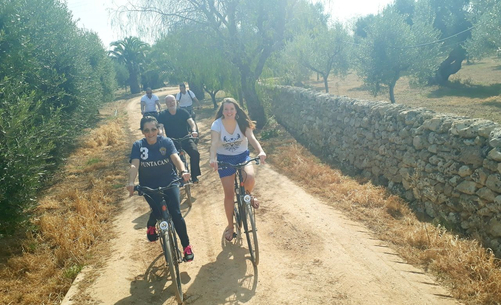 Fiona (right) and other guests enjoying a bike ride 

I would highly recommend taking part in the Saturday morning Iyengar yoga class which focuses on realignment in posture, breath control and precision to improve your body-mind connection. I was fortunate to have a class with their in-house Yoga Specialist and was inspired by his knowledge and calmness when guiding me through each pose. He enabled me to use the wall rope to hang upside down for five minutes, in doing so I felt an overwhelming sense of calm and I could have stayed in that studio much longer! Other more unusual spa and fitness sessions by Vair Spa at Borgo Egnazia include evolution dance and playful arts, all of which I highly recommend you try, as these are sessions that must be seen and experienced to be believed.  


Food / Restaurants
You will be spoiled for choice when you decide where to dine and we all know how well Italy does food! All the chefs are seasoned professionals from the local area and they serve up traditional dishes alongside various fusions from across the globe. You will be able to choose from any of the four restaurants including one on the beach front open in the summer months. Each serves healthy nutrition rich dishes as well as more indulgent, traditional Italian foods. All meals are cooked using local, fresh ingredients many of which are grown and harvested in the gardens of Borgo Egnazia.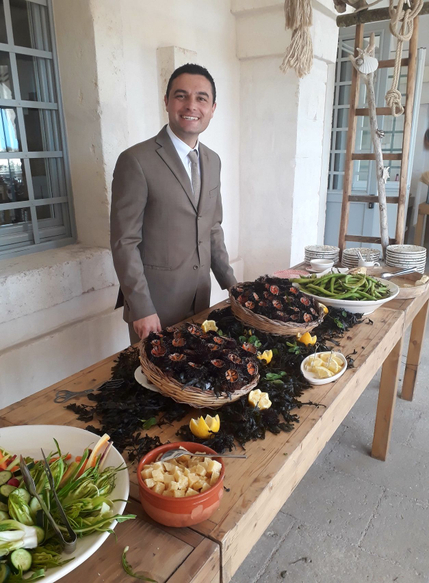 Salads made from locally sourced fresh ingredients 


The Wellness Programmes
Borgo Egnazia offer various wellness programmes to rediscover a journey of health and well-being. The programmes and their varying durations are as follows:
The Staff
Most staff are locals who have been born and raised in Puglia. This is a wonderful bonus for all guests as each member of staff has a close relationship with the surrounding area, all have chunks of history and local stories and antidotes to share - so don't be shy and make sure you take the time to speak to some of the wonderful, attentive staff.


The Scenery & Surroundings

The ancient olive trees are what the staff say create the special, out-of-this-world atmosphere at Borgo Egnazia. Some stand at well over 500 years old and they add to the sense of history of the local area. These trees have been around for longer than any resident and the locals say they hold the key to the prosperity of the land; they have witnessed tragedies and blessings that we could never begin to imagine. I would highly recommend hiring a bike and going for a tour of the local area. You will wind through the deserted roads and be greeted by farmers working in the fields. Your guide will show you the wild thyme along with pepper trees, should you opt to have a tour of the local olive oil distillery, you will be able to learn about the origins of olive oil and find out how to establish whether an 'extra virgin' olive oil is truly 'extra virgin'!


Highlights
One of the many highlights of my trip was my session in the spa participating in a Connect dance class. Needless to say, I am not a dancer and I was slightly apprehensive for what was in store for my 60-minute session. Involving various types of touch, you are encouraged to explore how to dance with another person and connect with them through eye contact, subtle movements and body contact. During the therapy you will be put at ease by Cosmo, one of the incredible therapists in the Vair Spa and she will guide you through the process which is not only physical, but incredible emotive as well. To really make the most of this therapy, you must let go of all inhabitations and let yourself be lead through the movements and let the emotions you feel flow through your body and out of your fingertips. You will finish the class feeling revived with an enhanced sense of self-respect and self-worth.


My Summary & Verdict
If you need some timeout to focus on yourself, then this is the perfect destination for you. Borgo Egnazia strives to and succeeds in providing every guest with a lasting memory of calmness and peace which they can take home with them and apply to their everyday life.


How to Book
To request a quote or for more information visit our Borgo Egnazia page.
Talk to one of our Travel Specialists on 1300 551 353 or contact us here to discuss tailor-making your perfect wellness holiday. 


Fact Box
Best time of the year to go:  April to November
No. of Rooms: 184
Check-in/check-out:  15:00 / 12:00
Wi-Fi: Yes
Children: Yes - kids club also provided
Reception/Room Service:  Yes
Alcohol: Yes
Nearest Airport: Brindisi
Airport transfer time:  Brindisi 40 minutes / Bari 50 minutes
Address: Strada Comunale Egnazia, 72015 Savelletri di Fasano BR, Italy