Confessions of a PR and Marketing Intern
Created: 21 October 2014

21 October 2014

With my last few student months ahead of me, it won't be long until I'll be stepping into the real world to begin my career. With this in mind, I decided to take it upon myself to gain as much experience as I could during my last break, in order to help me choose the right career path. With a passion for health and fitness, and plenty of experience in travelling, an internship with Health and Fitness Travel seemed like the perfect place for me to learn.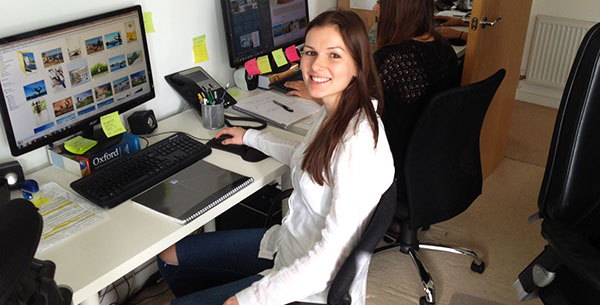 Shona at her desk at Health and Fitness Travel HQ

I've always been interested in creativity and wanted to learn more about PR & Marketing, so I was thrilled to learn that this is what the internship would involve, as I had already had work experience which entailed more sales and administrative tasks. My day began at 9am, where there would be no slow starting as my action list, would have many different and engaging tasks to get on with. The freedom to plan, and prioritise my responsibilities has certainly helped me improve my organisational skills and learn what needs to be prioritised, skills that will undoubtedly be useful to have for any career path.
Having many essay based tasks at school and University I have always enjoyed writing, however beginning to write creative copies for blogs and holidays was certainly challenging as I learned to adapt my writing style with different tones and formality. Nevertheless, I always received plenty of guidance and feedback to support me in developing and strengthening my writing skills, which have already improved in a relatively short amount of time. 
As well as blogging and creating new holiday pages, my tasks have also included a variation of social media such as Twitter and Pinterest, sourcing and editing images, writing website copy, uploading my own blogs, designing an infographic and other general marketing tasks. There was no day where I found myself looking for something to do, as they were all filled with various interesting tasks and I would be fully immersed in the task I had at hand. Working with a small close-knit team was perfect for learning, as everyone was very friendly and supportive, which made it easy to share ideas and ask for advice as well as see the daily activities of running the company.
Alongside writing and designing tasks, I found it extremely useful in learning how to use programmes such as Photoshop and Dreamweaver, and gain an understanding of SEO (search engine optimisation) and web-based marketing, which has given me a variety of skills and a more in-depth knowledge of modern marketing. With the digital world today, I found it very valuable and interesting to learn about HTML and CSS coding, and then being able to put these skills to practise.
Another project I enjoyed and learned from was marketing a new product range. This really improved my phone manner, and confidence in knowing how to approach and converse with many different people. These are skills I am certain will be extremely helpful throughout daily life as well as my career.
While dealing with real responsibility and knowing that the work I've been doing is beneficial for the company, it's been truly worthwhile and gratifying to not feel like just an intern. Seeing your work published on the website is definitely a satisfying reward! I have thoroughly enjoyed gaining experience and CV worthy skills through my time working within the travel industry. For anyone who's searching for an educational and worthwhile experience, I would highly recommend an internship with Health and Fitness Travel.
Visit our jobs page to apply for our PR & Marketing Internship