Adam's Review of the Luxury Algarve Bootcamp
Created: 04 March 2013

04 March 2013

In anticipation of my bootcamp holiday in Portugal, I began by preparing for my fitness holiday from the kit list I received in advance; gym attire - tick, gym attire x 2 - tick. The weather in Portugal is always sunny, and even in winter the temperature very rarely drops below 10 degrees Celsius (50 degrees Fahrenheit), making it the perfect location to hold a bootcamp.
Well-known personal trainer Marco Baioa from Portugal runs the bootcamps throughout the year and is a resident in the Algarve. Organisers and trainers are fundamental in making a bootcamp not only challenging, but also enjoyable, and Marco is genuine, altruistic and charismatic, but also determined and persevering, which would make my bootcamp a joy to be on. I was there for a challenge, and Marco certainly tailored it to be hard-working for me. I would be staying at Cascade Wellness Resort; Cascade is a new five-star resort in the heart of the Algarve in Lagos and the location is simply stunning. It's situated on the coastline with a vantage point offering a 240 degree view of the Mediterranean Sea with a set of beautiful, small and seemingly private beaches.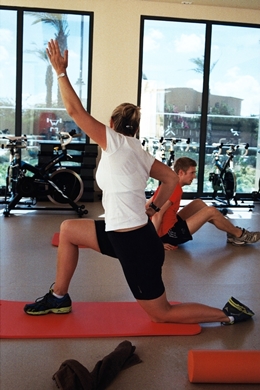 The morning's warm-up session in the gym

On my arrival I was welcomed by Marco with a huge smile, who shook my hand and gave me an outline of where, when and what was going to happen throughout the week, and also a hat to wear to shield my fair skin from the sunny weather! I was surrounded by five-star luxury and almost led into a false-sense that I was there to relax; well, I was, but only outside the bootcamp training sessions. I was shown to my room and decided to relax by the pool and listen to the sound and soak in the spectacle of the sea in preparation for my week-long bootcamp.
Before I knew it, it was morning and the first day of my bootcamp holiday. Once again it was a bright and sunny day; a nice and early start, but not too early. I met Marco along with Brook, a friendly lady who had joined the bootcamp looking for a singles friendly healthy holiday.
We began with a quick nutritious smoothie to give us the boost of energy we needed to kick-start our morning. Mornings started off with around 30 minutes of warming up for the day that involved some gentle yoga, stretching and pranayama (breathing techniques). Marco took us down to the beach where we rolled out our yoga mats and took in the replenishing sound and smell of the ocean. Afterwards, we headed back to the hotel for a nutritious buffet breakfast.
Once our food settled and feeling focused after the energising morning session, we kicked-off with our initial health and fitness assessment to gauge our fitness levels and body stats so we could compare the results at the end of the week. A second evaluation we had was a consultation with a nutritionist where we discussed and evaluated the nutritional and dietary requirements for the week, including the necessary calorie intake to give us all the energy we needed.
Our first training session began and started with some deep stretching, utilising the foam rollers and exercise gym balls. It was a warm-up session that we did every morning to prepare our bodies for what was to come.
Afterwards we set off on a long jog, varying the pace. I was slightly fitter than Brook, so Marco made me do all sorts exercises in between whilst Brook caught up. The jog led us to a separate private beach with a beautiful staircase leading down to the beach - "up and down 3 times" Marco ordered.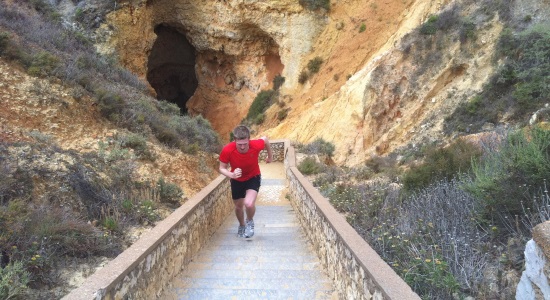 Running up the picturesque staircase that leads down to a private beach

After a short water break, we did some team exercises on the beach with some long elastic bands and our own body weight for some exercises, made even more challenging by the soft sand. We were always smiling with Marco - he was very firm with his orders, but always maintained a jovial smile which really made us not only enjoy what we were doing, but also enjoy the whole experience. So, back we headed to the hotel for lunch break.
Lunch was a tailored diet, and always provided some very tasty and healthy food for us to tuck into (and also a deserved opportunity to rest). There are no regimented diets for the bootcamp, just a range of different foods to satisfy your hunger and offer your bodies all the nutrients it needs to continue your training. All diets are catered for.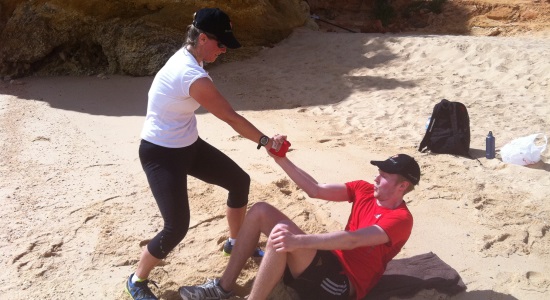 Circuit training on the beach

In the afternoon Marco set us up with outdoor circuit training. I counted 10 different stations, all with a range of routines and equipment. There was a variety of different equipment, all with different weight selections that catered for our different strengths and Marco was always there to offer an alternative way of completing an exercise if we had any previous injuries. I liked that there was never any hiding; Marco was also there to provide us with as much needed motivation and support as we needed. We were pushed hard, but not too hard, always keeping us on our toes, stopping us from taking the easy option in an exercise or slow down too much.
After two two-hour fitness sessions, the day's full-body training was complete. We had the rest of the day to relax and recuperate after a tough first day of our fitness holiday. But just before we jumped into the pool, a post-workout snack was waiting for us. Relaxing by the pool after a hard day never felt so good!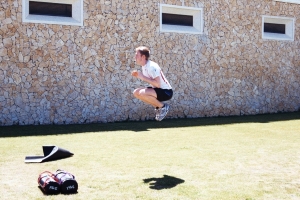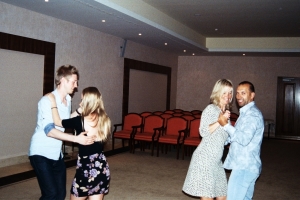 A squat jump during the afternoon training session and an impromtu salsa lesson

The rest of the week followed the same structured routine, and not once did it ever feel boring. What was special for us was at the end, Marco had arranged for an impromptu salsa dancing lesson! It was an opportunity to dress nicely, let our hair down and enjoy ourselves after a physically challenging and rewarding 6 days.

If you're looking for other types of bootcamps, we have a range of bootcamp retreats in the Caribbean, Europe and Asia, all with varying intensities and levels of programme structure.


For more information visit a Luxury Algarve Bootcamp
Talk to one of our Travel Specialists on 1300 551 353 or contact us here to discuss tailor-making your perfect wellness holiday.