Adam's Review of Sianji Well-Being Resort in Bodrum, Turkey
Created: 16 February 2016

16 February 2016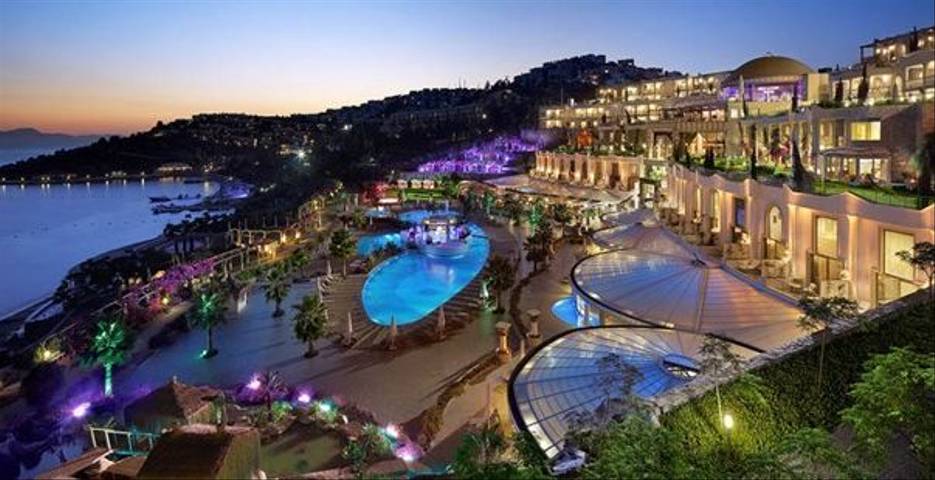 What is Sianji Well-Being Resort and who's it for?
Built in 2009, Sianji Well-Being Resort is a modern and affordable luxury detox retreat in Turkey (Bodrum) based on one of three detox plans. The Alkaline 80/20 detox and Raw Food detox is designed for a beginner level introduction to detoxing, whist the Master Detox caters for a moderate to comprehensive detox comprising of a juice-only diet with daily colema. Complementary treatments to supplement your detox include lymphatic drainage massages, ozone therapy and FAR infrared sauna.


Getting There
Sianji's nearest international airport is Milas-Bodrum (BJV). The transfer time from Bodrum airport via private transfer is approximately 1 hour and is mostly a traffic-free journey.


The Hotel & Accommodation
The resort is beautiful and spacious and the quality of rooms are good for the affordability. The views from the bougainvillea-filled gardens and multi-level terraces are stunning and most rooms have a sea view which are the more luxurious Suite Sea View rooms. The hotel has around 117 rooms with self-catering facilities in the villas. At any one time there are between 20 and 40 people on a detox programme.
A unique 250 metre cushioned path cuts across the resort designed for walking, running or simply enjoying a mindful walk. With ample sunbeds by the pool, soft patches of grass or thatched cabanas peeking out over the sea, there are rewarding opportunities to relax during the day. As it's such a large hotel some fixtures and fittings I found in places needed a bit more care and attention compared to the quality you would expect by the luxury look and feel. Sometimes a few cats roamed around the resort, mainly the restaurant area. Staff are attentive and helpful; their English is good although a small percentage may not understand too much English.
Equipped with two of its own private floodlit tennis courts, non-motorised water sports (kayaking, stand-up paddle boarding (SUP) and sailing) and motorised water sports on request, Sianji offers variety for those looking for an all-round and varied healthy holiday experience.


The Spa & Fitness
A weekly schedule of fitness, lifestyle and cooking classes run throughout the year designed for beginner to intermediate. Every day starts with a varied 3-4km walk to the local harbour followed by yoga in the beautiful beachside Yoga Sala, which became a personal highlight for me with the sound of the waves crashing in and energising ion-rich sea breeze. High intensity fitness classes usually run on alternate days for those wishing to enhance the detox and weight loss process or improve fitness. Pilates is held three times a week and other classes include Aqua Gym, Stretching, Qi Gong and Zen Meditation, and there are healthy living seminars at least once a week.
One of the highlights of the hotel is the spa, offering sauna, steam room, infrared sauna, Jacuzzi, Turkish baths and an indoor saltwater pool. A range of treatments are available from relaxing massages, medical treatments such as pressotherapy and electro therapy to spiritual consultations. Private tuition in Pilates, Reformer Pilates, yoga (hatha, yin, power and pranayama), kinesis, swimming, tennis and of course personal training can be added to your healthy holiday programme through us.
The Sianji well-being café offers a pleasant and spacious communal area for all your detox food, drinks and supplements, separating those on a detox with those who aren't.
The Food
The food is one of the main reasons why most people go to Sianji if you're interested in doing the Alkaline or Raw Food detox. Wonderful raw dishes are created such as the raw vegan burger pictured (walnuts, carrots, tomato, lettuce, parsley, gherkin + linseed and zucchini base) were delicious. 10 raw food dishes are alternated to give variety for detox guests staying 1-2 weeks.
There are two a la carte restaurants; Nunu and Elani, with Elani open only in high season. The cuisine at these restaurants are targeted towards partners or companions not detoxing.
For those on a detox there are two areas for eating; one for those on the Master and Raw Food detox, and one for those on the Alkaline detox where lunch and dinner is served with a buffet of raw food salad and two light meals.

Master, Raw & Alkaline 80/20 Detox

Most people enrol in either the vegan and gluten-free Master or Raw Food detox, these two are the most popular with a recommendation for a minimum 7-day Master detox followed by a Raw Food detox to help transition back to your normal diet.
On only a few of our detox holidays do you need a small amount of discipline and here you need to ensure you don't visit the normal buffet breakfast or A' la carte restaurant; it's very easy to do and there won't be anyone to stop you – but you can simply not take a right turn on the ground floor thus always turning left to the spa where the detox cafe is located.
You are given a comprehensive and informative booklet explaining the detox process, an FAQ and other useful information on arrival, along with a skin scrub for showering and a tongue scraper for removing toxins excreted from the tongue.
Colonic hydrotherapy is not offered here.



The Scenery & Surroundings
Sianji Well-Being Resort has incredible west-facing views overlooking the Mediterranean Sea. It has its own beach and from almost anywhere in the resort you feel like you're surrounded by luxury. The entrance-side of the hotel is somewhat less-so. Situated about a 5-minute drive from the local town shops and restaurants you'll only find other hotels in walking distance. Unless you hire a car, you are very likely to remain in the hotel.



My Summary & Verdict
Detox, sun, spa, fitness and healthy food – all the ingredients for feeling fantastic at the end of a wellness holiday. I thoroughly enjoyed myself here and if you're a solo traveller it's a great way to meet others.
Pros
✅ Luxurious and spacious accommodation
✅ Excellent for detoxing
✅ Affordable
✅ Very good spa
✅ Regular daily activity schedule

Cons
✗ Room for improvement on service
✗ Immediate surroundings when leaving the resort aren't pretty
✗ Some fixtures & fittings seemed to break easily

► Book through Health and Fitness Travel and receive complimentary early-check-in and late check-out as well as a complimentary ritual massage on arrival.


How to Book
To request a quote or for more information visit our Sianji Well-Being Resort page
Talk to one of our Travel Specialists on 1300 551 353 or contact us here to discuss tailor-making your perfect wellness holiday.
Fact Box
Best time of the year to go: April – June, September - November
Months to book in advance for:July & August
No. of Rooms: 117
Check-in/check-out: 3pm / 12pm
Wi-Fi: Availability is excellent throughout, although connectivity and speed occasionally slowed down.
Children: Yes
Reception/Room Service: 24h
Alcohol: Yes
Nearest Airport: Bodrum
Airport transfer time: 1 hr 
Address: Sianji Well-Being Resort, Peksimet Köyü Kadıkalesi Mevkii, Bodrum-Muğla, 48400, Turkey