Adam's Review of 38 Degrees North at Aguas de Ibiza
Created: 27 June 2014

27 June 2014

At short-notice I decided to immerse myself in a 6-day fitness holiday to one of the most popular hotspot destinations for Europeans, Ibiza; an island of two halves, one with its party side and the other of wellness and discovery.


What is 38 Degrees North?
38 Degrees North Ibiza is a British-run health and fitness retreat in the beautiful town of Santa Eularia, located on the North-East coast approximately 25 minutes from the airport. At the heart of the 38 Degrees North ethos is to provide the chance to have an active and varied health and fitness program, with detox options as standalone or to complement fitness group retreats or 1-on-1 bespoke healthy holidays. The programs include:
Fusion Fitness (private & tailored holiday)
Group Yoga Retreat (or Private option)
Optimal Fitness Group Retreat
Optimal Weight Loss Group Retreat (or Private option)
Detox
SUP and Soul Retreat
Deep Sleep & Relax


The Hotel
Aguas de Ibiza is a modern family-run hotel with 112 elegant feng shui suites, boasting vast-open public areas and a distinct luxury 5* feel to it. The Deluxe rooms are spacious enough for one person, but if there are two of you I'd recommend a Cloud 9 Suite as it's very spacious and a bathroom to suit.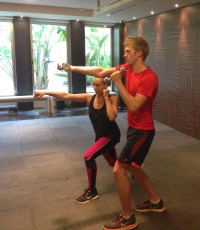 Group kickboxing (left) Adam having a personal training session with Faye (right)


First Impressions



Having been to many wellness and luxury hotels around the world, Aguas de Ibiza is one of the best for its design and quality. The only thing I felt that could be improved was the service, which at times lacked a 5* feel to it, maybe because the hotel is closed between November to mid-April, meaning the staff may have taken an extra-long siesta. Nevertheless it didn't impact on my personal goals or satisfaction of my holiday.


Health and Fitness Activities



What excited me most was the variety of different activities to choose from; I recommend the hiking and mountain biking, both giving you opportunities to explore the island and, with the hotel so ideally positioned, you're not far from stunning views and beaches.
A reasonably comprehensive fitness centre with all the equipment you'd expect from dumbbells, machines, running and cross-trainers and a chest and bench press, all of which caters for those looking for some tailored 1-on-1 training. There's a studio where about half of the classes are held from yoga, Swiss ball, Pilates, TRX and circuits; the atmosphere is friendly and non-intimidating (compared to a boot camp). If the weather is good, which usually is in Ibiza from April to October, yoga classes are held on the wooden-decked roof. During my stay I had a few private sessions with both Faye and the yoga teacher Ayda – both of whom were excellent.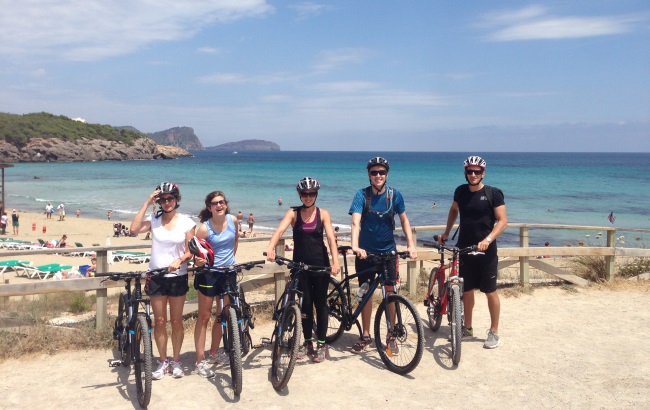 Group mountain biking with a stop at Cala Nova for lunch

The Spa



Set underground, a heavenly spa awaits with facilities including a sauna, steam room, cold plunge pool, hydrotherapy jets for various parts of the body (highly recommended), ice fountain, solarium and Turkish Bath. I had two treatments which were excellent that left me feeling revived.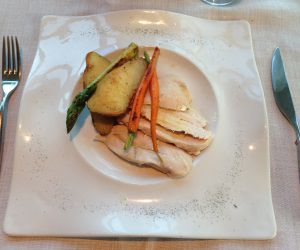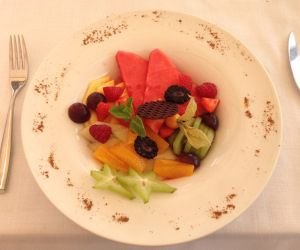 Healthy dinner from the 38 Degrees North menu (left) Fruit platter (right)


The Food



The food served by the hotel and its main restaurant Alabastro, offering tasty and healthy options of mainly Mediterranean-themed dishes. Breakfast is always a buffet where you can expect a variety of options and fresh smoothies, but self-discipline is required for healthy eating. On all programs you are given a separate menu to choose from for lunch and dinner (to tempt you away from the less healthy options on the normal menu). Group retreats only eat from this menu or, if you're on a retreat, lunch is often spent at a picturesque restaurant by the sea, during a mountain bike ride or hike. My only opinion here was there could have been a few more options on the menu.


The Scenery & Surroundings



The hotel itself is situated next to a few other resorts and a car park on two sides; however most of the rooms overlook the beautiful marina and sea. By the end of my wellness holiday I hired a car for the day (delivered to the hotel) and went on an adventure around the island! It takes roughly 30 minutes to reach any other side of the island where there are some seriously beautiful beaches. A striking bay I highly recommend visiting is called Cala Vadella (west).



The stunning bay at Cala Vadella on Adam's tour of the island


The Staff



All 38 Degrees North programs are run by their team including Kelly, James, Faye and Ayda, who coordinate and run all classes and 1-on-1 activities. Fun, flexibility and friendliness are their best qualities; you'll be made to feel relaxed and ready to enjoy your healthy holiday. The hotel staff are great; always polite, friendly and helpful. Their English is good and they understood me clearly about 95% of the time.


Highlights



If you're schedule isn't too busy, try and find some time for The Roof Top terrace with its own pool and watchtower to the Mediterranean, with stunning 360 degree views of the town, perfect if you're looking to unwind. New from 2014 is its rooftop restaurant, Vi Cool.


Notes & Recommendations



If you're looking for a strict healthy holiday, you would need some self-discipline because you can order anything from the menu.
A juice cleanse detox diet (of 5 juices per day) is available if you would like to lose more weight.
If you're a single traveller searching for a single-friendly holiday, 38 Degrees North is somewhere worth considering. Alongside private options such as Fusion Fitness, Private Yoga, there are also group retreats and, although you're not expected to attend every single class, you can expect to meet other solo travellers.
Ages of guests typically range between 25 and 40. Groups are small and relaxed, and you can expect group sizes to be between 3 and 12 people. There's also no dress code.


A Typical Day
Group Retreat

Private & Tailored

07:30 Breakfast
09:30 Core Fitness
10:30 Beach Cardio
14:00 Lunch
15:00 Outdoor Kickboxing
16:00 Strength Circuits
19:00 Power Yoga
20:30 Dinner

07:30 Breakfast
09:30 Fat burning circuits (scheduled class)
11:00 Mountain Bike Ride (1-on-1)
14:00 Lunch
16:30 Yoga Lesson (1-on-1)
19:00 Pilates (scheduled class)
20:30 Dinner

My Summary
If you're looking for a fitness holiday in Europe to boost your fitness and relax, 38 Degrees North offers something special at Aguas de Ibiza, just don't get tempted by the late-night partying at Playa den Bossa! I loved my stay and would highly recommend it.
For more information visit 38 Degrees North at Aguas de Ibiza
Talk to one of our Travel Specialists on 1300 551 353 or contact us here to discuss tailor-making your perfect wellness holiday.