A Day Well Spent: Port Melbourne Celebrates Global Wellness Day 2016
Created: 24 June 2016

24 June 2016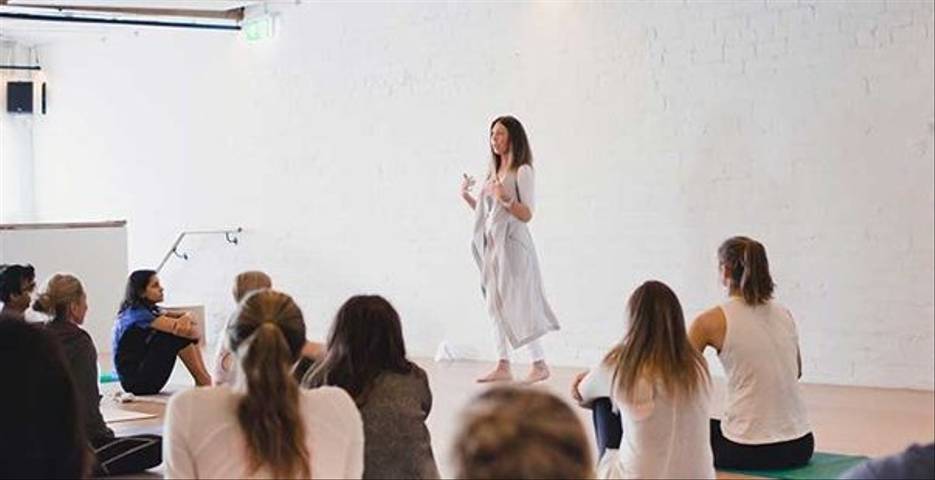 What started back in 2012 as a social project with a purpose to answer the question, "How can I live a healthier and better life?" is now an internationally recognised movement called Global Wellness Day, observed over 3,000 facilities across 100 countries. Every year, on the second Saturday of June, the world dedicates a day solely to living well. This year, 11th of June, Health and Fitness Travel, in conjunction with ClassPass and some of Australia's most promising local wellness brands including Matcha Maiden, Haus of Health, Golden Grind, MUD, Nourish Bowlz and more have come together to bring this special day to Port Melbourne with an afternoon of complimentary activities celebrating wellness at boutique wellness studio Bodhi and Ride.
It was indeed an afternoon of wellness as the venue was already filling up with participants set for the activities ahead as soon as the doors opened at 1 pm.


Bodhi and Ride at Port Melbourne

All event guests were ushered into the second floor yoga studio where guest speaker Melitta Hardenberg, founder of Breaking Bad Habits, kicked off the gathering with a talk about promoting a life of wellness with GWD's 7 Step Manifesto (i.e. Drink more water, Walk for an hour, Shop locally & eat organically, Stop using plastic bottles, Do a good deed, Eat a family dinner, Go to bed at 10pm).


Melitta Hardenberg on GWD's 7 step manifesto

It was then time for the flow yoga session, and everyone had their mats all laid out and ready. The class was beautifully led by local yoga instructor Christina Gagnier followed by a mindful meditation session.


Flow yoga session with Christina Gagnier

After the class, the celebration went on with a rainbow of healthy snacks and drinks, including scrumptious meals from Nourish Bowlz, raw peanut butter brownies from The Original Totes Amazeballs, yummy turmeric lattes from Golden Grind, delish smoothies from Matcha Maiden, refreshing buch from Extra Mile and Haus of Health's bliss balls to name a few.


Nourish Bowlz meals (left); Haus of Health (right)


Matcha Maiden and Extra Mile Kombucha
 
A prize pack perfect for a day of pampering was granted to lucky guests – it was an absolute delight with MUD detox bath, GoodnessMeBox, Haus of Health, SUIS luxe water bottles, Karmic Cold Pressed Juice and Aurora Spa essentials all given away.


Health and Fitness Travel co-founder Samantha Lippiatt with the door prize winners

The spirit of giving the gift of wellness didn't stop there as goodie bags were handed out for all Global Wellness Day attendees. Everyone had their share of treats – Golden Grind samplers, At One Foods, Table of Plenty, Phytocare skin care, Bioglan snacks, Super Charged Food's Heal Your Gut, Hello Fresh vouchers, Slow Cow drinks, Wellineux (JOM), Afternoon Pick Me Up, Rubi Fresh skin care, Ecococoon cups, Loving Earth and Bulk Whole Foods. An added surprise for all was Ocean Soul Retreat's two for one offer for a sunny healthy holiday in Bali.


Goodie bag giveaways

Behind the success of this event is the inspiring team of wellpreneurs who came in and made Port Melbourne's first Global Wellness Day celebration possible.



Keeping true to the GWD manifesto "Walk for an hour", the event was capped off with a pop up walk conducted by The Happiness Hunter in the streets Port Melbourne.


Photo Gallery
Global Wellness Day at Bodhi and Ride (Photos by Jonny from Eight Hour Blog)