9 Useful Tips for Beginning Surfers
Created: 26 October 2017

26 October 2017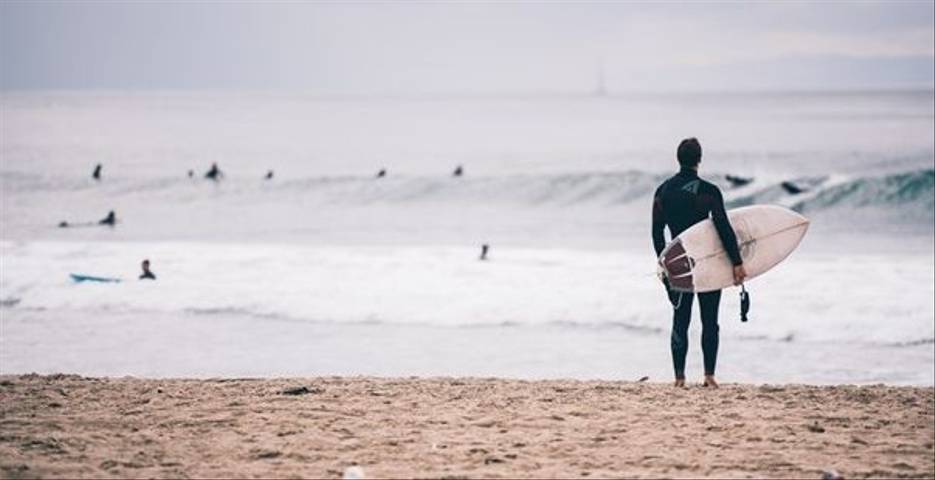 Surfing is on many people's bucket list, as it's one of the most wonderful ways to relax, meet great people, and work out. This beautiful sport, however, isn't something people just "pick up", but a challenge. There's a lot of preparation to do and things to learn in order to familiarize yourself with the surfing board. A beginner is expected to put in some work and stay motivated, because your first attempts will literally be just attempts. Nobody ever jumped on a surfboard and succeeded at riding a big wave.
Don't let all this scare you, we'll give you a few crucial tips that will help you start this adventure and ease your worries. Just get prepared to put in some work and time to become better at it. Let's see what you can do to become a skilled surfer.


1. Choose a good teacher
Don't ever try learning to surf by yourself, no matter how easy it may seem to you. Go to a surf camp, a learn to surf holiday, or find someone experienced to teach you; otherwise, you'll risk injuring yourself and others. If you decide to take surf lessons, make sure to research the teacher and find out whether they're experienced. Besides teaching you to surf, a good teacher will motivate you, inspire you, and help you fall in love in surfing.


2. Find the right surfboard
Instead of jumping on a smaller, shorter board, make your first wave rides on a large board, because it will help you catch a lot more waves and develop better fundamental mechanics. Your first board should be a basic model that's built to last (until you're ready for something better) and easy to handle. The size also depends on the size of the surfer: those who weigh about 200 pounds should choose a 9-foot surfboard, while a 110-pound surfer will find a 7.5-foot board more suitable. Also, get yourself a soft-top as they're much safer.


3. Don't rush in the water
Spend some time on dry land, do your stretching, check your board and your leash, and take a moment to study the waves. Look at other surfers and see what they're doing. This is a great habit that will continue even after you've passed the novice ranks.


4. Surf steadier waves
Steady waves are beginners' waves. A crucial element to your surfing success is using a beach that's appropriate for rookie surfers. Find a beach that's known for its steady waves, so your learning process will be much smoother. Before you attempt to tackle larger waves (which you should do only when your teacher says you're ready), first master the smaller ones.


5. Get used to sitting and paddling
Sitting on a surfboard isn't the most comfortable or easiest thing in the world (as weird as it may sound). You can sit with your feet in the water (more stability) or out of the water (more safety). As for paddling, it requires practice to find the right rhythm, and you should be in good shape.


6. Never bend your back
It's important to bend your knees and not your back when you're riding a wave. If you bend your back, you will lose your balance and look bad when it comes to surfing style. And if you're going to do something, better do it with style and perfect your surfing stance.


7. Practice the prone position and pop out
You need to master the prone position. Start by practicing on dry land: lie on your board (centered and balanced), feel it, move around, and feel it before you head out into the ocean. Once you master the prone position, you have to learn how to pop out from it. The move is very similar to push-ups, and it should be seamless and swift.



8. Never go surfing without a surf leash 
Surf leash is an ankle strap that secures you to your surfboard, and a major safety factor. It may get in your way a few times, and will take you some time to get used to it, but it can potentially save your life. Visit a local store that sells surfing gear or search for a surf shop online for quality surf leashes, which will make your surfing experience better and safer.


9. Dress for the occasion
Surfing wardrobe is necessary to keep you warm in the cold water. If the water temperature is above 25 degrees Celsius, then a rash guard (a shirt with a UPF rating that prevents irritation from the surfboard wax and the sun) and a pair of board shorts will be enough. If the water temperature varies with the seasons, you should make a larger investment in a long-sleeved jacket, a sleeveless vest, and a hooded, head-to-toe wetsuit. Conventional wetsuits are made of neoprene, but surf brands are looking to replace it with renewable materials.
No matter what, all of this is not worth it if you're not having fun. Once you get a hold of the basics and improve your surfing skills, things will just get more and more interesting. Once you master the beginner waves, you can pack your gear and travel the world in search of warm waters with good waves for a new surfing experience.