9 Destinations for Your Yoga Travel Bucket List
Created: 07 June 2018

07 June 2018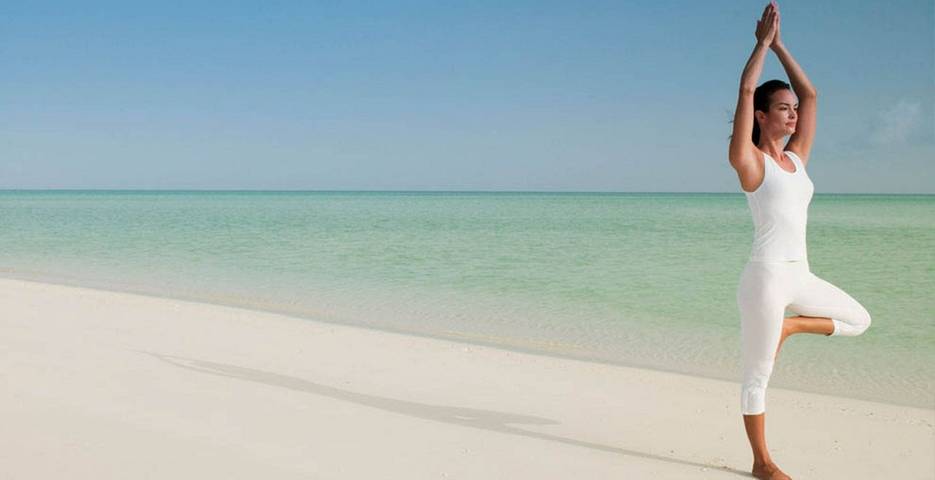 Whether you like Vinyasa flows or breaking a sweat with hot Bikram, take your practice to a whole new level on a yoga holiday. Satisfy your yogi wanderlust as you travel to exotic destinations that replace the four walls of your neighbourhood yoga studio with awe-inspiring panoramas of lush forests and pristine beaches.
So roll up your mat and embark on a journey to check off your yoga travel bucket list. From the shores of Costa Rica to the lush greens of Bali, combine your yoga retreat with whatever your yogi-heart desires for a life-changing trip that will transform your mind and body.


Yoga & Meditation: Costa Rica: The Retreat




Rebalance with a challenging yoga session 
Set by the famous quartz mountains of the Atenas province in Costa Rica, experience a beach and yoga break to find inner peace and calmness. The Retreat only has eleven luxurious rooms, creating an intimate, secluded atmosphere, ideal for an energising yoga flow or private class. Set the tone for a healthier lifestyle as you visit a local farmers market, join organic cooking and gardening classes and educate yourself with wellness workshops. Discover the lightness and vitality that comes with the cleansing meals the kitchen provides, allowing your body to detoxify and refuel after a challenging yoga session.
More information: View: The Retreat



Strengthen your muscles with daily Pilate sessions 
Boasting turquoise waters and untouched beaches, Parrot Cay is an exclusive wellness retreat on a private island in the Turks & Caicos, ideal for yogi couples on a beach wellness honeymoon. Have a peaceful morning yoga session by the beach with a steady breeze blowing through your hair before joining fellow guests during a yogic philosophy group discussion. Apart from daily yoga and Pilates sessions that help lengthen and strengthen the body, you can discover your adventurous side with a variety of water sports, such as windsurfing and stand-up paddle boarding to round up your yoga holiday experience.
More information: View: Parrot Cay



Enjoy a session of Sunrise yoga 
The Barai is a secluded yoga retreat nestled in the lush vegetation of Hua Hin that provides a luxurious spa break experience. Increase flexibility and mindfulness as you sink deep into your yoga poses before you relieve your muscles with a deep tissue massage at the spa. To make long-term lifestyle changes, benefit from the wellness consultations and goal assessments and harmonise your body with crystal energy treatments and relaxing baths. Leave this paradise of serenity with a toned body and newly found motivation to keep working towards a healthier you.
More information: View: The BARAI



Unwind with a Himalayan heart stone massage
Boasting snow white beaches and crystal-clear water of the South China Sea, Fusion Maia is a haven for yoga-enthusiasts that want to soak up the sun and breathe in the crisp sea breeze. Private yoga classes are held for every level, from beginners to the more advanced yogis. The spare time in between classes won't be wasted as it can be filled with group fitness classes or splashy water sport activities. For a de-stressing holiday, select pamper options from the extensive spa menu that features flower baths and aromatherapy facials to rebalance and enhance well-being.
More information: View: Fusion Maia





Try a deeply soothing Ayurvedic oil massage at Atmantan
Journey to India, the birthplace of yoga for Surrounded by majestic mountains and a scenic lake, awaken your senses during spiritual meditation and yoga sessions at the outside pavilion and enter a state of deep relaxation. Dive into the world of Ayurveda holidays as you indulge in a traditional spa treatment or therapeutic remedy, ranging from cleansing body wraps to Anja light therapy. To make the most out of your wellness experience, learn about right breathing and dig into healthy, wholesome meals prepared with organic ingredients from the on-site farm.
More information: View: Atmantan Wellness Resort



Keep active with a beach running session
Nestled in a quiet spot on the South coast of Koh Samui, Samahita merges the three core values of wellness into an unparalleled yoga & fitness holiday. Focus on your mental, physical and spiritual well-being with a mix of mindful practices and energising fitness classes to achieve optimal well-being. Clear your mind during relaxation practices, such as meditation and breathing classes and built boost your fitness as you perform cardio and strength workouts. Silent cycle classes in the morning allow you to watch the sunrise and start your morning off right while yoga classes held three times a day, leave no time for boredom or any negative thoughts.
More information: View: Samahita





Make the most of the group surf session 
Although set in the centre of busy and vibrant Seminyak, you will not experience anything but relaxation and restoration during this wellness hideaway. Surrounded by lush tropical gardens, discover Ocean Souls philosophy of holistic living and a strong mind-body-connection as you indulge in healthy cuisine, massages and exercise. Apart from yoga sessions with guided meditation to practice mindfulness, you can dive into the crashing waves as you learn surfing with qualified instructors. This women's only yoga and surf retreat will leave you feeling revitalised and rebalanced while bonding with other yoga and surf-enthusiasts and develop healthier habits to take home with you.
More information: View: Ocean Soul Retreat



Achieve mind and body balance with an outdoor yoga session
Facing the rugged mountain scenery of Oman, Zighy Bay is a beachfront retreat, best for an eco-friendly holiday or healthy honeymoon. Before you begin your inspiring yoga journey, let a yoga consultor evaluate your skills to make sure you pick the right classes that suit your aims and abilities. Improve your mental and physical wellbeing as you relax with guided meditation, Pranayama and a variety of unwinding spa treatments, such as a hot stone and Thai massage. After an exciting day, take a seat at the signature restaurant while you watch the sun go down and sample exquisite, local wines that will make your dreams come true.
More information: View: Zighy Bay



Ace your Tennis game at Pine Cliffs 
For those seeking to improve their tennis skills while enjoying a spiritual yoga holiday, Pine Cliffs provides the perfect combination of fitness and mindfulness. Set amongst the idyllic Algarve coastline, experience an authentic Mediterranean atmosphere as you practice yoga and breathing under scenting pine trees to enter a state of deep relaxation. Swing your racket during an exciting match at one of the five tennis courts or benefit from a private coaching session at the renowned academy. To enhance your yoga and sports holiday, indulge in a couple of holistic treatments like crystal healing to detox massages that will leave you feeling relaxed and rejuvenated.
More information: View: Pine Cliffs
Talk to one of our Travel Specialists on 1300 551 353 or contact us here to discuss tailor-making your perfect yoga holiday.
You might also like:
Kamalaya
Ananda in the Himalayas
BodyHoliday