6 Unique Locations for Yoga Holidays
Created: 30 October 2014

30 October 2014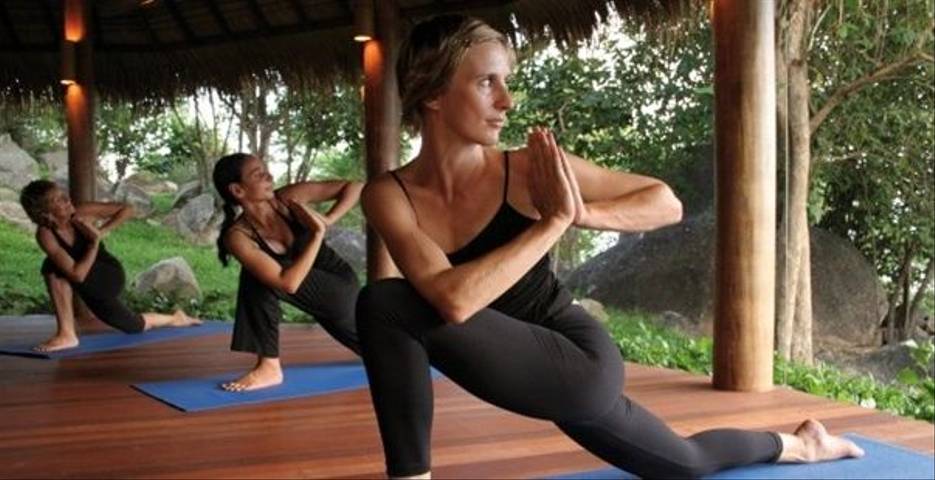 Yoga calms the mind and revitalises the body; nothing helps this more than a yoga retreat with a spectacular view and beautiful surroundings to melt your troubles away. Whether you want to practice yoga with a sea view or surround yourself with beautiful Tuscan countryside; discover a number of breath-taking locations around the world to enhance your practice on our relaxing and invigorating yoga holidays.
Why spend all your time practicing yoga in your home or local gym when you can have a complete change of scenery on your travels. Take the opportunity to explore some of our yoga retreats in some amazing locations from India and Oman to Costa Rica and Morocco. Whether you are a beginner or an expert yogi, you'll be sure to find the right location and yoga retreat for you from our six hand-picked amazing locations across the globe.


In the Himalayas: India

Yoga at Ananda

Escape to a plush green peak and observe the city below whilst surrounded by the beauty of the Himalayas, an amazing location for a meditation retreat. With some of the greatest yoga instruction to be found, the knowledgeable teachers on this yoga retreat are qualified in listening to your personal goals and objectives, enabling them to design your very own yoga holiday with personalised sessions. The luxury spa gives you the opportunity to refresh with Ayurveda therapies, Kneipp hydrotherapy, Thai massages and more. There's also the chance to learn healthy Indian cooking and experience scenic white water rafting while viewing the natural surroundings of the Himalayas.

More information: View Ananda Yoga


With the Beach & Mountains: Oman

Yoga on the pavillion at Zighy Bay

Set on the northern Musandam Peninsula in the Sultanate of Oman, the Six Senses Zighy Bay Retreat is an amazing location for a yoga holiday, with remarkable mountains on one side and its own secluded bay and broad sandy beach on the other. This wellness retreat is a great opportunity for yogi beginners to learn yoga on holiday, whilst discovering more about your mind and body. Experience a complimentary yoga consultation at the start of your yoga holiday and de-stress in group meditation and Pranayama classes. Combine yoga with spa and wellness by relaxing with treatments including Thai massages, signature facials and Reiki for revitalisation.

More information: View Zighy Bay Discover Yoga


On an Exclusive Private Island: Turks & Caicos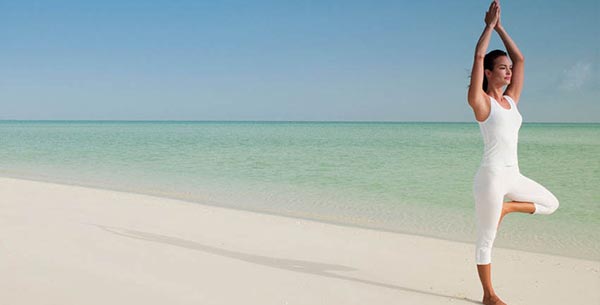 Yoga on the beach at Parrot Cay

A private island paradise is an amazing location to leave your worries behind on this transformative yoga holiday at Parrot Cay. Enjoy complimentary daily yoga, with classes held on the beautiful soft white sand beach, surrounded with clear blue waters and lush tropical landscapes. Experienced yoga instructors provide techniques to improve your yoga knowledge, together with Vedic yogic philosophy group discussions. Take the opportunity to also learn Pilates on holiday with daily classes and enjoy relaxing spa treatments in low-lying pavilions. Complement your stay with mountain biking and stand up paddle boarding for a yoga holiday that will return you home fit and healthy. 
More information: View Parrot Cay


In the Tuscan Countryside: Italy

Yoga outside at Adler Thermae

Practise yoga soaking up the sun on this amazing yoga holiday surrounded by the beautiful Tuscan scenery. Adler Thermae, a wellness spa holiday is set in the heart of Tuscany's natural park Val d'Orcia, an amazing location for a relaxing yoga retreat. You can enjoy daily group yoga and personalised private sessions with a yoga Master. Take the unique opportunity to follow yoga practice with time relaxing in the spas famous thermal spring waters in the outdoor heated pool or Turkish bath, making this an ideal escape for a healing holiday. Mix this spa healing with fitness activities such as, Nordic Walking and Aqua Gym, in this amazing location.

More information: View Adler Thermae Yoga


With a Sea View: Morocco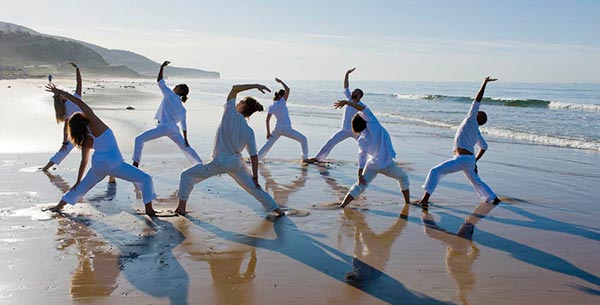 A yoga class on the beach at Paradis Plage

Set on a private beach, looking out onto the Atlantic Ocean is wellness retreat Paradis Plage, an amazing location for a yoga holiday. Yoga classes can be located in the beachfront pavilion, awarding amazing views of the coastline. Group yoga classes are offered sunrise to sunset with a variety of disciplines including, Manipura, aerial and Yin yoga. Make your yoga holiday a re-energising yoga break whilst unwinding in the traditional Moroccan Hammam and enjoying a relaxing massage. Take advantage of the amazing location by joining in with beach volleyball, circuit training and a number of water sports for an unforgettable spa holiday.

More information: View Paradis Plage Yoga


Close to Nature: Costa Rica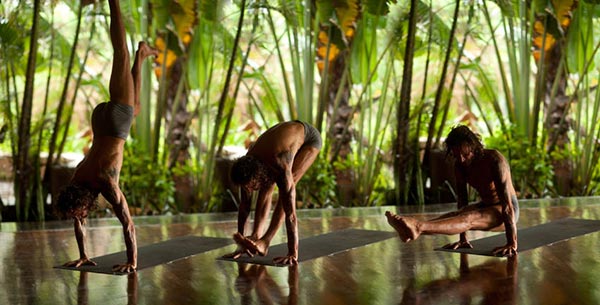 A yoga class at Florblanca

Make a getaway for Costa Rica's tropical waters and white sand for a luxury yoga holiday in an amazing exotic location. Situated on the gorgeous beach of Nicoya Peninsula, Florblanca boasts a natural yet luxurious wellness holiday, taking pride in providing first rate coaching, by internationally trained instructors, for their yoga and Pilates retreats. Enhance your practice with group classes and private lessons in both yoga and Pilates. Unwind with a relaxing or hot stone massage at Spa Bamboo before swinging in your hammock at sunset. Perfect for a beach spa holiday, combine relaxing spa treatments with snorkelling on this yoga holiday as you heal the mind and calm the soul.

More information: View Florblanca Yoga
Talk to one of our Travel Specialists on 1300 551 353 or contact us here to discuss tailor-making your perfect yoga holiday