10 Luxurious Valentine's Day Wellness Escapes
Created: 16 January 2019

16 January 2019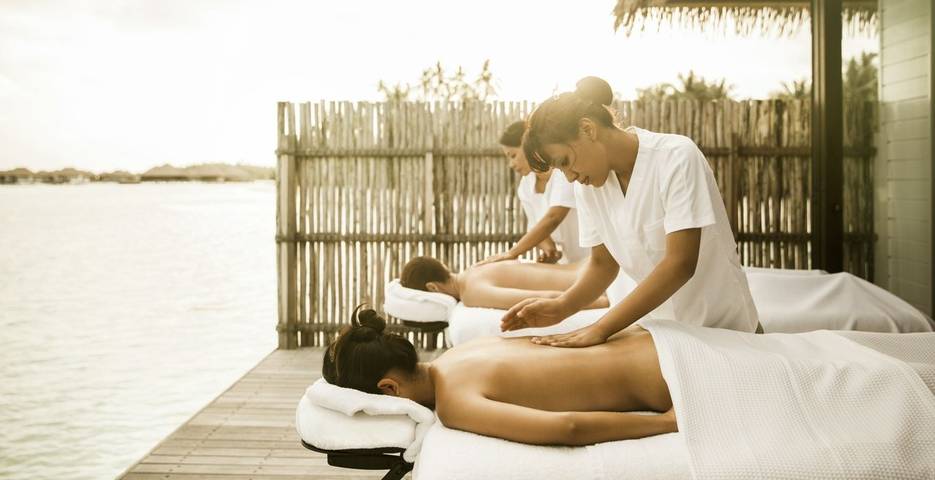 With Valentine's Day around the corner, discover the 10 best locations for a luxurious Valentine's Day wellness escape. If you're looking for a gift that will go straight to the heart, we have hand-picked the best romantic couples holidays to help you rediscover romance and time just for you. These hand-picked wellness retreats can almost guarantee that feel great time together whether it's a weekend healthy break or a week away. From tranquil spas in Italy and Cyprus to unforgettable therapeutic experiences in Sri Lanka and Switzerland, fill your love bubble with blissful harmony at one of these perfect-for-two holistic wellness retreats.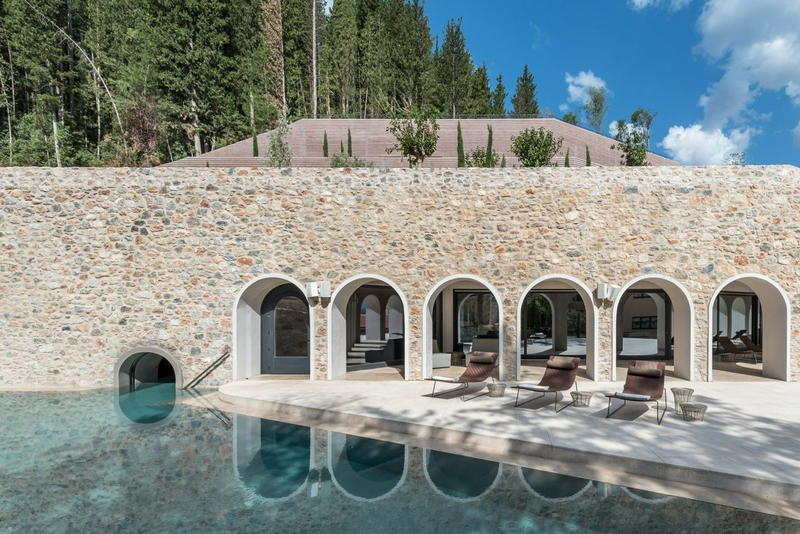 With a backdrop of the blanketed Peloponnese, this short but sweet luxury spa weekend away is the perfect kick-start for a new and improved couples' lifestyle together. Designed to enhance your body's vitality; get lost in nature together or explore your innovative sides with creative talks and workshops. There will be no tension left between you after rejuvenating bodywork and de-stressing aromatherapy massages. You'll leave the spa positively glowing after experience showers, an antioxidant facial which improves blood circulation or in their Finnish sauna to pamper and rejuvenate together.
More information: View Euphoria Retreat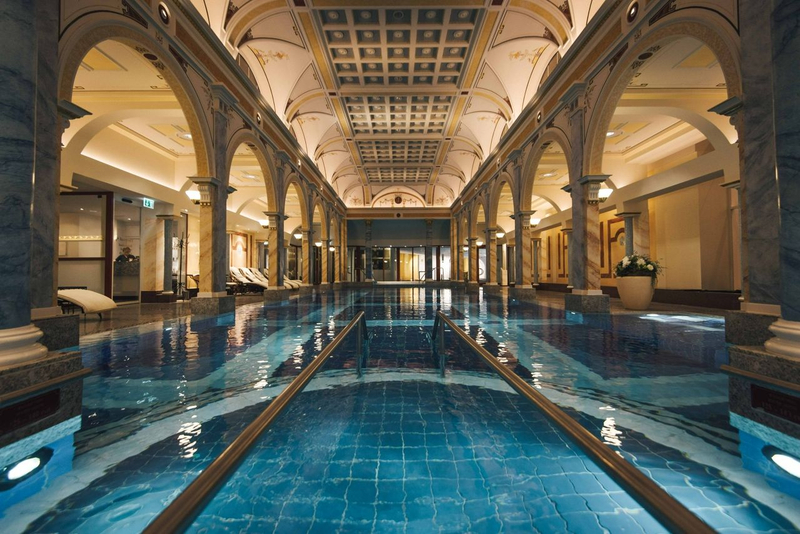 In the foothills of the Swiss Alps, overlooking lush vineyards, this luxurious wellness haven is the perfect place to experience a renewed sense of physical and mental well-being. Alongside a variety of group classes and sports to enjoy together; mountain biking, or skiing, you can truly relax with sound waves meditation, yoga and cinema evenings. In the traditional spa, where they combine local thermal waters and holistic expertise, you can experience a variety of treatments and experiences and feel the benefits of hydrotherapy. The treatments are designed to fuel your vital organs leaving you both energised.
More information: View Grand Resort Bad Ragaz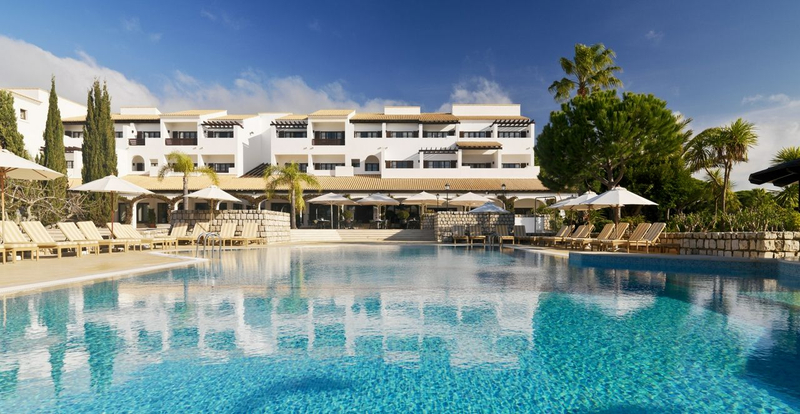 Set on the breath-taking coastline of the Algarve, Pine Cliffs is an ideal wellness haven for fitness inspired couples. Support each other in increasing strength, flexibility and overall well-being, whether it be in the gym, on the beach, paddle boarding, or enjoying competitive rivalry on the courts with private tennis coaching. Unwind together with yoga and meditation and explore various spa treatments including couples' massage, Thai massage and Shiatsu in their award-winning spa. Reward yourselves and indulge in guilt-free fine healthy cuisine with a choice of restaurants.
More information: View Pine Cliffs Resort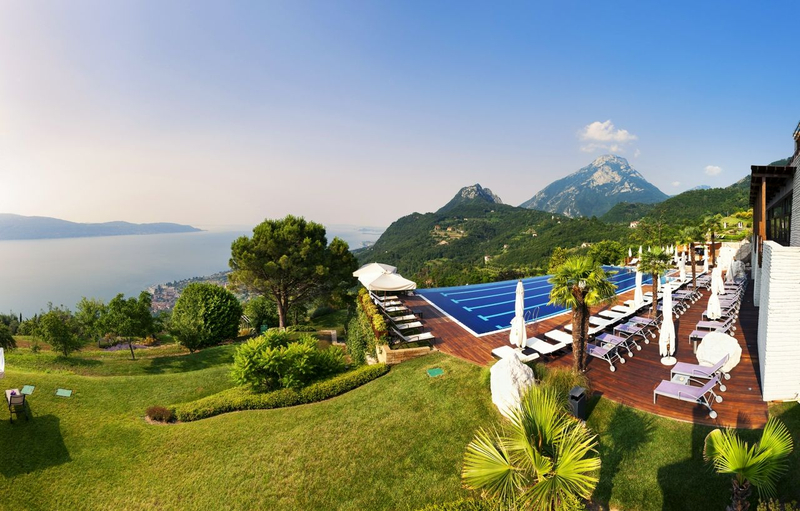 Delve into Valentine's wellness escape in the country from where the word "romance" originates. Let the chic Italian charm encapsulate you both while enjoying an expansive range of fitness activities, from personal training to the aqua gym, Tai Chi, and yoga. Work up a sweat together then relax in the spa; where she can have a tension relieving message, and he can enjoy a rejuvenating facial, specifically tailored for men. You'll be sure to return home stronger and more revived in yourselves and your relationship.
More information: View Lefay Resort & Spa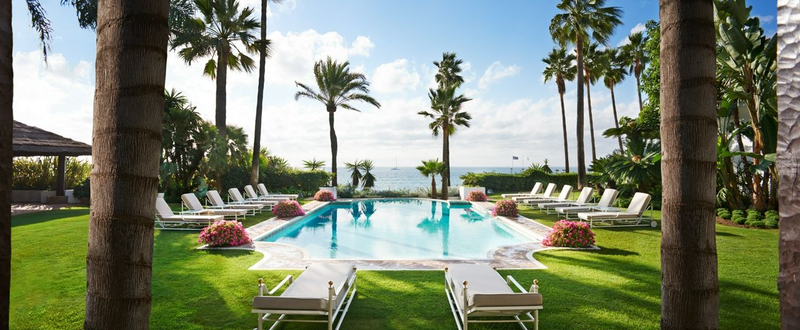 Guarded by the Sierra Blanca Mountains and kissed by the Mediterranean Sea, Marbella Club promises wiser holistic well-being and the joy of slow living. Feel the warm Spanish sun caress your skin during morning beach runs together or get the heart pumping and have fun during a circuits session. Discover each other upside-down with aerial yoga and strengthen both your relationship and your practice whilst learning why yoga is so good for you. With your new focus on mindfulness, you will deeply enjoy the luxury of thermal seawater rituals with Thalassotherapy to leave you both feeling cleansed, pampered and relaxed.
More information: View Marbella Club Hotel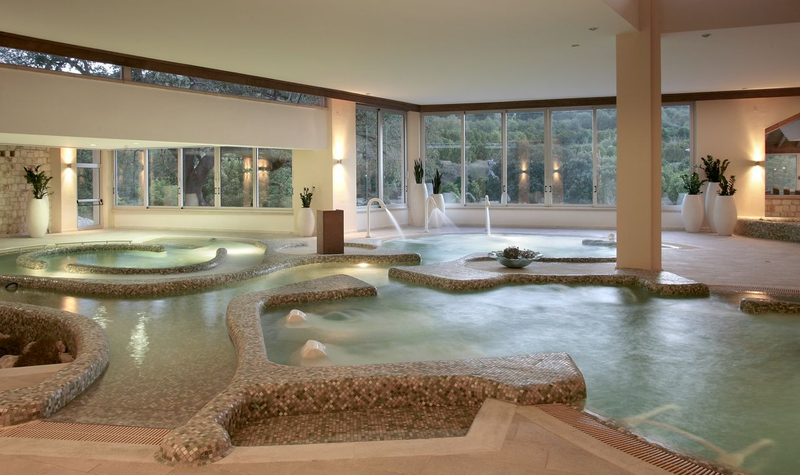 Combine an idyllic setting with indulgent treatments on Ayii Anargyri's blissful healing spa programme. Love will truly be in the air as you unwind together in the tranquil and inviting environment these mineral-rich spring waters bring. Re-balance with exclusive spa rituals, nourished with natural Spring water which is also channelled to their three heavenly hydrotherapy pools. Once you've achieved an emotional equilibrium, head to one of their gourmet restaurants for a romantic and intimate ambience, compiled of locally sourced Mediterranean cuisine and an extensive wine collection for healthy eating inspired holiday.
More information: View Ayii Anargyri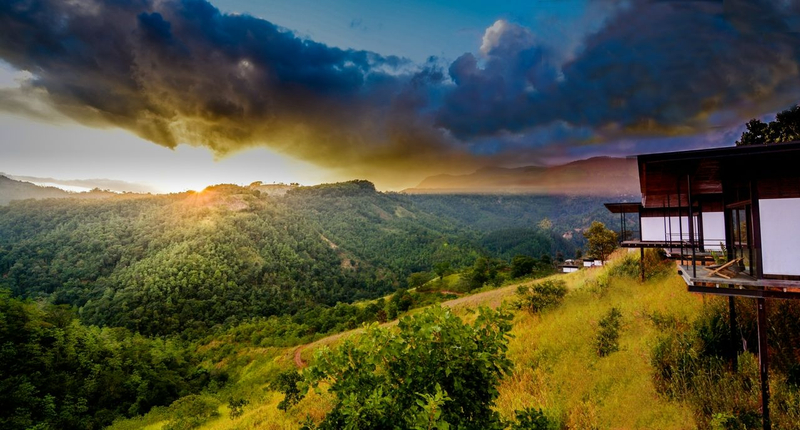 For the ultimate in luxury romance, treat yourselves to an unforgettable wellness spa holiday experience along the pristine verdant highlands of Sri Lanka. Indulge with a plethora of soul-lifting treatments for a transformative reboot and build internal strength with a range of activities to boost fitness levels and enhance physical endurance. Reconnect with each other and reach a new level of consciousness for a truly bespoke wellness experience. Recalibrate from head-to-toe with group yoga, guided hikes and a calming dip in the salt-water pools for the ultimate Valentine's experience.
More information: View Santani Wellness Resort & Spa
Bali: Bali Discover RecoverTM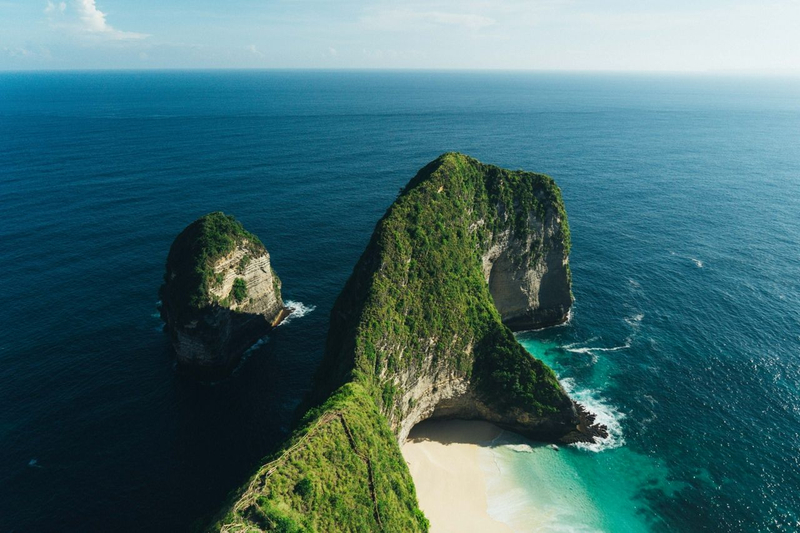 Known as the island of the Gods, and one of the most popular islands in the Indonesian archipelago, escape on a Valentine's adventure holiday to the idyllic island of blissful Bali. From jungle and rice paddy treks, to volcano hikes and guided village cycling tours, there is no end of exciting ways to keep active and explore the island together. Continue to explore local culture and traditions during visits to sacred temples and experience Ubud's famed monkey forest. Recover from your adventures in one of five luxury wellness retreats with therapeutic spa treatments and revitalising wellness activities, including yoga, Pilates and meditation.
More information: View Bali Discover Recover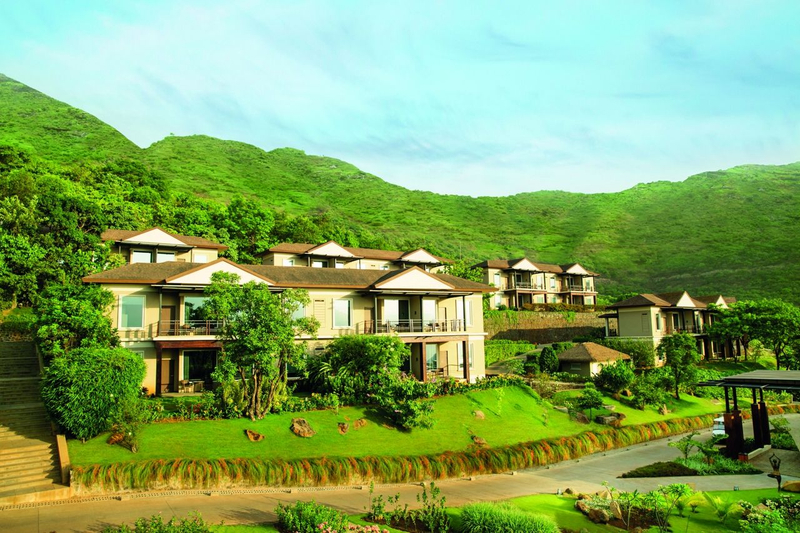 They say variety is the spice of life. So, if you're the kind of couple who likes to mix up the high intensity with deep relaxation, why not combine them with on a fitness holiday together. Indecisive couples can choose from a range of options to bring variety to their workout. After you've challenged yourselves with Bootcamp training and group hiking, why not quieten your mind with private meditation classes, equipping you with tools to take home. If you've pushed each other to the limit with a kickboxing workout, then reward yourselves with invigorating massages for a much-deserved treat.
More information: View Atmantan Wellness Resort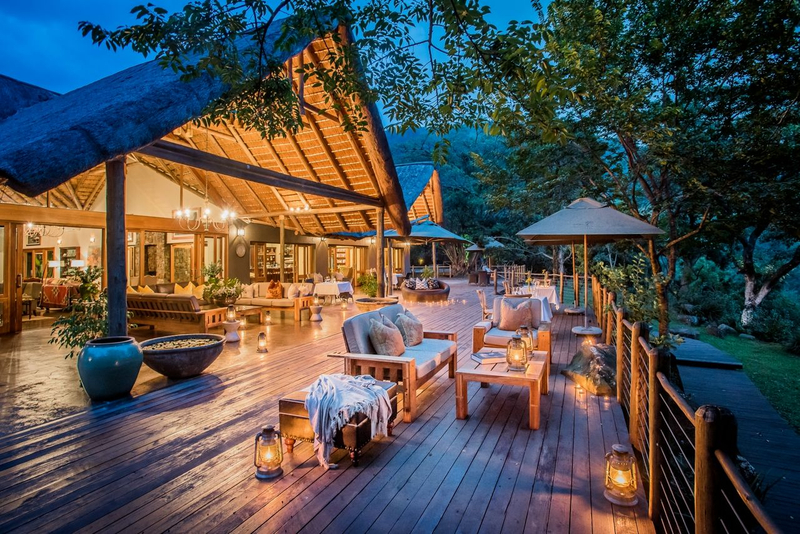 The couple that travel together, stay together. Well this year, up your Valentine's game with a long-haul spa and yoga break. A one-of-a-kind romantic oasis awaits you, with beautiful surroundings of the Cape Winelands. Relax together at the award-winning spa and indulge in a wide range of exotic spa treatments from uplifting facials scrubs to full body exfoliation. After a fruitful cleanse, delve into the restaurant's nutritious and organic cuisine with a backdrop of splendid African sunsets.
More information: View Santé Wellness Retreat & Spa
Talk to one of our Travel Specialists on 1300 551 353 or contact us here to discuss tailor-making your perfect couple's holidays.