With a holistic approach to wellness and a stunning beachfront location that exudes luxury and serenity, the multi-award-winning BARAI Spa is the perfect destination for a well-being escape to unwind and de-stress. Centred around the element of water, this luxury spa replenishes, rejuvenates and heals by combining traditional Thai health rituals with contemporary western approaches. In this pocket of paradise, stay in a stunning BARAI spa suite with the luxury of your own personal butler. Whether you desire a bespoke yoga programme or a kick-starter to improve your fitness, The BARAI Spa has something to suit everyone's wellness needs.
Programmes at The BARAI Spa
Location Overview
Situated over 4.5 acres of spectacular white sand beach, The BARAI Spa is a hidden gem set adjacent to the Hyatt Regency Hua Hin, Thailand. Overlooking the Gulf of Thailand, the oriental inspired structural grandeur is a calm and tranquil haven to escape from the stresses of hectic every daily life. In addition to the simply beautiful architectural splendour, the tropical plants and crystal blue waters make this location one of the best wellness destinations.
Dining
McFarland House
McFarland House is a 19th century restored two storey beachfront pavilion. It provides an attractive dining area offering breath-taking views over the Gulf of Thailand. It is open for all day dining on the ground floor with the upper floor reserved especially for The BARAI Spa guests.
A selection of nutritious fresh snacks, light, healthy meals and a variety of blended juices and cleansing infusion teas will further enhance your wellness experience, leaving you feeling refreshed and revitalised. With menus inspired by Western and Thai inspired cuisine, the healthy menu option is specifically designed to optimise health and well-being, whilst the house menu still offers wonderfully healthy cuisine with slightly more indulgent options also available to fuel your healthy holiday. McFarland House will fuel your wellness holiday by catering for all dietary requirements, so everyone will leave satisfied and replenished.
Facilities & Services
Facilities

Swimming pool
Beachfront
Fitness centre
Fitness classes
Spa
Restaurant
Bar/lounge
Tennis court
Wi-Fi

Services

Personalised Suite Butler
Pre-dinner drinks and snacks at McFarland House
In-suite aromatherapy steam and milk bath
Use of the Tranquillity Court swimming pool
Use of the relaxation area, steam room and sauna
Use of the beachfront sundeck beds
Laundry service
Complimentary choice of daily 60 minutes massage treatment for two (02) people per suite (age above 14 years old)
24 hour Fitness centre
Resort Address
91 Tambon Nong Kae
Amphoe Hua Hin
77110
Thailand
Good to Know
No children under the age of 14 are allowed. Children aged between 14 and 16 must be accompanied by a parent or legal guardian when using the spa facilities.
Awards
Luxury Hotel & Spa of the Year – The Luxury Travel Guide Awards 2017
Best for WOW factor – SpaFinder Wellness Travel Awards 2016
Outstanding Performance for Resort Spa - Thailand Health Tourism 2015
Certificate of Excellence Hall of Fame - TripAdvisor 2015
Accommodation Overview
The BARAI Spa offers a total of 8 luxury suites. The 4-spacious balcony upper-floor suites provide beautiful panoramic views of over the Gulf of Thailand, whilst the 4 ground floor suites each feature a private plunge pool set amid a stunning tropical garden. All rooms contain stunning tailor-made furniture, making these suites beautifully unique and are designed for supreme comfort and total relaxation. Your personal Suite Butler will be available daily between 07:00 am and 23:00 to ensure an unforgettable luxurious experience.
Balcony Suites
View Photo(s)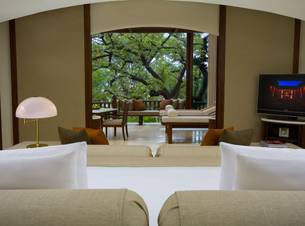 Pool Suites
View Photo(s)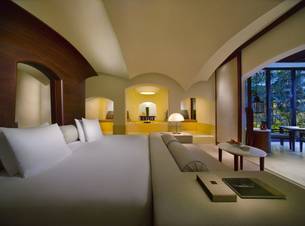 All Rooms Include
Wi-Fi
Complimentary tea and coffee
3m x 2m bed
Thai bed area for traditional Thai massage
Walk-in closet
Private dining area
Mini bar
Plasma TV
In-room iPad & iPod docking station
Activities
- Fish feeding
- The BARAI Tour
- Beach Soccer
- Movie Night
- Petanque
- Stand up paddle boarding competition (SUP)
Wellness Facilities
The Spa
With 18 single and double exquisite treatment rooms, The BARAI Spa is open daily from 09:00 to 20:00. Each room features a private outdoor soaking pool, a rain shower, a Thai bed enclave for traditional Thai treatments and relaxation, a private changing and vanity room. It features a wide range of signature spa treatments from therapeutic massages to specialist hydrotherapy, promising an indulgent treat for anyone who visits. The 30m salt water swimming channel of the Tranquillity Court is a sanctuary of pure serenity, providing the perfect opportunity to swim, meditate or practice yoga. The new innovative Lifestyle Collection Programmes seeks to ground the mind, body and spirit, based around nutrition, relaxation and exercise to change your lifestyle for the better. The holistic approach to wellness will leave you feeling refreshed, relaxed and rejuvenated.  
Fitness classes (subject to weekly schedule & availability)
- Personal training sessions
- Hatha yoga
- Tai Chi
- Thai boxing
- Aqua aerobics
Wellness Approach
At The BARAI Spa, wellness is based upon the 3 Pillars of good health: relaxation, exercise, and healthy nutrition. Drawing on ancient and traditional Thai health rituals, as well as the best western therapies. The BARAI Spa focuses on providing long-term results with a holistic approach to the mind, body and spirit. It incorporates practices such as yoga and Tai Chi, luxury spa treatments and healthy cuisine, to put you on the path to a healthy happy life. Experts at The BARAI Spa focus on healing the entire being through their carefully crafted Lifestyle Collection Programmes designed to adhere to the needs of each individual. The healing power of water is of utmost importance as it symbolises the source of life, leaving you feeling replenished and rejuvenated in the most luxurious setting.
Typical Group Classes
Yoga
Aqua aerobic
Beach soccer
Tak bart
Please note that all group classes and activities shown are examples only and are subject to change, such as seasonal adjustments.
Added Value
Exclusive for Health and Fitness Travel guests
The BARAI gift set (for stays of 3 nights or more) including:
The BARAI body lotion
The BARAI body wash
The BARAI massage oil signature
The BARAI mosquito spray
The BARAI herbal balm
Silk box BARAI
Special Offers
Bonus Nights
Book a lifestyle collection programme including BARAI Suite accommodation and receive the following Bonus night special offer: (per stay)
- Stay 3 pay 2
- Stay 5 pay 4
- Stay 7 pay 5


The Barai Spa and Residential Suites
Explore the Barai Spa and Residential Suites