Santani Wellness Resort & Spa
Situated in the rolling green mountains of Sri Lanka, Santani is an eco-friendly, intimate sanctuary with 16 rooms that has a spiritual and relaxed philosophy to take you back to basics. With a luxurious yet minimalistic approach, every guest's experience is unique as you become immersed in the power and energy of nature all around you. Santani's respect for the environment radiates through the variety of healing programmes and design which brings the outdoors in. Rejuvenate by practicing yoga in the open-plan facilities, learn to farm in the paddy fields, or take a traditional cooking class. Your body will be pampered and mind educated, and you will leave with healthy habits and practices allowing you to sustain greater mental, spiritual and physical well-being.
Programmes at Santani Wellness Resort & Spa
Location Overview
Nestled towards the south of Sri Lanka, amongst dense greenery and mountains, is the Santani resort. With lush greenery surrounding the predominantly glass complex, the sanctuary blurs the distinction between indoors and outdoors, encouraging you to be at one with nature as you rest, relax and meditate. This destination is ideal for those seeking to immerse themselves in a natural setting, as the building follows a minimalistic style throughout to encourage calmness.
Dining
Based in the heart of the Sri Lankan mountains, the Executive Chef focuses Santani's nutritional meals on being locally and naturally sourced. Their menu has a trio of specially designed menus aimed to detoxify your body during your stay. Choose from detox, vegetarian or spa and feel uplifted on your journey to well-being.
Facilities & Services
Facilities

Pavilion with lounge area and bar 
24m Infinity lap pool 
Full-service spa 
Open-plan yoga pavilion 
Elevated restaurant 
Outdoor seating area with bonfire 
15-seat theatre
Media room with access to computers and internet facilities

Services

Self-serve laundry 
Designated smoking areas 
Parking 
Bike rentals on site
Resort Address
Aratenna Estate
Werapitiya
Kandy
00013
Sri Lanka
Good to Know
Check-in time starts at 2pm 
Check-out time is noon
Accommodation Overview
Santani traditionally names their 20 room accommodations the 'Ambalamas' meaning 'place of rest.' The contemporary dwellings come in the form of 16 single bedrooms and 2 two-bedroom suites, and were based on the meditation caves in the surrounding mountains. They are stylishly minimalistic yet comfortable. Each room is targeted to detox your brain from distraction, however in-room WiFi is available.
Standard Rooms
More Photos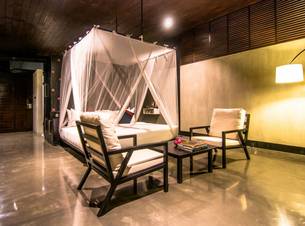 Suites
More Photos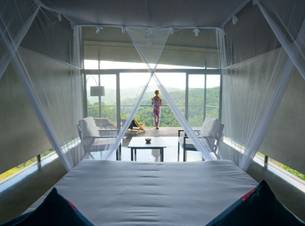 All Rooms Include
2 x Lounge chairs
Extra large pillows
100% cotton high-thread count sheets
Coffee and tea making facilities
Minibar
Personal safe
Two closets 
Mini bar
Balcony
Two recycled teakwood safari chairs
Complimentary bathrobes
Activities
- Jungle boot camp
- Wildlife safaris in Wasgamuwa 
- Explorative hiking 
- River swimming
- Excursions
- Golfing 
- Cooking classes
Wellness Facilities
The Spa
Santani's spa facilities meet a high level of luxury. The beauty of simplicity is felt throughout the resort especially in the spa which includes a wealth of deluxe rooms where you can receive various treatments as well as make the most of the thermal salt baths, steam room, sauna. Many of the treatment rooms have terraces that look onto paddy fields.
Wellness Approach
Santani's philosophy centres around becoming one with nature and simplicity to encourage a deeper connection with oneself. Each guest's experience is a bespoke journey, catering to their needs to accomplish the release of stress and total feeling of restoration. The minimalistic approach of the sanctuary will leave you with clarity of mind and the ability to focus.
Typical Group Classes
Yoga
Meditation
Biking
Aquarobics
Fitness
Please note that all group classes and activities shown are examples only and are subject to change, such as seasonal adjustments.
Special Offers
Special Offers 
- 30% off special rate for stays during July and August 2018
Honeymoon and couples offers
Stay for 3 nights or more and take advantage of an array of inclusions such as a five-course private champagne dinner, a signature couples' spa treatment and a private curated excursion. (Offers a US$200 saving).